Introduction
Vietnam is a country of diverse landscapes and cultures, and there's no better way to experience it than on a road trip from Hanoi to Saigon. The journey covers approximately 1,700 kilometers and takes you through some of the country's most scenic routes, vibrant cities, historic sites, and stunning natural wonders. 
In this article, we'll provide a comprehensive guide to planning the ultimate Hanoi to Saigon road trip, including the best routes, must-see attractions, and practical tips for a smooth journey.
Plan for The Tour From North to South Vietnam by Motorbike
The best time to take the trip is during the dry season, which runs from November to April. 
This period has the least amount of rainfall and lower humidity levels. Just keep in mind that Vietnam's rainy season can make curvy roads more difficult to navigate, so it's important to check the weather forecast before setting out on your journey.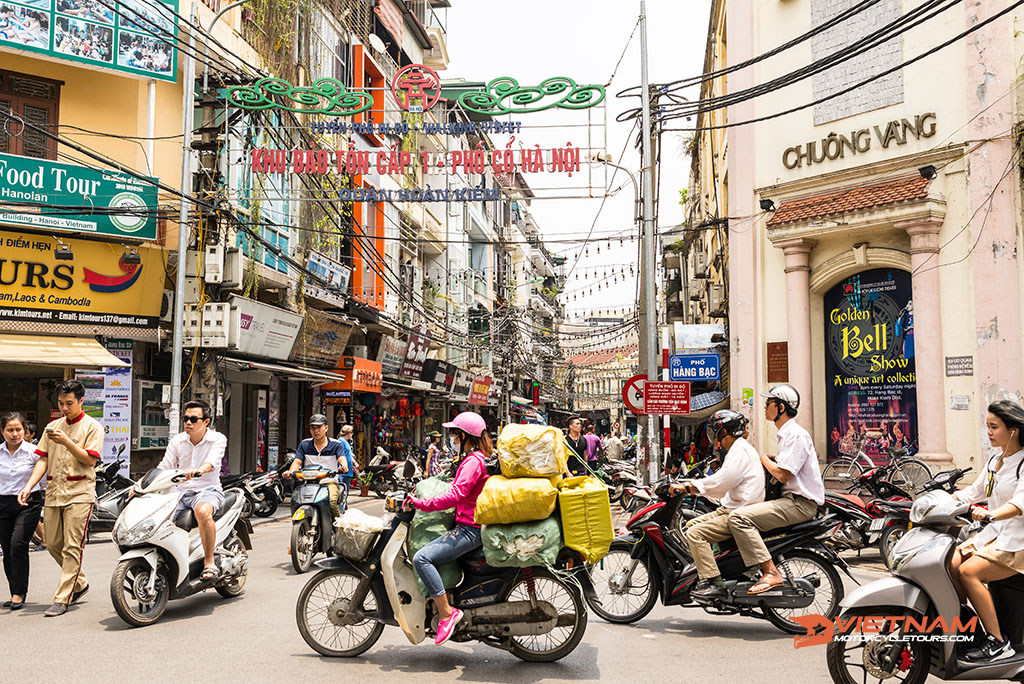 Necessary documents for the trip, such as your passport and driving license, are also required. If you are a foreigner, you will need to obtain an International Driving Permit (IDP) to drive in Vietnam. 
Additionally, you should ensure that your vehicle is in good condition and equipped with a GPS navigation system, spare tire, and tools.
Suggested accommodations along the way include budget guesthouses, mid-range hotels, and luxury resorts. Some popular options include Airbnb, Booking.com, and Agoda.
2 Recommended Routes for the Hanoi to Saigon Road Trip
There are several routes you can take for your motorbike tour across Vietnam, depending on your preferences and interests. Here are three popular routes that you can consider for your road trip:
Coastal Route Itinerary: Hanoi – Halong Bay- Hue – Hoi An – Nha Trang – Mui Ne – Ho Chi Minh Motorbike Tour
Day 1-2: Hanoi to Halong Bay Motorbike Trip
We took the highway to Halong Bay and spent two days exploring the beautiful limestone formations and caves of the area. You can go on a boat tour or kayak and stay overnight on a traditional Vietnamese junk boat if you like.
But for us, a stroll around the town was enough to fill our souls with fresh air and our stomach with fresh seafood.
> View more: Hanoi Dirtbike Tour To Halong Bay 2024-2025
Day 3-4: Hue Motorcycle Tour
From Halong Bay, our team rode to Hue, a city steeped in history and culture. The Imperial Citadel, Thien Mu Pagoda, and the Tombs of the Emperors are not to miss on your motorbike tour. 
Don't forget a boat ride along the Perfume River, as it is a wonderful way to explore the beautiful city of Hue in central Vietnam. Many boat tours include stops at local restaurants where you can sample the cuisine, or you can arrange a private boat tour with a local guide who can take you to the best spots to eat.
Day 5-6: Hoi An Motorbike Tour
Our motorcycle trip headed south to Hoi An, a charming UNESCO World Heritage Site known for its well-preserved ancient town. We devoted our entire day to wandering the colorful streets, visiting the Japanese Covered Bridge, and trying the local street food. 
Hoi An is also famous for its tailors, who can make custom-made clothing in a day or two. We decided to get some traditional costumes to completely immerse ourselves in the unspoiled town.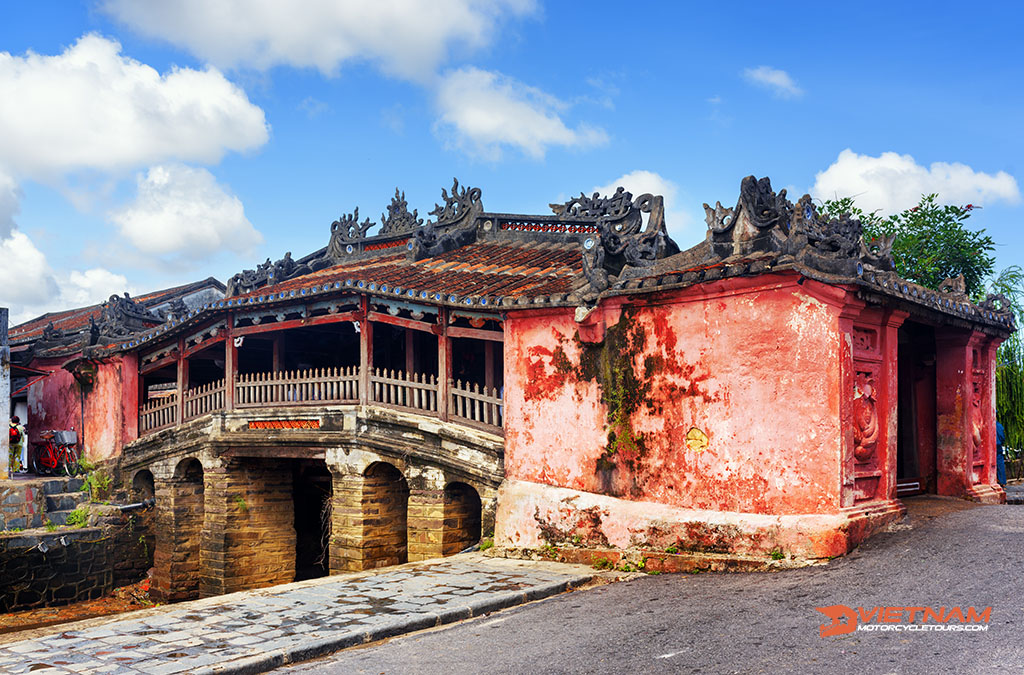 Day 7-8: Nha Trang Motorbike Route
Riding south to Nha Trang, we set foot on a popular coastal city known for its beaches and seafood. Remember to take a boat tour to the nearby islands or spend your days lounging on the beach resorts. 
Nha Trang is also home to many hot springs and mud baths, perfect for a relaxing day. While my buddies were busy on the beach, I chose a tranquil, shady spot, slouching on a beach chair, sipping coconut juice, and taking some shut eyes. What a chilling day!
Day 9-10: Mui Ne Motorbike Tour
We rode further to Mui Ne, a beach town with magnificent sand dunes and interesting kite surfing. A short walk let us admire the gleaming sunrise over the red sand dunes. 
After going sandboarding and exploring the Fairy Stream, the tour guide laughed at us since we looked like we were just bathing in a pool of sand. Seafood in Mui Ne is also unbeatable, so be sure to indulge in some grilled squid or shrimp.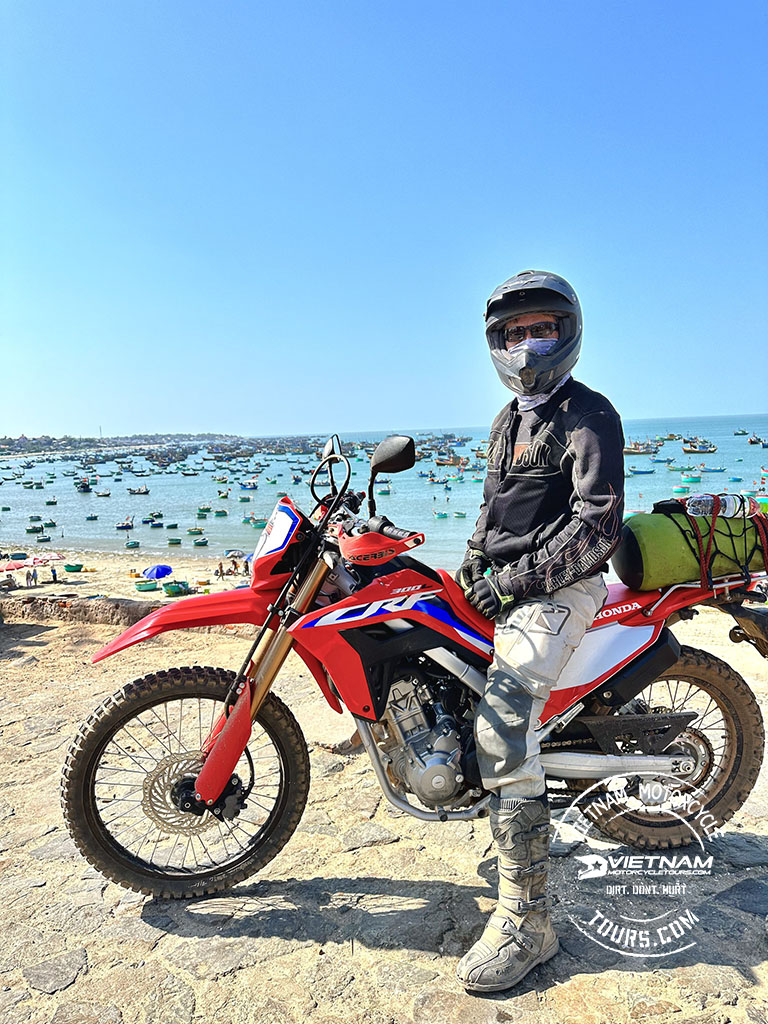 Day 11-12: Ho Chi Minh City Motorcycle Path
The final destination was Ho Chi Minh City, the bustling metropolis formerly known as Saigon. No one dares to say they've visited Saigon without dropping by the War Remnants Museum, the Notre Dame Cathedral, and the Cu Chi Tunnels. 
Ho Chi Minh City is also a great place to shop for souvenirs or try local street food. We were especially impressed by its vibrant and sleepless nightlife, so remember to "taste" it!
Ho Chi Minh Trail Motorbike Route: Hanoi – Mai Chau – Vinh – Phong Nha – Hue – Hoi An – Quy Nhon- Nha Trang – Dalat – Ho Chi Minh City
Day 1-2: Hanoi to Mai Chau Motorbike Tour
Following the Ho Chi Minh Trail to Mai Chau, a peaceful valley surrounded by mountains and rice paddies welcomed us. Our Vietnam motorbike tours allowed us to take in the stunning scenery and enjoy the fresh air as we rode through the countryside. 
A trek through the villages led us to ethnic minorities such as Thai and H'mong. Thai maids stole our hearts with their charming beauty in traditional black-and-white traditional costumes, while the vibrant flowing pleated dresses of H'mong women reminded us of vintage English ladies.
Day 3-4: Vinh Motorbike Trip
From Mai Chau to Vinh was a long and arduous 300 km motorbike route that cost us a lot of elbow grease. The climate in Vinh was not very pleasant, even leaving a rash on our skin. 
But when moving further into the city center, God blessed us with easier weather. We visited Ho Chi Minh Square, the Ho Chi Minh Museum, and Kim Lien Village – the birthplace of Ho Chi Minh President.
Day 5-6: Phong Nha Motorcycle Tour
About 200 km away from Vinh is the world-famous Phong Nha National Park, a UNESCO World Heritage Site with its spectacular cave system. We took a boat tour through the Phong Nha Cave or the Son Doong Cave, the largest cave in the world. 
The time-honored limestones have formed awe-inspiring shapes, glorified by the multi-colored LEDs and reflected on the glowing river. All created a picturesque scene that we sometimes doubted its reality.
You can also go on a jungle trek, visit a local village, or go kayaking at will.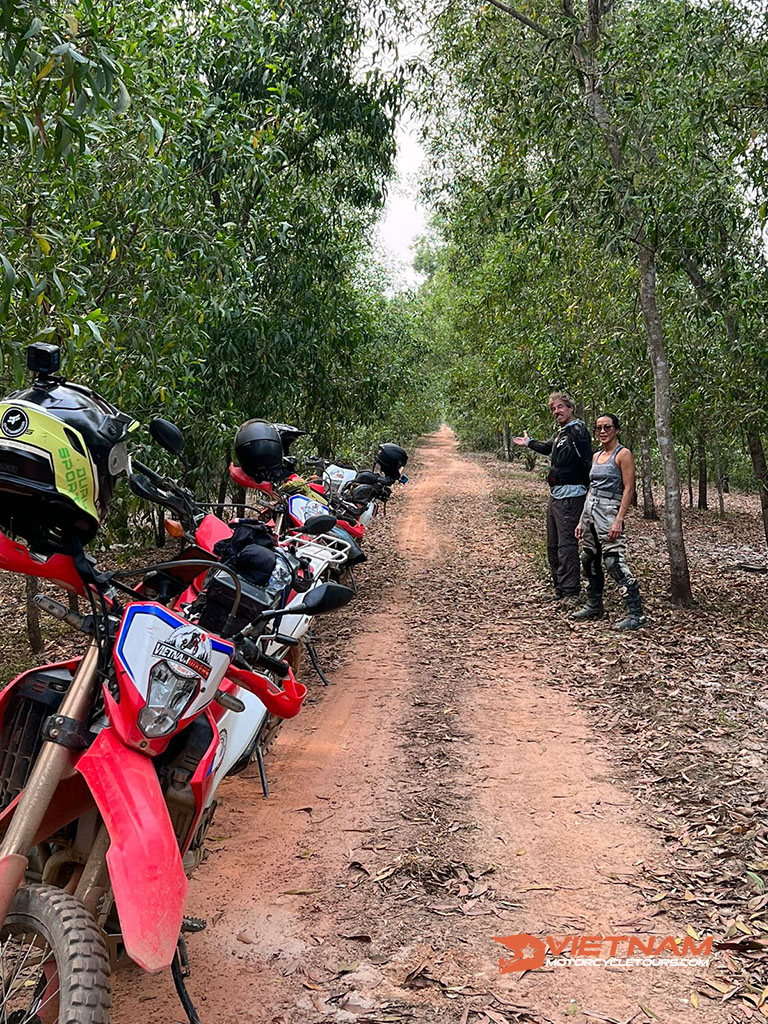 Day 7-8: Hue Motorcycle Trip
Say goodbye to the unreal charm of Phong Nha. Hue greeted us one more time with its hospitable, down-to-earth locals. If the Imperial Citadel, Thien Mu Pagoda, and the Tombs of the Emperors were our stops on the last motorbike route, we chose a different way to contemplate the beauty of this city. 
Starting the day with a hearty breakfast in Dong Ba market, we then hopped on our bikes and rode to the outskirts of the city, where paddy fields stretch to no end. Afternoon time was occupied by a cyclo tour on tree-lined street, and we concluded the day with a delectable dinner on a boat on the Huong River. 
Day 9-10: Da Nang Motorbike Route
Feel enough with the ancient vibe? Okay, we will take you to Da Nang – a worth-living modern city with a completely contrasting breath between Hue and Hoi An.
But first, we had to conquer the thrilling Hai Van pass with lots of deadly sharp turns. Da Nang is home to many entertainment places like Sun World, Ba Na Hill, crystal-clear beaches, etc. Drive back to your salad days with 2 days in this city!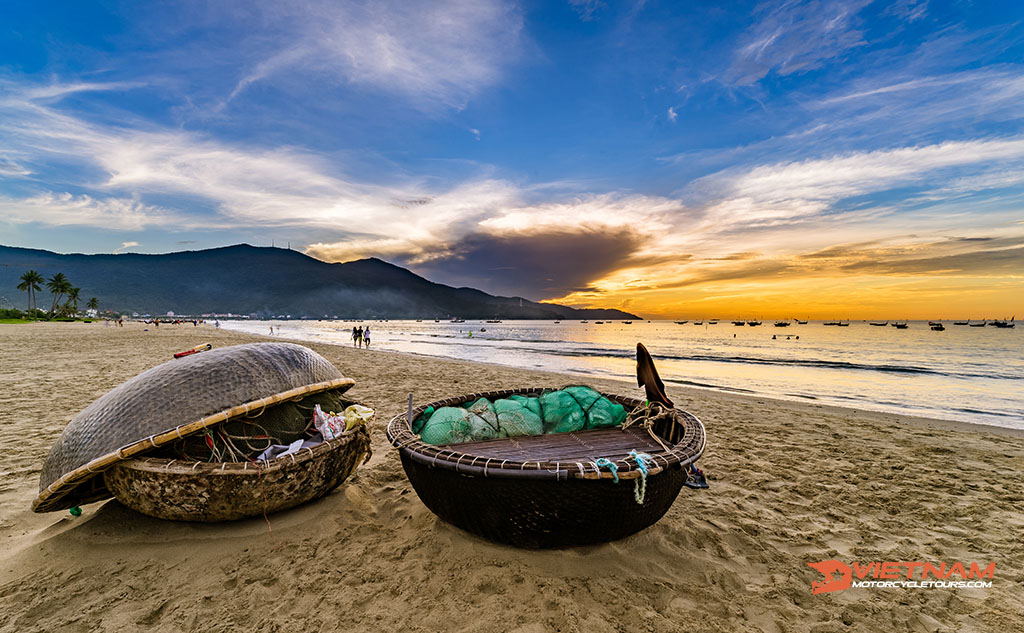 Day 11-12: Quy Nhon Motorcycle Path
Quy Nhon is a quiet coastal city littered with immaculate beaches and peaceful fishing villages with incredibly fresh seafood. Visiting the ancient Cham towers, strolling along the beach, and enjoying the serene atmosphere of the city were just a few things we did here.
Waking up early, we had an opportunity to watch fishermen trade their fish and seafood after an offshore fishing night, which was full of life. The remaining time was to visit the Twin Towers and the Long Khanh Pagoda and relax on the beach.
> View more: Hoian Motorbike Tours 2023-2024
Day 13-14: Nha Trang and Da Lat Motorcycle Tour
Another coastal city was awaiting us – Nha Trang, known for its water sports and vibrant nightlife. We couldn't resist the temptation of its Vinpearl Land amusement park. After playing in the park, we took a boat to the nearby islands. 
From Nha Trang, our motorbike tour continued to Dalat, a romantic mountain town bestowed with cool weather and spectacular scenery. We pulled over many times just to capture the scene and save the moments with some photos. Remember to try coffee and strawberries there, or you'll regret it for life.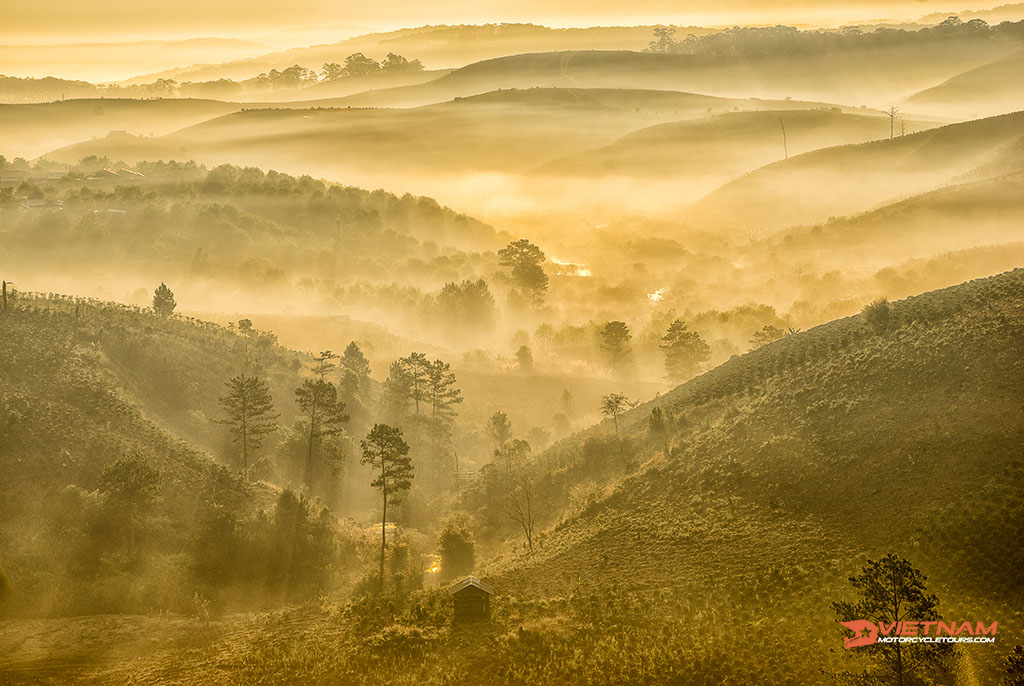 Day 15-16: Ho Chi Minh City Motorbike Tour
Finally, we headed to Ho Chi Minh City and explored the narrow alleys of the city's bustling markets, where we could bargain for souvenirs and taste local street food.
Evenings were the time for us to soak up the city's electric energy and join the locals as they gathered in the parks and on street corners for their evening exercise routine. It seemed like we were driven back to our youthful days.
Conclusion
In conclusion, the Hanoi to Saigon road trip is a truly unforgettable journey that will leave you with memories to last a lifetime. With several different routes to choose from, each offering its own unique experiences and attractions, there's no better way to explore the beauty and culture of Vietnam.
Now, share these itineraries with your pals and invite them for amazing Vietnam motorbike tours!
What riders have said about Vietnam Motorcycle Tours on Tripadvisor!