Introduction
An epic motorbike trip in Vietnam might be one of the out-of-this-world experiences of your life for the unexpected contrasts. You may wake up in a peaceful mountain town this morning but will get stuck in the crazy traffic jam in the bustling city the next. 
Random events, for instance, a herd of cattle blocking your way, increase the excitement but sometimes put you in awkward situations. 
Only God knows what is awaiting! Isn't it exciting? Check our detailed motorcycle ride guide in this beautiful country to live your best days.
Motorbike Trip In Vietnam: Why Should You Ride On Your Own?
Vietnam is a favorite destination for backpackers thanks to its affordable travel costs, amazing street food, natural landscapes, and rich culture. Foreign tourists have a lot of choices to enjoy their stay here, but most fall for a motorcycle tour.
The greatest benefit of Vietnam motorbike tours is the ultimate freedom of adventure. You make your schedule and ride to your favorite places. The best part is that you can pull over to discover an interesting side at will.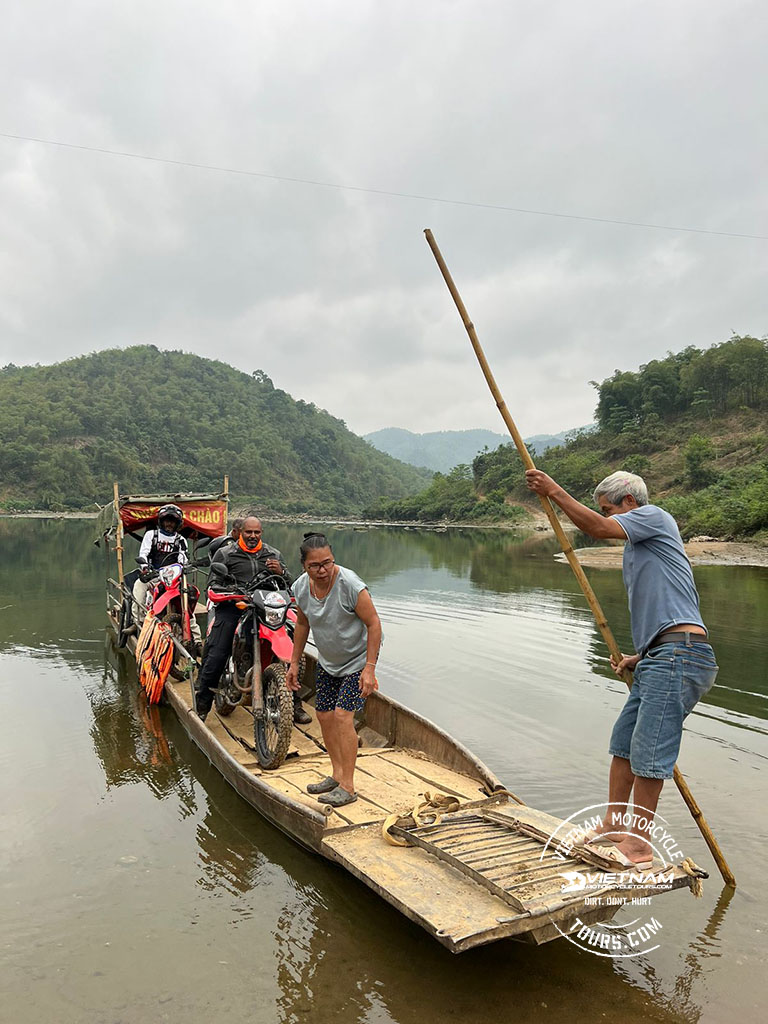 For example, we came across a small local market filled with appealing food at affordable prices and dedicated all our breakfasts during our 5 days in Danang to the sidewalk eateries in this area. Everything was unplanned, but we'll never regret doing so (though our itinerary was a bit behind the schedule).
In most cases, you are also off to a good start, as it is easy to find a good "horse." When you suffer from a vehicle breakdown, a dense network of repair shops or friendly people are willing to lend you a hand.
In short, the best way to fall in love with Vietnam is to get on a motorbike and hit the road.
> View more: Motorbike Tour Ho Chi Minh Trail 2023-2024
What Should You Prepare
If you plan long motorcycle travel in Vietnam, your backpack is filled with essentials. Shopping is accessible in big towns, but you struggle to find supermarkets or small grocery stores in the countryside or mountainous areas. It is best to equip yourself with essentials as the following checklist:
Passport and visa

Vaccinations

Cash (Vietnamese Dong) and credit card

Light clothing (bring warm clothes if you visit North Vietnam from December to March)

Gloves, sunglasses, and hats

Raincoat (especially when heading South; the weather there is quite unpredictable)

Sun protection

A flip-flop and a comfortable walking shoe

Necessary electronics and a reliable adapter

Personal medical essentials and a first-aid kit
Motorbike Legality In Vietnam
International Driving License
Vehicles under 50cc do not require a driver's license but are not ideal for adventurous trips. Remember that operating a motorbike without a license in Vietnam is illegal. There are two ways to legalize your riding, including:
Your current license is automatically considered an International Driver Permit (IDP) under the 1968 Convention when your home country has signed these terms.

Suppose your country of residence is only a party to the 1949 Convention (e.g., Australia, USA, UK, or Canada). In that case, you must prepare some necessary documents to convert your current license into Vietnamese.
Let's say you are not in the two points above. You must take the local motorbike driving exam (theory and practice tests) to participate in traffic in Vietnam legally. This is the last resort, and we're sure no tourist wants to experience this. So it's best to have your license on hand first.
> View more: Vietnam off-road motorcycle tours 2024-2025
Travel Insurance
Vietnam is a relatively safe country for foreign tourists. However, you can never foresee what will happen along the way. You may be involved in an unexpected accident due to dirt roads or the dangerous riding manners of other road users.
Therefore, invest in travel insurance plans for your health and belongings. These policies guarantee necessary medical care or compensation for unforeseen circumstances such as illness, accident, property loss, flight cancellation, etc.
Note that the coverage is not valid when you do not have a valid driver's license in Vietnam. Your favorite insurance provider may also exclude motorcycle trips from their packages for specific foreign countries.
Cost Breakdown Of Motorbike Trips In Vietnam
Renting Or Buying An Motorbike
The biggest part of your budget is geared toward transportation. Whether you buy or rent a motorbike, you must pay some money before your trip.
Motorcycle rental usually costs $7-$15/day, depending on the model. Recommended vehicles are the 110cc-125cc automatic transmission of Honda or Yamaha. Most importantly, you should work with reputable companies for good service.
Some good partners often offer 24/7 customer support and free accessories, such as helmets, raincoats, luggage racks, etc. You must deposit a huge sum (average $300-$1,000) to receive the motorbike.
In comparison, a second-hand motorcycle starts at $200, though we recommend a higher price range ($300-$400) to find a powerful bike for your long travels.
The downside of this option is your valuable time scouring for a suitable model and the maintenance costs incurred. While most sellers strive to keep their items in top condition, some often put value for money first. On the bright side, you can recoup part of your investment by reselling the vehicle after the motorbike routes.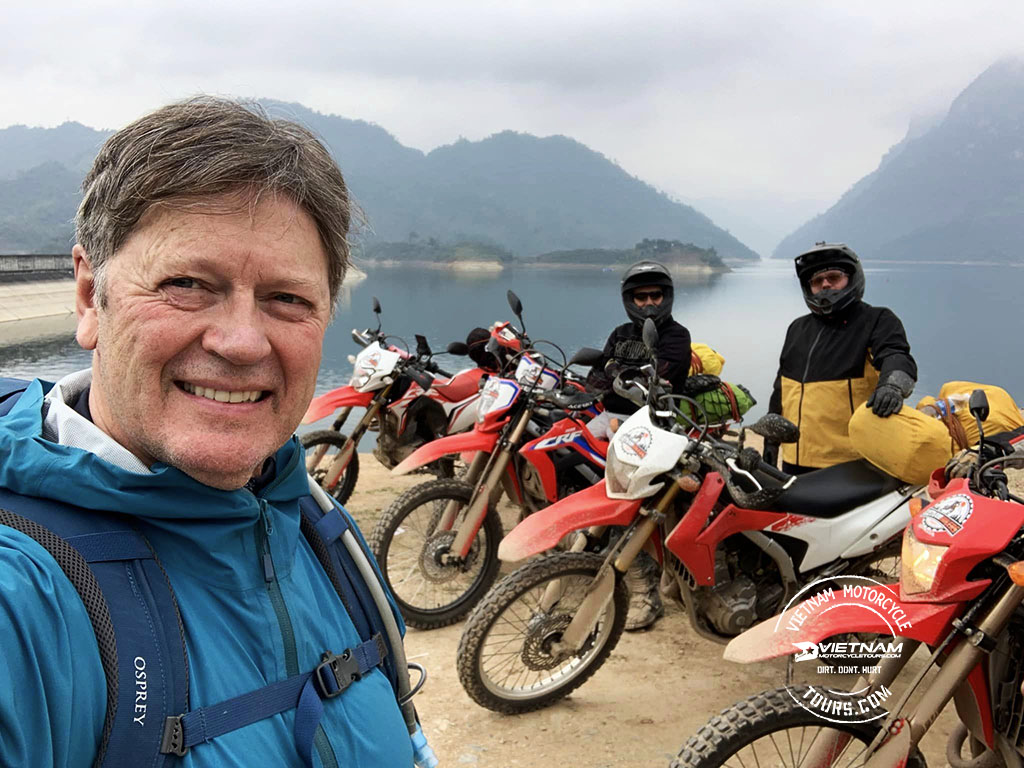 Accommodation
This amount depends on your travel style because tourist destinations in Vietnam cater to you with everything from cheap capsule hotels to high-end resorts. On average, you should save between $5-$50 for accommodation. If you go with a group, it costs less. Here is a quick rundown of the available options:
Hostel, guesthouse, or small hotel ($8-$12)
These options are accessible at any destination. Your affordable payment is in exchange for a small, clean room with basic amenities and a private bathroom.
Airbnbs or homestays ($2-$5)
These popular choices are often available in unspoiled tourist destinations in Northern Vietnam. You may get a mattress and mosquito net in traditional wooden houses.
Mid-range hotels and luxurious resorts ($20-$50)
The amenities, privacy, and extras are first-class if you pay the big bucks. However, these options are only found in major cities or popular places.
It is the cheapest option, but only safe if you drop into a few designated campsites that provide the necessary tools. On the contrary, "wild camping" is another way to get closer to nature, but adventure riders must prepare the essentials themselves.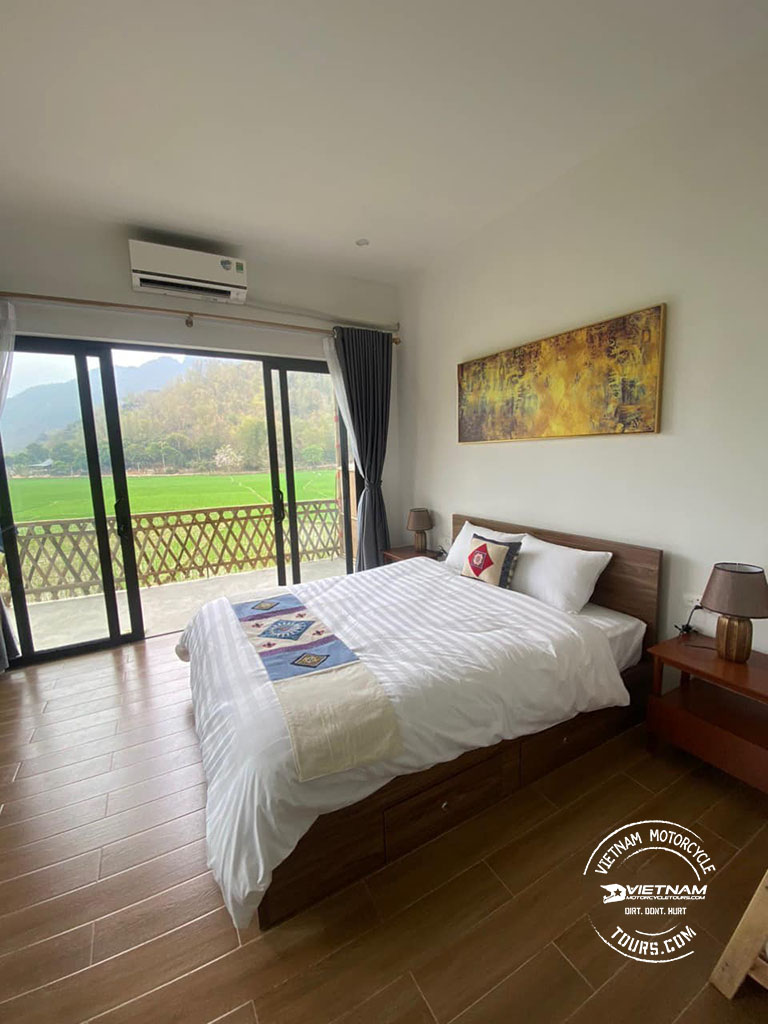 Foods & Drinks
It isn't easy to estimate the total cost for this need but the average ranges between $10-$25/day. Believe us; Vietnamese food is insanely mouth-watering and cheap. 
You can have a large meal with a drink for $1-$4. For instance, a hearty breakfast of cơm tấm (rice with grilled meat) and a cup of coffee only cost about 70,000 VND (about $3).
Note that bills are higher in cities but not significantly. If you dine at fancy restaurants, double your estimated payment. Additionally, Vietnamese meals are often served family style, so you can save more if you go in a large group.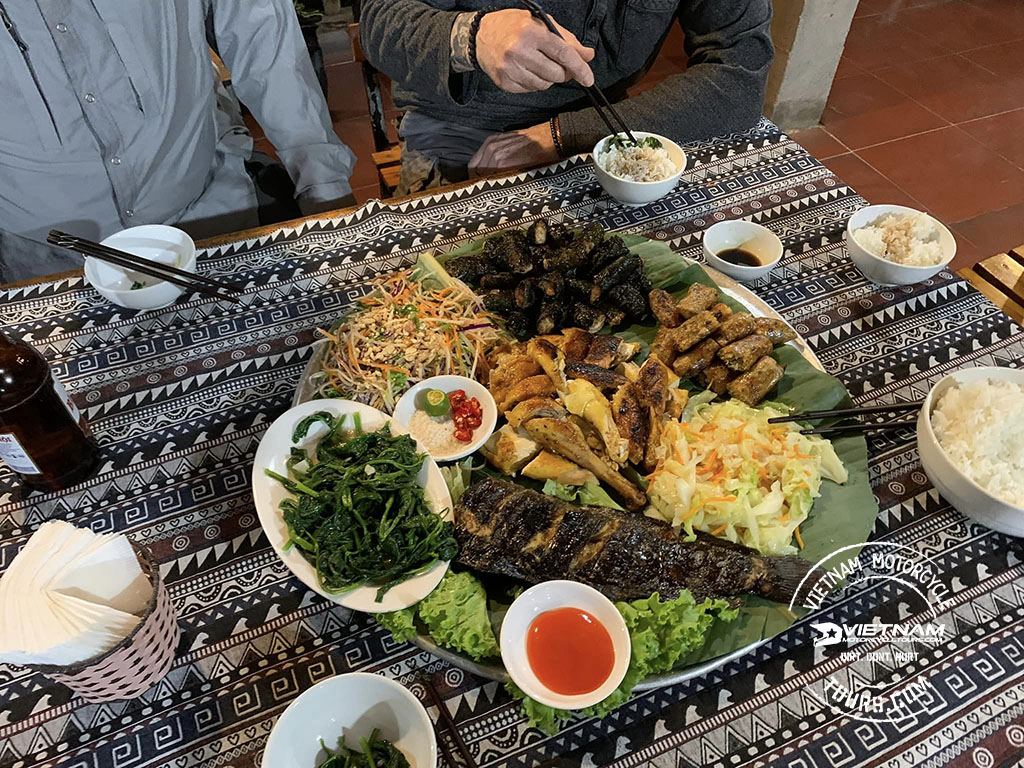 Gasoline
Gasoline costs are usually around 25,000 VND (about $1) per liter which is enough to take you about 50km. Most motorcycles have 4-5l fuel capacity, so a visit to a gas station charges you $4-$5. 
That is the average amount you pay for gasoline bills in a day dedicated to the roads. You can expect 150-200 km on a full tank, but older models often consume more.
Extras
Maintaining $5-$10/day for reasonable expenses, such as mobile data, sightseeing tickets, snacks, water bottles, etc., is best. You can also use these savings for luxuries like a cocktail by the beach, a nice souvenir, or a beer party after a long riding day. 
Don't budget tight! You deserve some self-rewarding since it is a vacation, after all.
Stay Safe During A Motorcycle Trip In Vietnam
Riding in Vietnam is not an easy task for first-timers. You may be distracted by the beautiful scenery on either side or suddenly come face-to-face with some objects (large vehicles, animals, or other careless pedestrians) from many corners. Our survival tips can help you stay safe during your upcoming trip.
Be prepared for average to poor infrastructure, especially mountain roads

Give way to large trucks or buses

Honk your horn to warn other road users of your presence, especially in hidden corners

Invest in a high-quality helmet

Always have a driver's license in your wallet to show the police when necessary

Never leave anything on your motorbike if you do not want it to be stolen

Park your motorcycle in safe locations only
Conclusion
The average daily cost of a motorbike trip in Vietnam is $30-$60. Is it expensive or not? The quick answer is NO. What you pay takes you out of the stuffy buildings and into a beautiful country.
Share this post with your pals who also wish for amazing Vietnam motorcycle tours!
What riders have said about Vietnam Motorcycle Tours on Tripadvisor!