Are you a dainty lover and attracted by the delicious dishes of Hanoi city? Why don't you pack your backpack and try the Hanoi food tour by motorbike 2022? 
Don't worry when you don't have much experience with this type; let's explore it in the article below.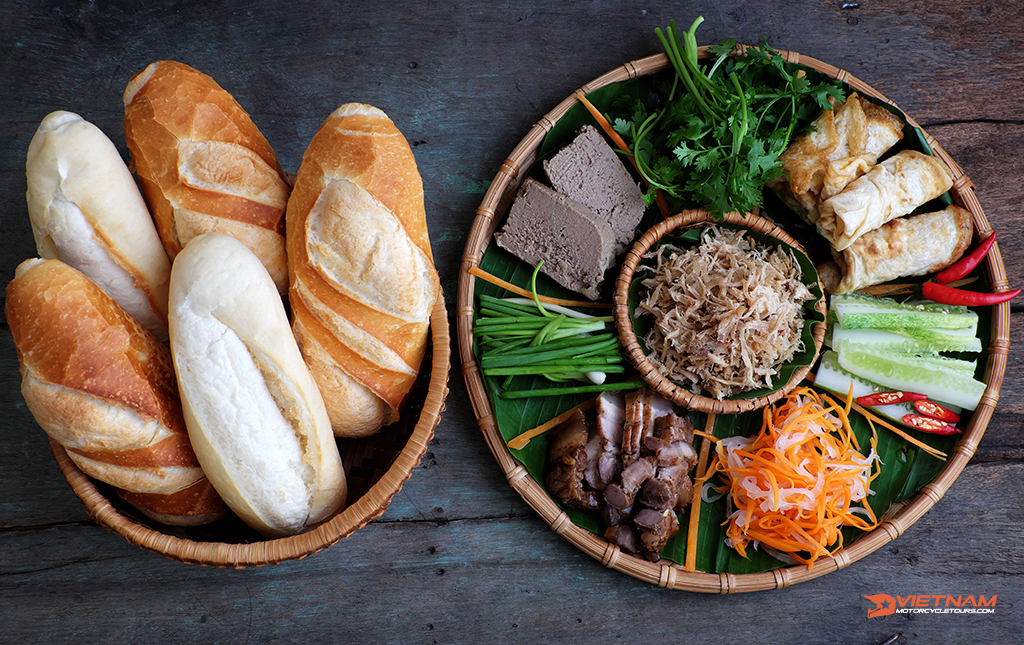 Hanoi Food Tours By Motorbike Overview  
A food tour is a form of tourism towards the experience of delicious dishes and specialties associated with that destination's traditions and cultural identity. With this form, you will have the opportunity to immerse yourself in the local people's unique cultural and culinary activities.
The cuisine is one of the main factors that directly affect tourists' choice of destination. Thus, this is one of the key tourism trends of many localities, including Hanoi – the culinary capital of Vietnam.
In recent years, this city's culinary tourism has witnessed a rapid increase in the number of tours, in which dainty trips by motorbike are the most popular. 
This type of vehicle is the most used transportation mean in Viet Nam that can be a part of the country's culture. Moreover, these two-wheelers not only save you money but are also the ideal means of transportation to wriggle in the old streets.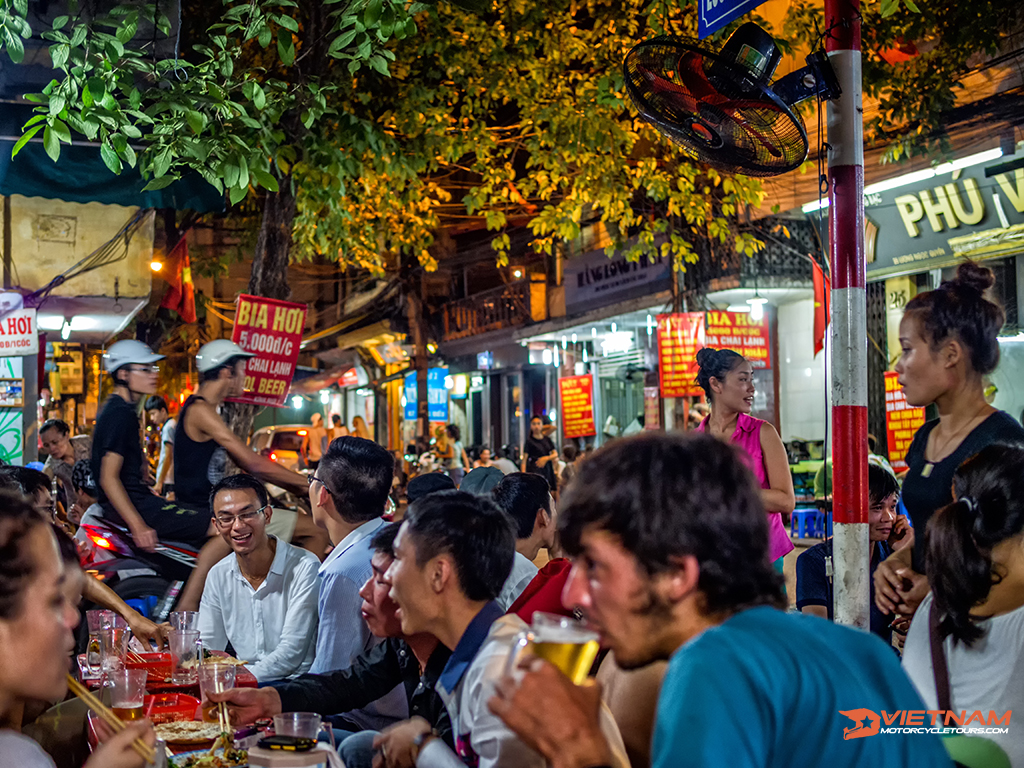 Experience Forms
Currently, gastronomy tourism has two basic forms: accompanied by guides from travel companies or self-sufficient. Both of these forms have their advantages and disadvantages, and it is difficult to say which one you should choose because it depends on your needs.
Guided Culinary Tours
Eating tourism by a Vietnam Motorbike Tour Company is a popular service because of its convenience. The company will build a specific culinary discovery schedule with a list of different delicious restaurants.
Professional tour guides are also locals who are knowledgeable about local cuisine. Here are some pros and cons of guided tourism:
Pros
Know the history of birth, as well as how to enjoy eating.

No need to learn about the dishes in advance

Discover many delicious restaurants with the best prices

Determine the required fee right from the start
Cons
Fixed schedule available and lack of flexibility

Usually, go with many people
If you do not know about the cuisine here and do not have much travel experience, this will be a good choice.
Backpacking Tourism
This experience requires you to rely more on your research and your ability to plan. You will have to take care of all the steps, from figuring out delicious dishes to planning your move. Besides, it would help if you also cared for accommodation and meals for long trips.
Pros
No schedule, you can experience what you like

Flexible in terms of time

You can go alone or with a group of friends
Cons
Must find out information before starting

Difficult to find the right restaurant needed

Can exceed the stated budget
Notes When Taking A Hanoi Food Tour By Motorbike 
If you go with a professional tour guide, you won't have to worry too much about your trip. All you need to do is prepare an empty stomach to bomb the upcoming locations. However, if you want to start a self-sufficient trip, here are a few things to keep in mind:
Learn About Local Vietnamese Dishes
Before you start, you should gather information about delicious goodies in the place you are going. You can find them from eating review groups on SNS or blogs, then synthesize them as knowledge for the trip.
Besides what you prepare in advance, don't hesitate to ask more locals in your itinerary. They'll show you great places to eat that aren't even mentioned on the internet.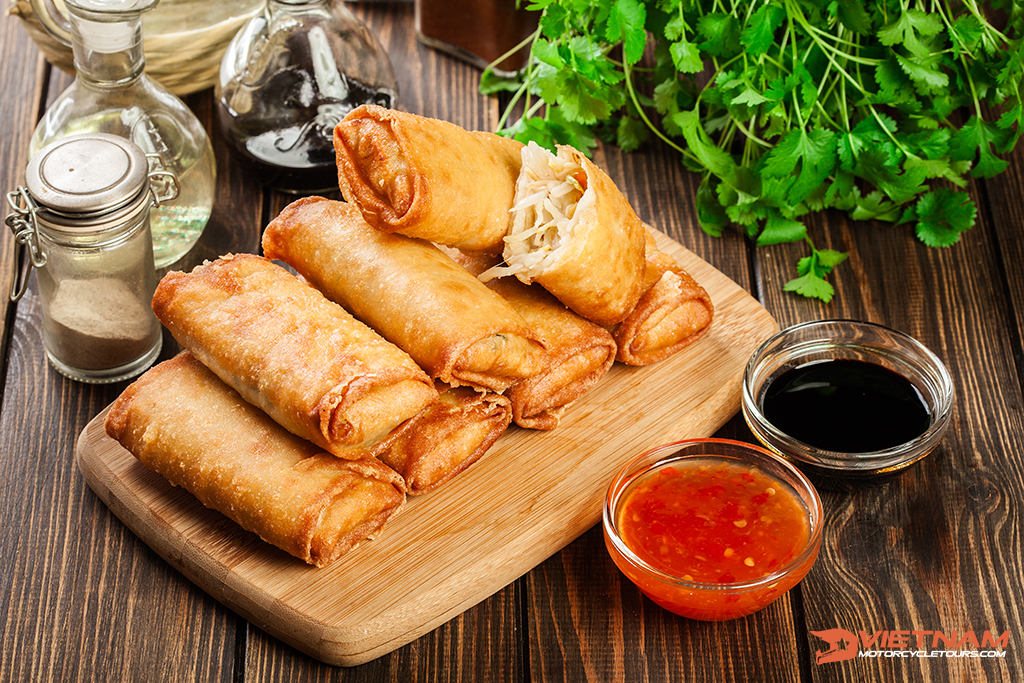 Transport
To indulge in your culinary journey, you can rent a motorbike from shops or Motorbike Tour Operators in Hanoi, but make sure you have the right license to do so.
Choosing what type of motorcycle is also an important point because Hanoi city is a land with a very dense traffic density and narrow old streets. Thus, it would help if you chose cars with compact size not to interrupt the journey and do not forget to prepare a full magic hat and raincoat in case of bad weather days.
Time
Coming to this cuisine, you can enjoy dishes anytime, especially the night culinary street stalls, which is a feature of Vietnamese cuisine. However, if you want to go to traditional eateries, come early because the long queues can make you return with an empty stomach.
Location
You can easily find a restaurant on any street; it would be better to arrange good eateries on the map. This helps you determine the most suitable, economical, and safe route.
"Special" Dishes
Many people think that having gone to culinary tourism, they have to enjoy sophisticated and expensive dishes in the capital, but they are wrong. If you choose a suitable eatery, the affordable price can surprise you.
Moreover, some dishes can make visitors feel uncomfortable, even scared, such as fermented shrimp paste sauce, balut, etc. If you can overcome your fear, you may be surprised by how delicious they are.
Do not forget about pabulum hygiene and safety, and bring digestive medicine. Let the trip be complete with the experiences shared above.
Must-try Hanoi dishes
Hanoi cuisine is one of the traditional features that have existed for a long time. The people here have constantly researched and developed the cuisine to create many impressive dishes of international stature. 
Hence, for memorable Hanoi food tours by motorbike, try the following dishes:
Banh Mi ( Vietnamese sandwich )
In Vietnamese cuisine, bánh mì or banh mi is a short baguette with thin, crisp crust and soft, airy texture. It is often split lengthwise and filled with savory ingredients like a submarine sandwich and served as a meal, called bánh mì thịt. Should try when you book Hanoi food tours by motorbike in 2022.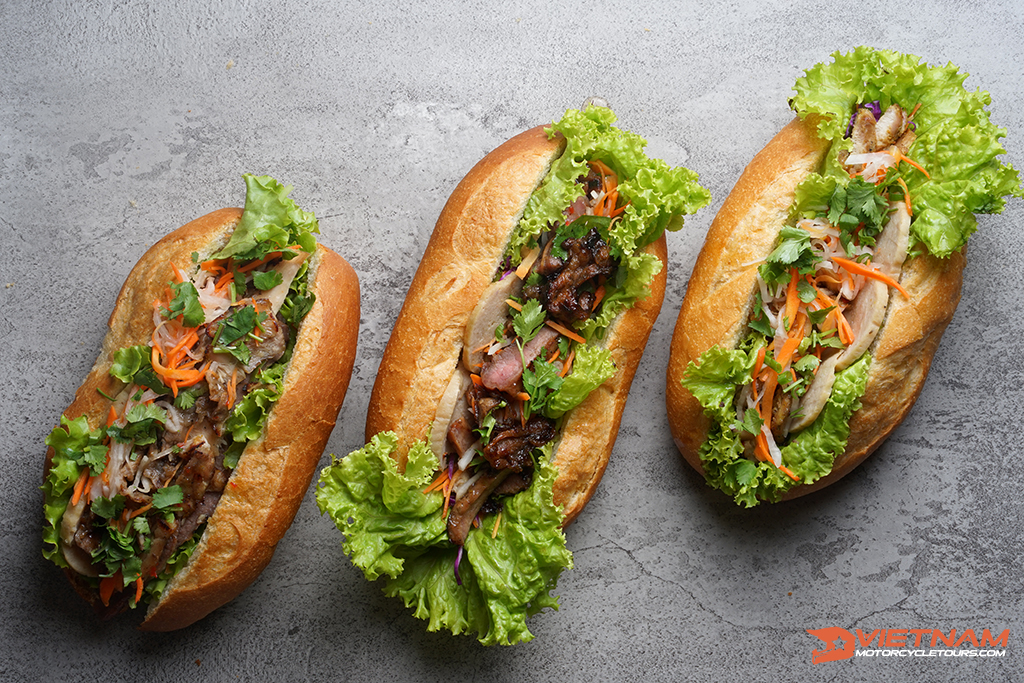 Hanoi Pho
As a long-standing traditional dish, the thin and chewy Pho noodles, along with the rich soup, will make you remember forever. The food that should not be missed when you join our Hanoi food tours by motorbike in 2022.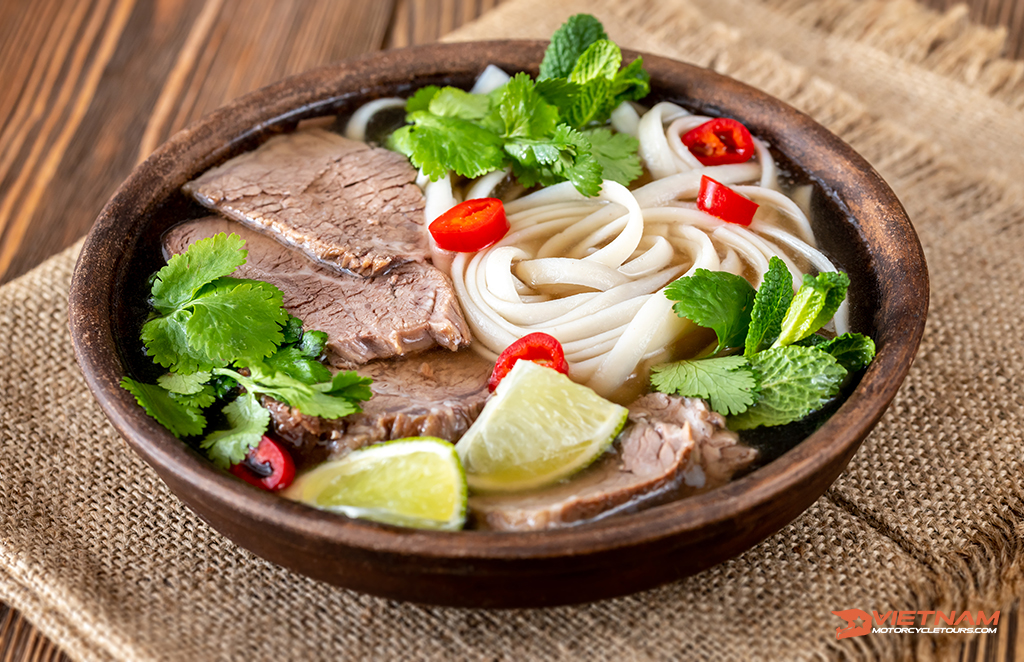 Suggested restaurant
Family Pho: 49 Bat Dan, Hoan Kiem District

Pho Thin: 13 Lo Duc, Hai Ba Trung District
Escargot Vermicelli Soup ( Bun Oc Hanoi )
Hanoians have created a dish that delights tourists from near and far with simple and rustic ingredients. The eye-catching color of the dish and the delicious taste of the soup is the ideal choice for breakfast or lunch. Also fantastic food that you should try when you are joining our Hanoi food tours by motorbike in 2022.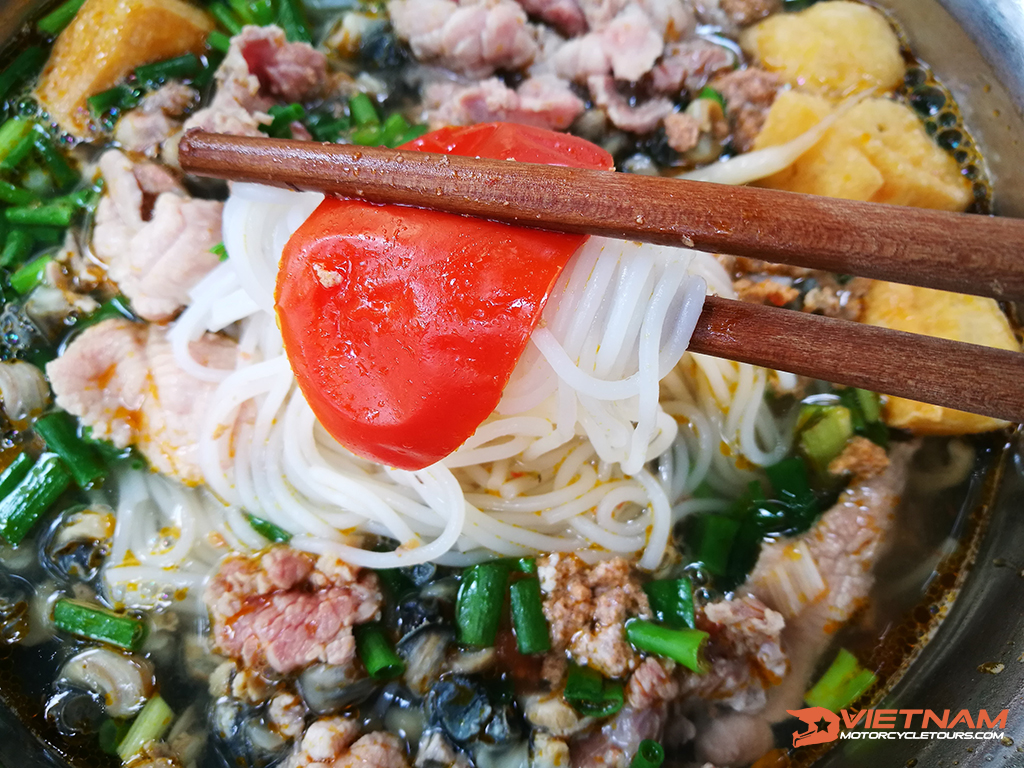 Suggested address
Ms. Giang: 36 Luong Ngoc Quyen, Hoan Kiem District

Ms. After: Ground floor, 354 Bach Mai, Hai Ba Trung District
Xoi Khuc – Fantastic Vietnamese food
Sticky rice is one of the dishes that create the beauty of Hanoi's traditional cuisine. It contains the full flavor of the domestic grasslands, the taste of sticky rice in the homeland.
Address:
Ms. Lan: 69B Nguyen Cong Tru, Hue Street, Hai Ba Trung District

Mr. Army: 35 Cau Go, Hang Bac, Hoan Kiem District
Besides, there are many other famous dishes such as egg coffee, coconut coffee, Banh Cuon, etc.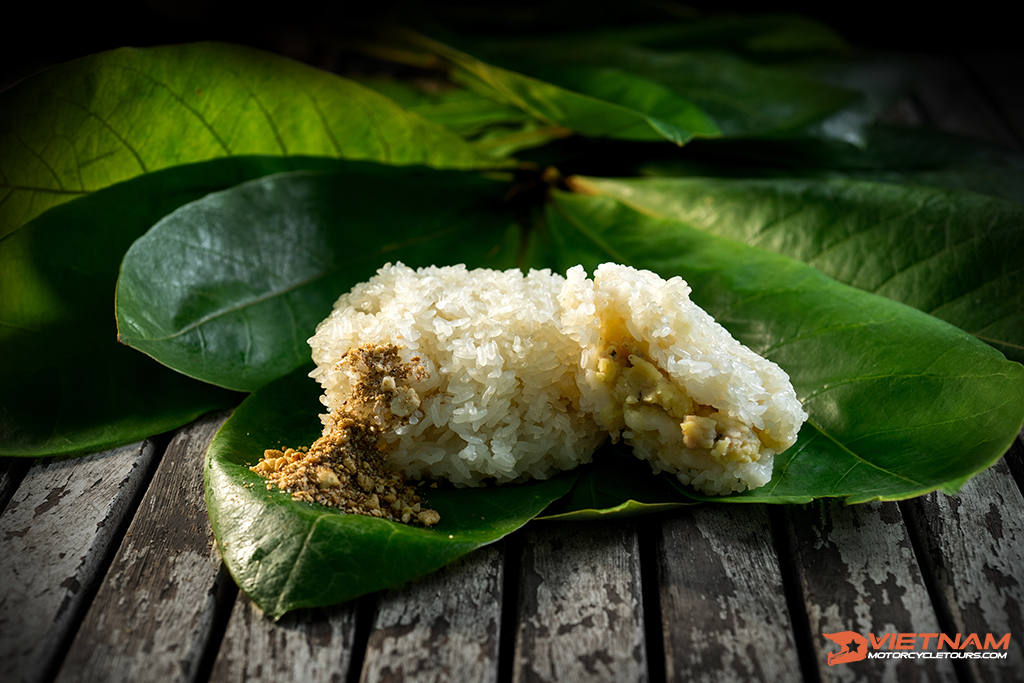 Conclusion  
In the above sections, we have shared the information about Hanoi food tours by motorbike 2022 and the notes when starting. If you love and want to explore this culinary capital, let's start now.
Please like and share if this article was useful to you. Thanks for reading!
Searching for Hanoi Food Tours by Motorbike. Hit us up at https://vietnammotorcycletours.com
What riders have said about us on Tripadvisor!