Dien Bien Phu By Motorbike
Book a tour: Dien Bien Phu By Motorbike
Overview
Trip Outline
Trip Includes
Trip Excludes
Gallery
Booking
FAQ
Introduction
Nestled in the stunning mountainous region of Northwest Vietnam, Dien Bien Phu is not only a picturesque destination but also the site of one of the most pivotal battles in modern history. Embarking on a motorbike tour, an adventure like no other, lets you immerse in the rich history and breathtaking landscapes. Get ready to create memories that will forever be etched in your heart and mind by traveling to Dien Bien Phu by motorbike.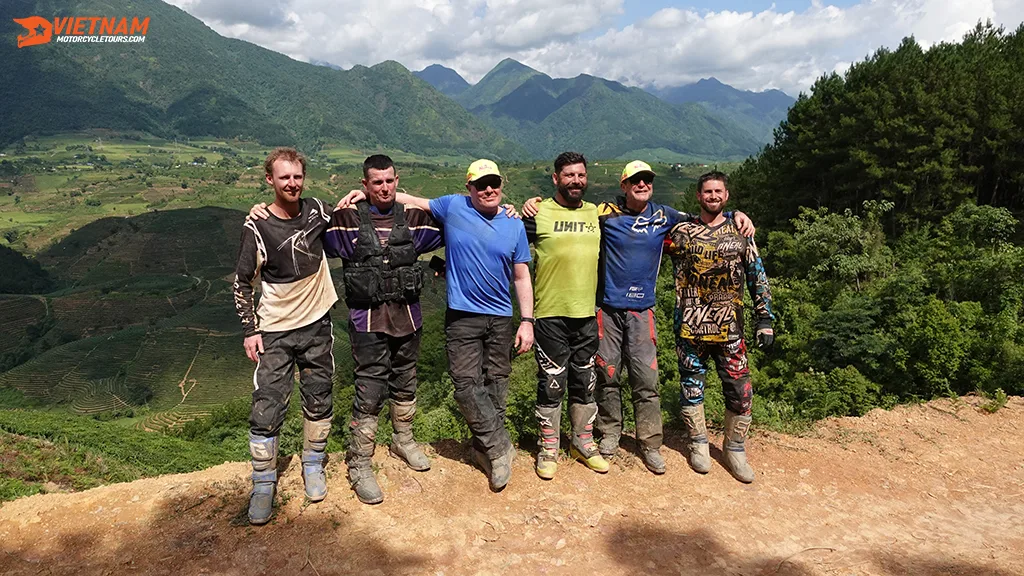 When Should You Visit Dien Bien Phu By Motorbike? 
To decide the best time to visit Dien Bien, consider its climate first. Located in a mountainous region, this province experiences monsoon-influenced weather patterns with an average annual temperature ranging from 21-23°C. 
The dry season spans from November to April and is often considered the optimal travel time. During this period, you can enjoy lower humidity, pleasant temperatures, and clear skies, particularly in the mornings. However, it is worth noting that temperatures may drop sharply at night.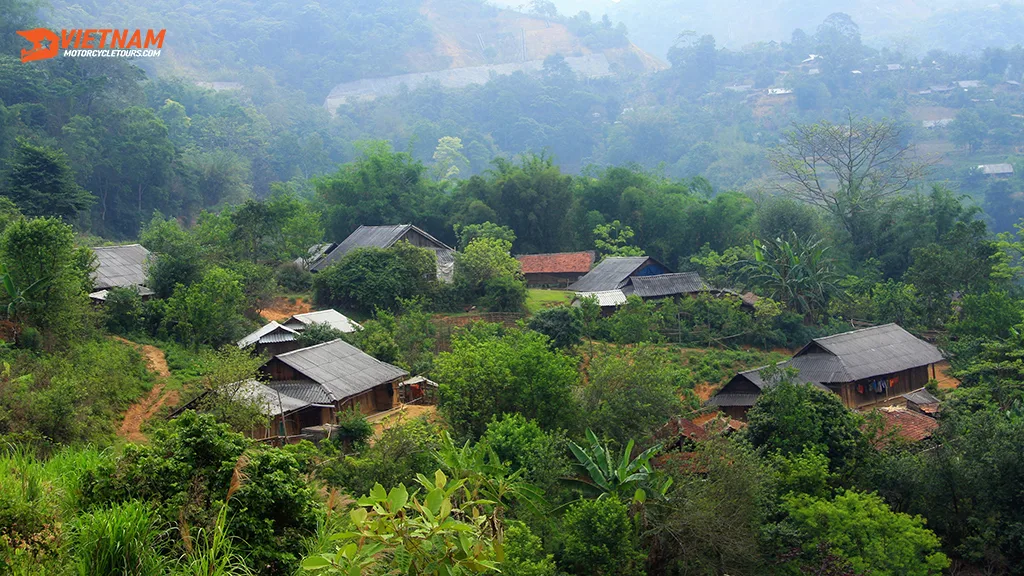 The rainy season, from May to October, is not ideal for motorcycle tours. It comes with frequent downpours and occasional thunderstorms, especially in June and August. The rainfall hinders outdoor activities, makes road conditions challenging, and even causes landslides. 
On the other hand, some tourists determine the timing of their travel by festival events and seasonal attractions throughout the year. For instance, September is when the charm of paddy fields unfolds as they reach their ripeness during the harvest season.
May is a festive time in Dien Bien as residents commemorate and celebrate the victory in the war. Meanwhile, March is renowned for the splendid fields of blooming bauhinia flowers in Dien Bien. 
How Do You Get There? 
From Saigon
Due to the long distance, it is most convenient to travel by plane to Dien Bien. However, you must land at Noi Bai Airport and take a second flight to reach your destination. You then need to travel another 4 km by taxi to the city center and explore Dien Bien Phu by motorcycle. 
From Hanoi
There are several transportation choices if you start off in the capital city. Available options include plane, bus, private car or motorbike. Flights offer convenience and save time but come with an expensive price tag.
Traveling by bus is also popular but requires wise planning. You may be stuck within a small vehicle loaded with passengers and belongings. Moreover, some bus routes often have drop-off points far from your destinations. In such cases, you must pay the additional cost for a motorbike taxi to arrive at your desired hotels or famous tourist attractions.
In comparison, motorbike trips are considered the most popular and convenient way to get closer to nature and awaken your adventurous spirit. This option gives visitors ample opportunities to adjust their itinerary according to their preferences. It is no longer difficult to explore tribal villages, make spontaneous stops to capture stunning scenes, and truly immerse yourself in the surroundings.
On the downside, the 500 km travel distance from Hanoi to Dien Bien filled with potholes or construction can dampen anyone's spirit, even seasoned riders. Challenging and unpredictable terrain requires constant concentration to avoid potential roadblocks, cliffs, and other hazards.
What To Do In Dien Bien Phu? 
Enjoy The Stunning Scenery Along The Way
As you navigate the tree-lined roads, you are embraced in the peaceful countryside and quaint villages. There are no chaotic traffic jams or busy intersections to interrupt your journey. Instead, gaze upon the clear blue sky and behold the breathtaking landscapes that unfold before your eyes.
The lush green rice fields paint a canvas of vibrant tranquility, while the lively atmosphere of harvest season adds a touch of rustic charm. Also, the legendary Pha Din pass captivates the hearts of all who venture here. 
Do not give up on tight turns and narrow mountain trails, as the rewards are immeasurable. A truly awe-inspiring panoramic view awaits at the summit of the beautiful mountain pass. Initially obscured by dense clouds, the masterpiece reveals itself as the mist lifts. 
A gentle river winds its way through the foothills of towering mountains. In the distance, picturesque villages play hide and seek within the lush green valleys, seemingly untouched by time.
Discover Natural Landscapes
Mother Nature has blessed this town with many beautiful sceneries. One of the destinations not to be missed on Dien Bien Phu motorbike tours is Muong Lay town, nourished by the Da River. Just a short distance away lies the romantic city of Muong Phang, renowned for its enchanting Pa Khoang Lake and vibrant cherry blossom gardens.
Adding to the allure of Dien Bien is the captivating Muong Nhe Nature Reserve, a true gem for nature enthusiasts. This area boasts a rich biodiversity with diverse flora and fauna.
It would be best if you also spent time discovering Xa Nha Cave in Tua Chua district. Tucked away beneath a cliff, this area still retains its wild beauty. The grandeur of the cave, featuring five colossal chambers adorned with magnificent stalagmite columns, leaves a long-lasting impression. 
Visit Historical Attractions
Dien Bien Phu stands out as a place of immense historical significance. That is also a reason for the abundance of historical attractions where glorious history comes alive. Take your first steps into the past as you ascend Him Lam Hill, the gateway of the famous Dien Bien Phu campaign. From there, continue to A1 hill, the site of the most intense and decisive battles.
In this hallowed ground, countless soldiers and innocent lives were sacrificed for a resounding victory. To honor their bravery and dedication, the Vietnamese government erected a victory monument atop a hill, a testament to the enduring spirit of those who fought and the cruel consequences of war. 
The Dien Bien Phu Museum is a must-visit destination for a deeper understanding of the Vietnam War. Dive in the exhibits, photographs, and artifacts and gain insights into the struggles, triumphs, and human stories that shaped this historic period.
Try Culinary Specialities
You will never be hungry in Dien Bien since this town has a rich culinary heritage. Here are some popular local foods to try after thrilling motorcycle tours: 
Com lam (bamboo sticky rice): a traditional dish in which sticky rice is cooked inside bamboo tubes. This fragrant and slightly smoky rice dish pairs well with grilled meats or spicy dips.

Tua Chua chicken: These chickens are a distinct breed that can only be found in Hmong villages. Their unique characteristics are their high nutritional content and striking black appearance, encompassing their feathers, bones, and internal organs.

Bitter bamboo shoot soup: Bitter bamboo shoots are known for their unique flavor. Chefs often combine this ingredient with pork or chicken, bringing out a flavorful and slightly bitter broth.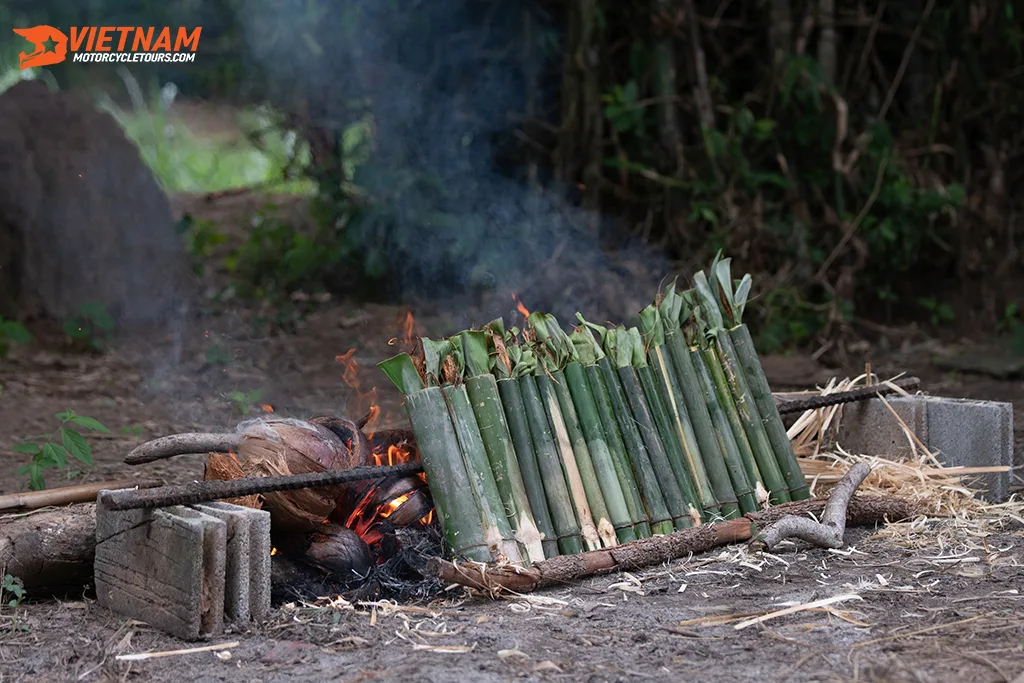 Join In Weekend Market 
The markets in Northern Vietnam serve as more than just venues for foreign trade. They are vibrant intersections of ethnic cultures; the same goes for Ta Sin Thang market. Schedule your motorbike tour Dien Bien Phu on Saturday morning when the local tribes gather near Muong Thanh Bridge on the Rom river banks.
They exchange goods, engage in social activities, enjoy meals together, and even go on dates. Each ethnic minority proudly displays its colorful traditional costumes. The lively atmosphere fills every street corner and lifts the mood of  every visitor. As you navigate through the stalls, remember to purchase brocade crafts as souvenirs.
Conclusion
This Dien Bien Phu by motorbike is an unforgettable adventure that offers a unique glimpse of this region's natural wonders and cultural heritage. Beyond that, the route provides a profound understanding of Vietnam's history. So, what are you waiting for? Sign up for Vietnam motorbike tours today and brace yourself on the winding road!
What riders have said about Vietnam Motorcycle Tours on Tripadvisor!