Mai Chau Motorcycle Tour 3D 2N – Off-roading In Another Planet
Book a tour: Mai Chau Motorcycle Tour 3D 2N – Off-roading In Another Planet
Overview
Trip Outline
Trip Includes
Trip Excludes
Gallery
Booking
FAQ
Introduction
Motorbike tourism, in recent years, has been expanding its coverage throughout the country. In particular, the northern regions of Vietnam are gaining more popularity through backpacking trips.
Today, we will provide you with valuable information about Mai Chau Motorcycle Tour - a new trip for those who love adventure and discovery. Please note that this ride is suitable only for experienced riders because the road is very difficult to maneuver through.
Mai Chau Motorcycle tour-Planned Journey
For this trip, you can go all year round. With the three-day and two-night itinerary, you will experience the life and culture of the ethnic people and enjoy the thrill of conquering the rough roads.
Day 1: Ha Noi - Mai Chau Village (160km)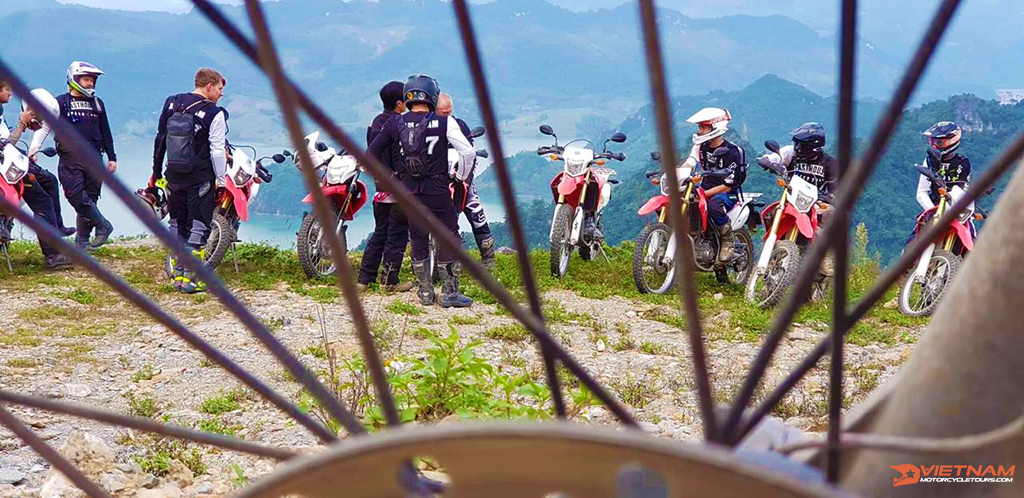 According to the itinerary, we will send a guide to pick you up at 7:15 am at the parking lot. From there, we will begin our journey. With the high density of traffic in Hanoi, you must familiarise yourself with the motorcycle's operation.
After passing through the dense traffic, we will go straight up the hill, across the rivers, through the old forests. We will go about 30km more before stopping for lunch.
In the afternoon, the road ahead is quite easy. You have the freedom to enjoy the natural beauty of the mountains. After another 10km, you would have completed the first day of the Mai Chau tour.
You will most likely reach Mai Chau before dark. Here, you will stay at the stilt house of the White Thai ethnic group. Apart from experiencing their culture, you can also enjoy the special cuisines.
Day 2: Mai Chau Village - May Waterfall (140km)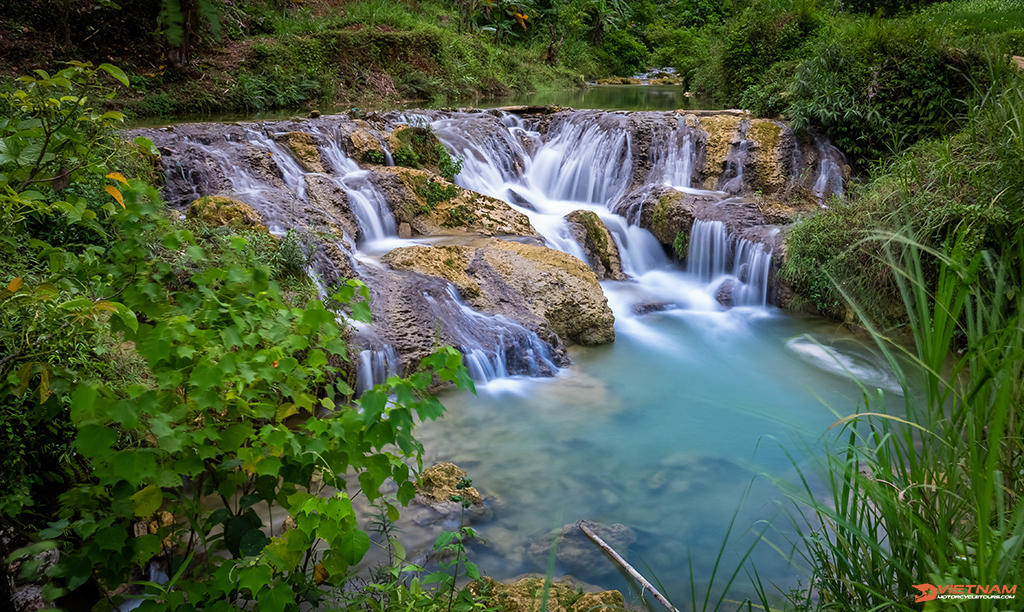 Before you start your day, you'll be treated to a delicious breakfast. While waiting for departure, we will have time to visit the peaceful scenery of beautiful houses in a rural village.
Leaving behind the peaceful sight, you must possess a fearless spirit to start a rather hard day of travel. The lone dirt path across the forest might be a challenging experience for backpackers. Be prepared to alter your route in case of bad weather!
We will stop at Muong village to rest and have lunch. You will have the opportunity to enjoy your meal next to a cooling flowing stream, running along a row of stilt houses. Imagine how refreshing it is to be immersed in such a scene.
However, it would be best to hold back that joy since there is still a long road ahead. Once everything is done, you will be well rewarded for your trip. 
Your resting place is a house on stilts located at the foot of a romantic waterfall. Take a long dip in the swimming pool before enjoying a dinner of great food.
Day 3: May Waterfall - Ha Noi (140km)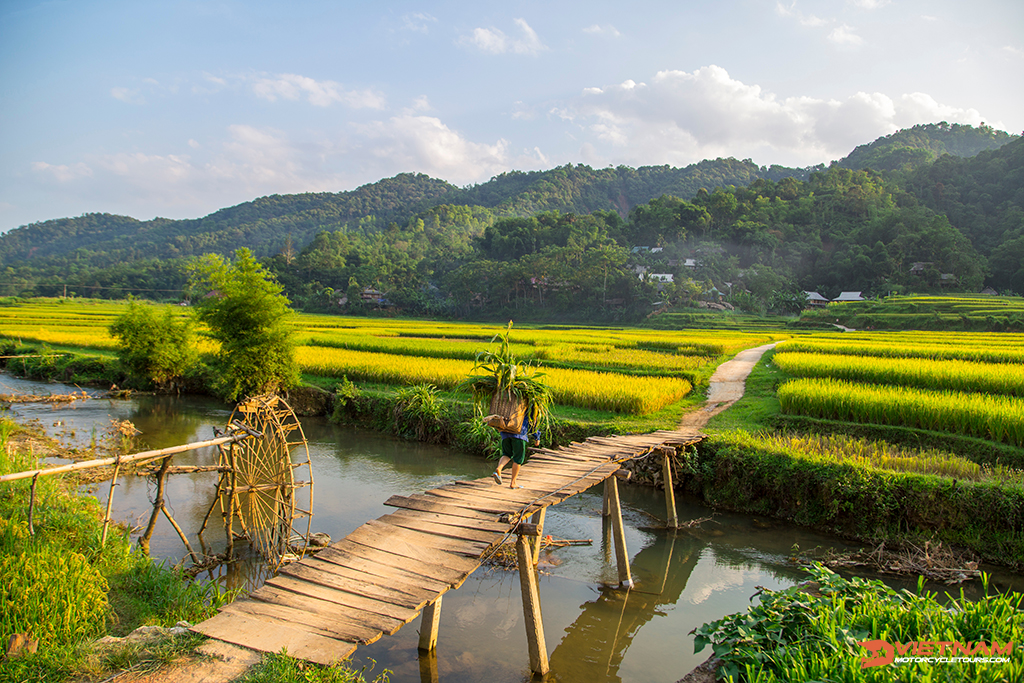 You should get up early and walk to breathe in the fresh air of the mountains. There is also a choice to take a dip in the water to start a new day refreshingly. 
The road from May Waterfall back to Hanoi is not too far. There is approximately 35km of beautiful scenery featuring a variety of terrains for your enjoyment. Most importantly, we will arrive in Hanoi before the start of rush hour.
Includes
:
A tour guide with excellent English communication skills;

Compulsory vehicle insurance, including Honda XR150, Honda CRF250L

Gasoline and extra components;

Homestay on the first night and a 3-star hotel on the second one;

Vietnamese cuisine includes two breakfasts, three lunches, and two dinners. Besides, non-alcohol drinks are also provided. (the choice of Western food will cost more);

During this motorbike tour, all entrance fees, permits, tickets, boat trips, ferries, bamboo rafts, etc. are paid;

Drinking water and authentic Vietnamese teas.
Excludes
Services like suitcase transportation, backup motorcycle;

Personal expenses incurred and health insurance;

Only local rice wine and tea;

Extra charge for a single room if you want to make a reservation;

Protective gear with a favorable rental price;

Travel tickets before and after the motorbike journey;

Dishes provided before and after completing the trip;

Lodging and meals when you come to Ha Noi;

Bonuses.
Prepare For Motorbike Trip
Protective gears:

You will need the appropriate gear for your specific bike. Above all, these gears must give you a feeling of safety and comfort when moving through dirt roads. Helmets, gloves, boots, armor, pants, etc., should be chosen carefully to ensure safety.

Personal Items:

Clothes, medicine, and necessary objects are indispensable items on backpacking trips. In addition, there are only two seasons in Vietnam, the rainy season and the dry season, so carrying rain gear is inevitable.
Time To Take A Trip
The climate in the North is very diverse, with tropical monsoon nature. The temperature ranges from 10 to 38 degrees Celsius.
For Mai Chau and other places in the North, the most suitable time to go backpacking is from February to April or from October to December.
The weather at this time is very suitable for excursions. You can enjoy the cool air mixed with a little cold in the northern region. In addition, some landscapes are only visible in the above two time periods.
Tips For Rider
Crossing the river:

always remember to follow the trail of the people ahead or the locals. Progress slowly when crossing streams. Pay attention to places where the water flows smoothly because that is where the water is quite deep. Legs must always be steady to balance the vehicle properly.

Mud Crossing:

You need to lower the tire pressure so the car can stick to the road and get through the mud. With lower tire pressure, you will create higher traction and grip on the road. Once you've crossed the muddy terrain, increase the pressure to keep the vehicle moving smoothly.
Conclusion
This blog has delivered a plethora of valuable information about the Mai Chau Motorcycle Tour. During the three-day trip, you will feel refreshed as you ride to the North and be amused by the stunning landscapes of the mountains. We wish you a safe and joyful tour!
What riders have said about Vietnam Motorcycle Tours Review On Tripadvisor!