Vietnam Top Gear Motorbike Tour: 23 Days To Chase A Dream
Book a tour: Vietnam Top Gear Motorbike Tour: 23 Days To Chase A Dream
Overview
Trip Outline
Trip Includes
Trip Excludes
Gallery
Booking
FAQ
Introduction
Vietnam, a land of stunning vistas and vibrant culture, had always fascinated my friend and me. As long-time fans of the iconic Vietnam Top Gear Special (TV Episode 2008), we had dreamt of making its incredible journey come true. 
That's why the idea of a 23-day Vietnam top gear motorbike tour called out to us. We yearned for more than just a vacation; we craved an adventure that would redefine our lives.
My Top Gear Vietnam Motorbike Itinerary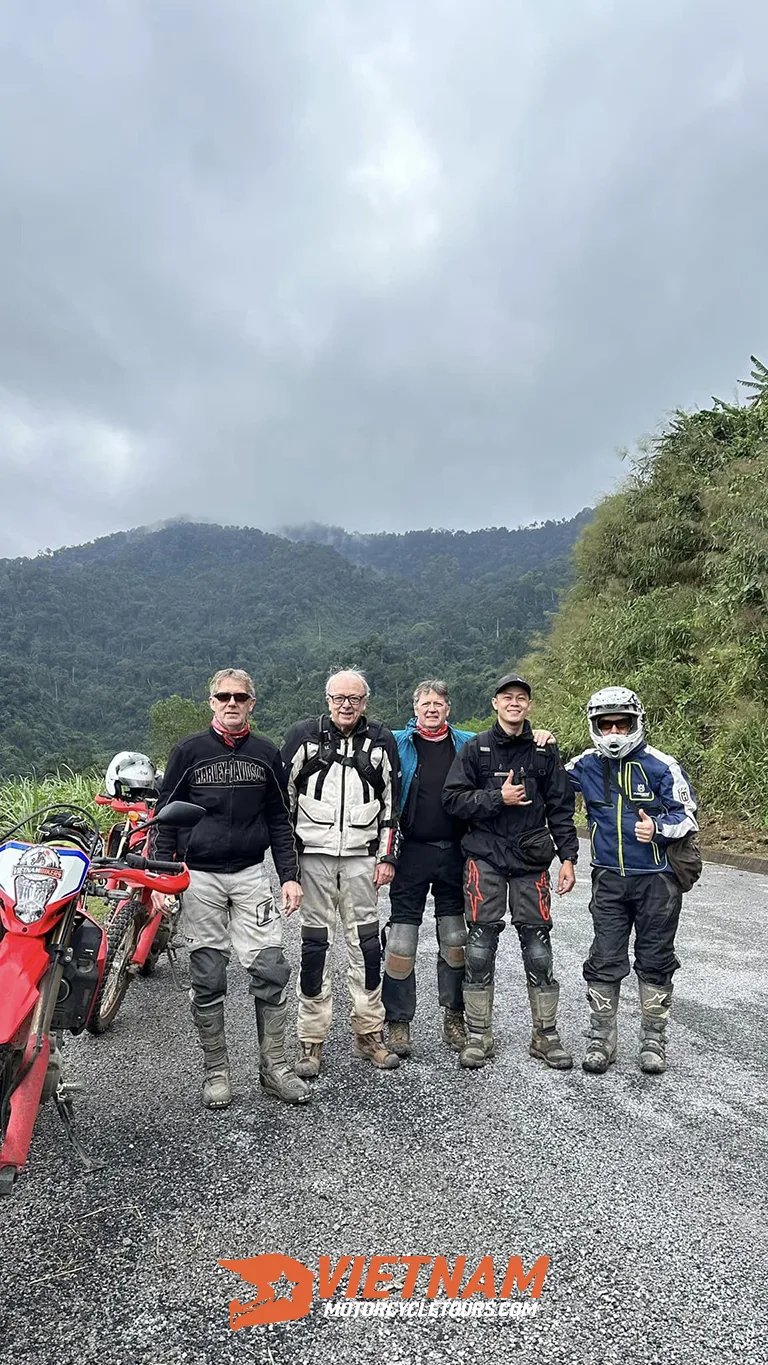 Day 1: Hanoi to Thac Ba Lake Motorcycle Adventure - 160km
The day began at 8:00 a.m. with our hotel pick-up. Gearing up at the workshop, we embraced the promise of adventure. Hanoi quickly faded into the distance as we hit the serene dike road along the Red River. 
Lunch in Doan Hung town satisfied our hunger for local flavors. As the sun dipped, we left our bikes with a Dzao family. A boat ride on Thac Ba Lake awaited, gliding through the water that glistened in the fading light. Our day ended with the warm hospitality of the Dzao people in Ngoi Tu village, where we nestled into a stilt house for the night.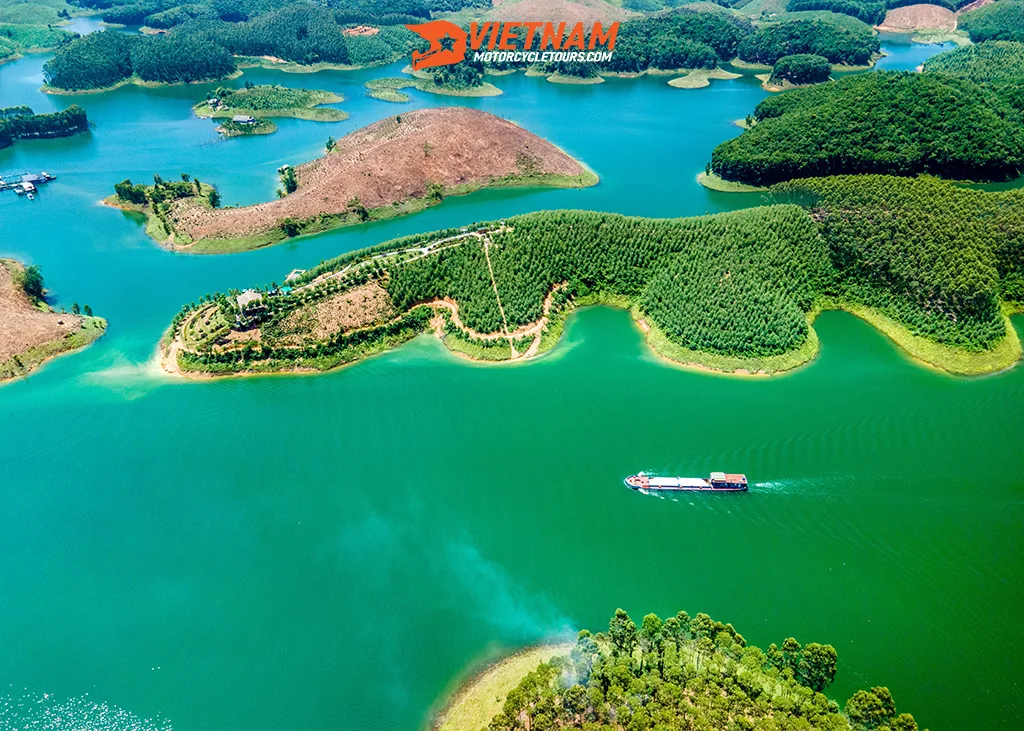 Day 2: Thac Ba Lake to Ba Be National Park Motorbike Ride - 170 km
Today's ride unfolded as a grand adventure, surpassing yesterday's excitement. For off-road enthusiasts like us, the local guide team led us through exhilarating National Park trails and vast green tea fields.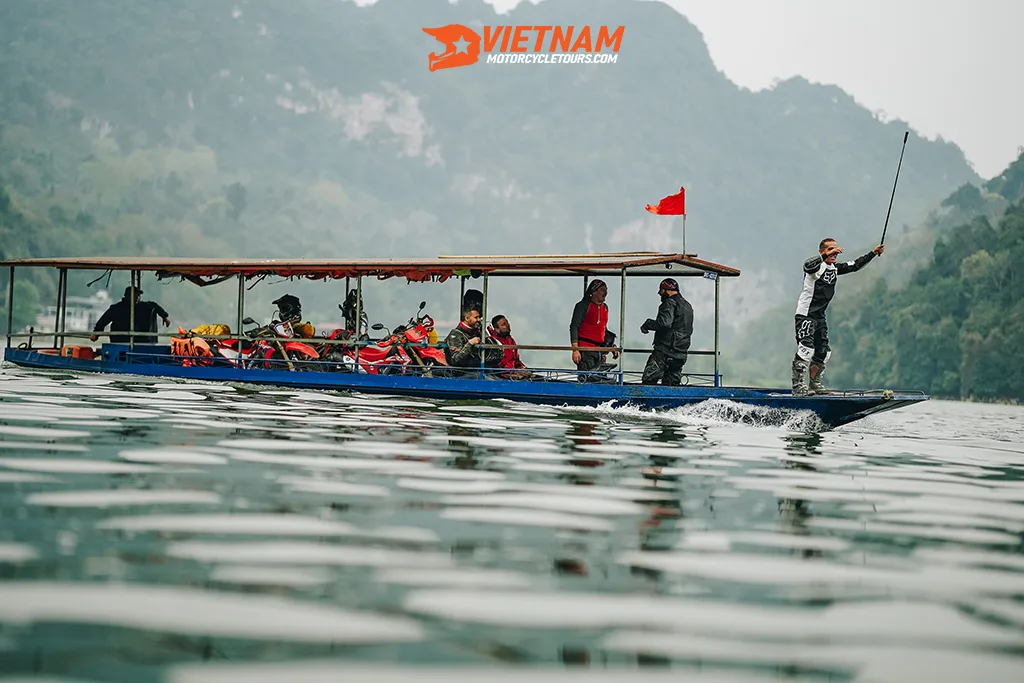 Our journey encompassed Ba Be National Park's most iconic spots, including the mesmerizing Puong Cave, the enchanting Ba Goa Island, and the breathtaking Dau Dang Waterfall. 
Our ride concluded in a Tay village nestled on the banks of Ba Be Lake, surrounded by the park's vibrant greenery. Here, we relished a cold beer amidst the pristine nature and refreshing air—a perfect end to an amazing day.
Day 3: Ba Be National Park to Bao Lac Motorcycle Tour - 170km
As the roosters crowed and the village came to life, we greeted the day. The sounds of nature and farm animals were our morning wake-up call. Eager to explore, we strolled through the village, connecting with the locals before bidding them farewell.
Our Vietnam motorbike tours continued with a brief ride to the serene banks of Ba Be Lake. To our surprise, a small boat stood ready to transport our bikes. Filled with anticipation, we set out on a two-hour boat voyage across Vietnam's largest natural lake. This expedition, delving into the heart of the national park and its captivating caves, would soon become the most memorable part of our day.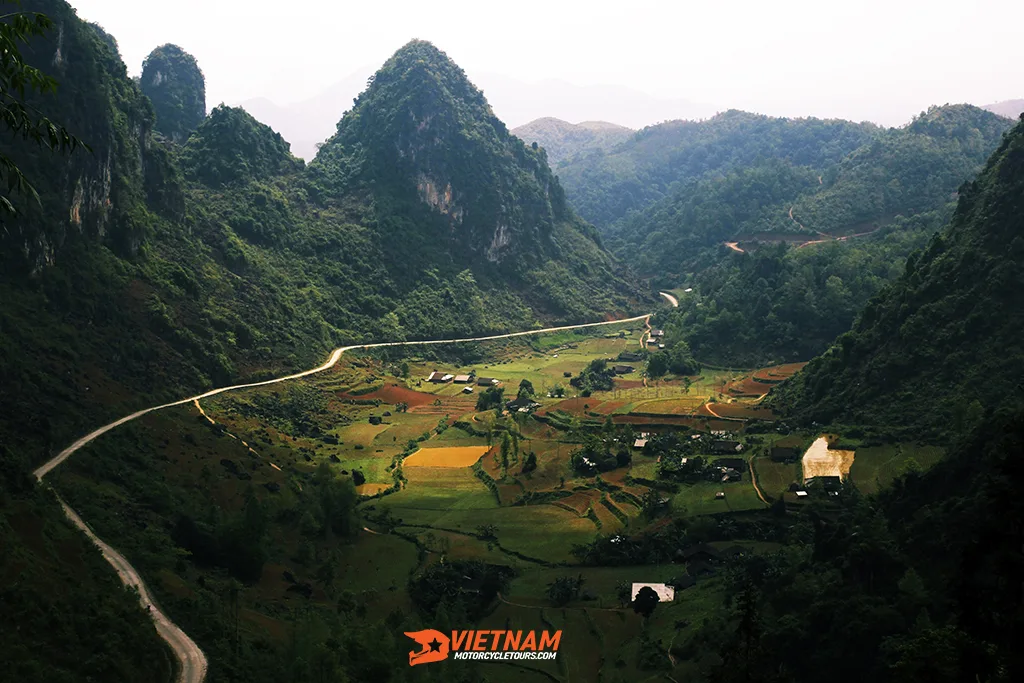 Day 4: Bao Lac to Dong Van Motorcycle Tour - 160 km
Today's ride was an absolute delight, offering us an abundance of off-road thrills. By the time afternoon rolled around, we had reached the breathtaking Dong Van Rock plateau. This rugged expanse of nature left us in awe, and we couldn't resist the temptation to capture its majestic beauty through the lens of our cameras.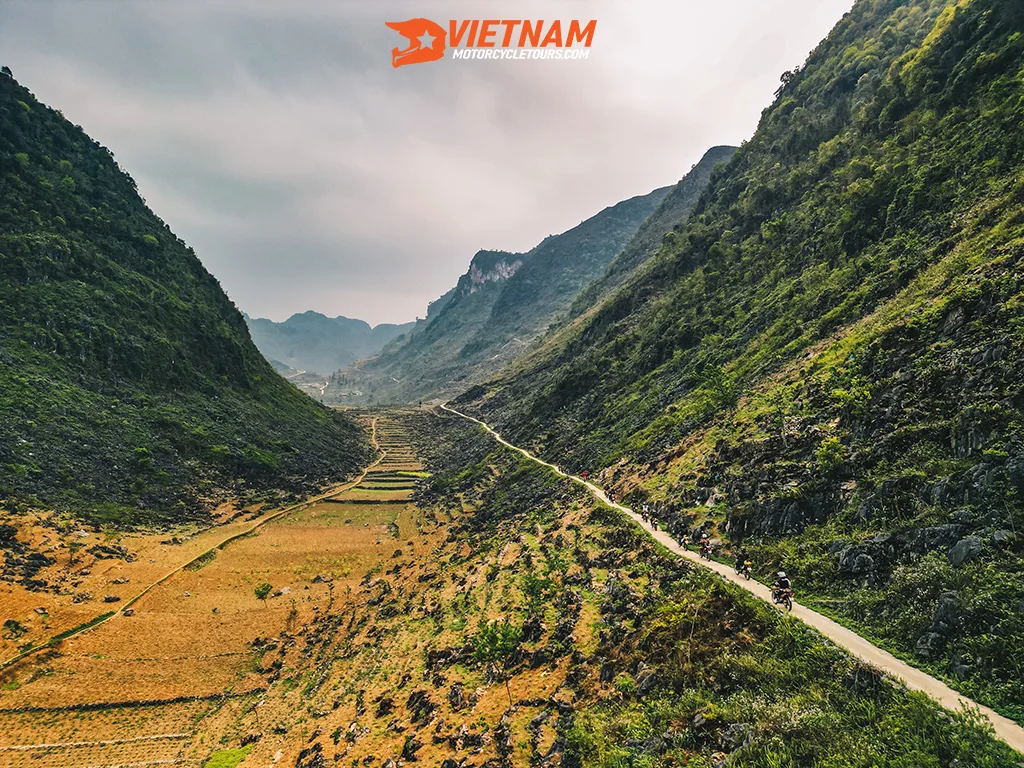 Amidst all the special moments, our hearts raced as we braved the Ma Pi Leng pass - a risky, heart-pounding adventure that excited and exhilarated us all. As we eagerly shared our day's journey on Facebook, we were overjoyed by the enthusiastic responses from friends and family.
Day 5: Dong Van to Ha Giang Motorcycle Journey - 170km
On day 5, we set out on another thrilling leg of our Vietnam top gear motorcycle tour, exploring the Dong Van and Ha Giang Rock plateau, a stunning landscape formed by narrow valleys alternating with rocky mountain ranges in the north of Vietnam.
Our journey continued with lively villages inhabited by the H'Mong people, a vibrant ethnic minority. Their distinctive clothing and mouthwatering cuisine left us utterly impressed. With these remarkable encounters etched in our memories, we finally arrived at a charming hotel in Ha Giang.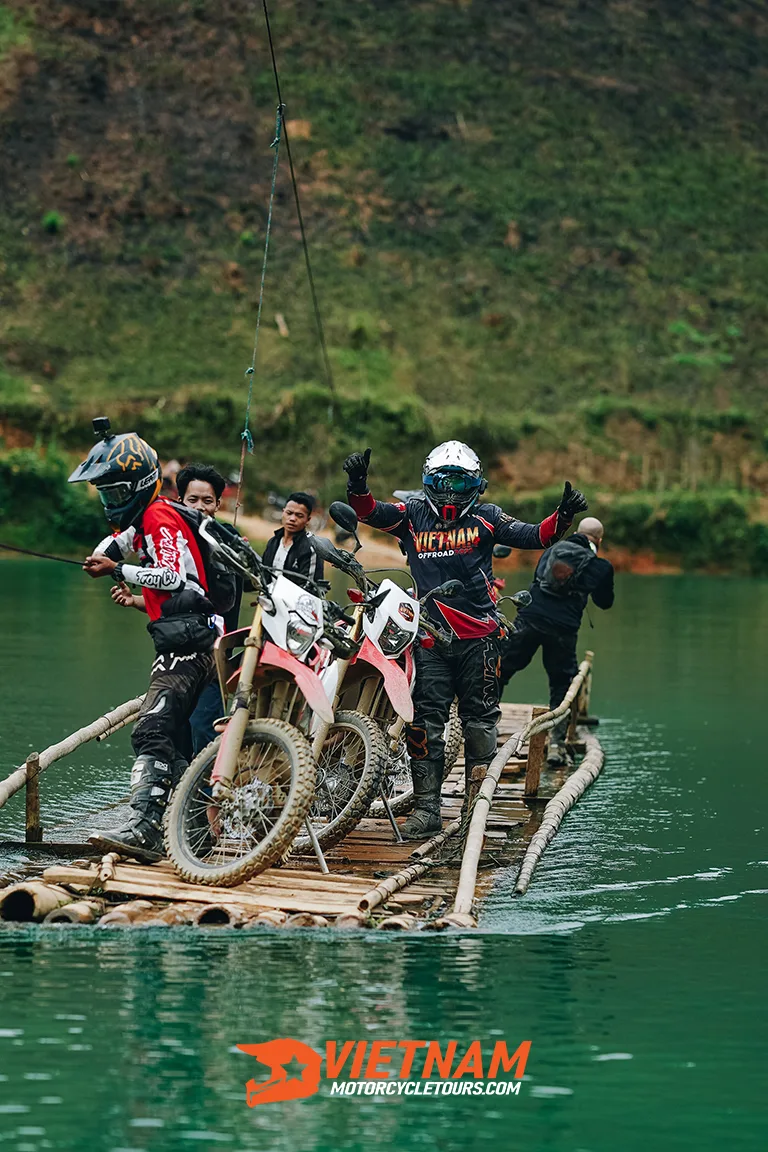 Day 6: Ha Giang to Bac Ha Motorcycling - 180km
The day unfolded smoothly as we rode through western Vietnam, embracing the picturesque landscape of lush mountains and terraced rice fields. We encountered the flower H'Mong, Thai, and Tay communities along the way.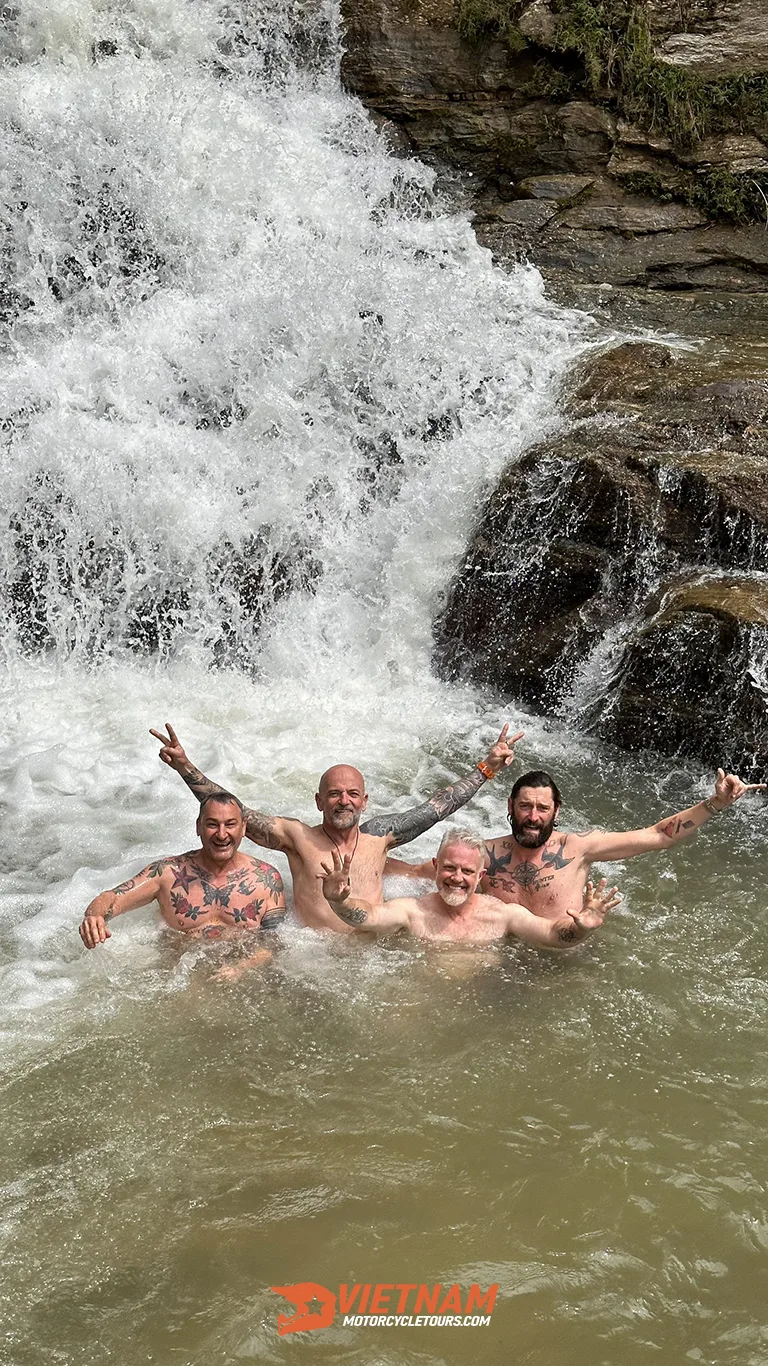 Riding down dirt roads revealed charming villages and bustling local markets. As the sun set, we arrived in a serene Tay village where a kind-hearted family extended their hospitality to us. Here, we forged new friendships with two locals, Pa Dí and Tày Khao. Our simple accommodations, while modest, provided a comfortable refuge after a day of exploring Vietnam's natural beauty on our motorbike trip.
Day 7: Bac Ha to Sapa Motorcycle Route - 170km
Leaving the Tay village behind, we revved my motorbike and set off on the Vietnam top gear motorcycle tour. As we climbed higher, the lush green forests gave way to towering limestone peaks and cascading waterfalls. 
We stopped at a local market to soak up the vibrant atmosphere and sample some delicious local produce. There, we met a group of friendly local women artisans of handmade crafts. I decided to purchase some beautiful necklaces to gift my best friends.
After lunch in Lao Cai town, we rode toward Sapa. The road ascended through vividly colored terraced rice fields. After a fulfilling day of riding, we cherished the serene ambiance of my comfortable hotel room, eagerly anticipating a rejuvenating night's sleep and looking forward to exploring Sapa anew the next day.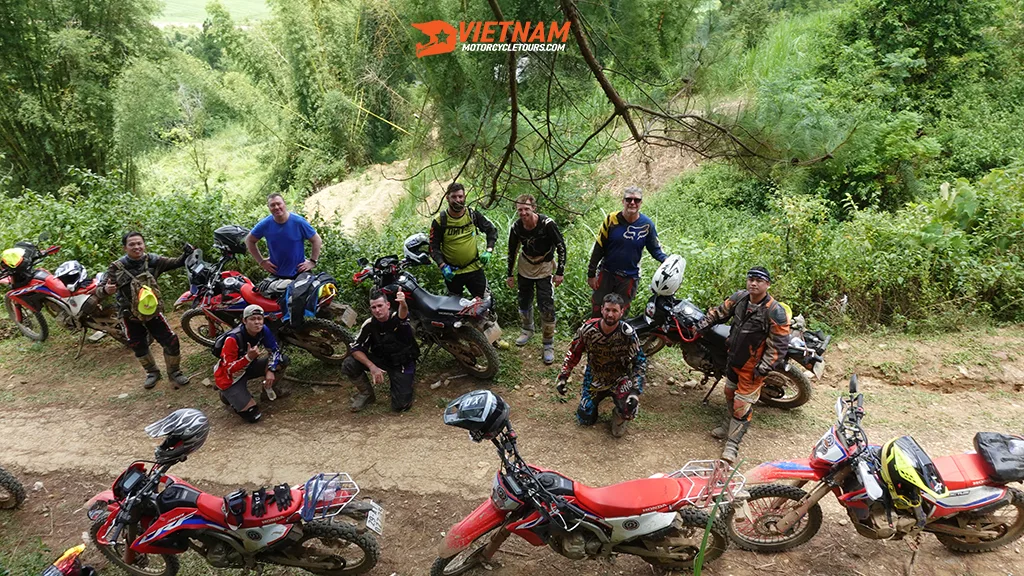 Day 8: Relaxing in Sapa
Today was a well-deserved rest day in Sapa, allowing me to dive deeper into the enchanting essence of this town. Sapa, with its origins dating back to the French colonial era, exudes an old-world charm that's hard to resist. Strolling through the streets, we couldn't help but marvel at the intriguing fusion of historical architecture and the vibrant energy of the local hill tribes.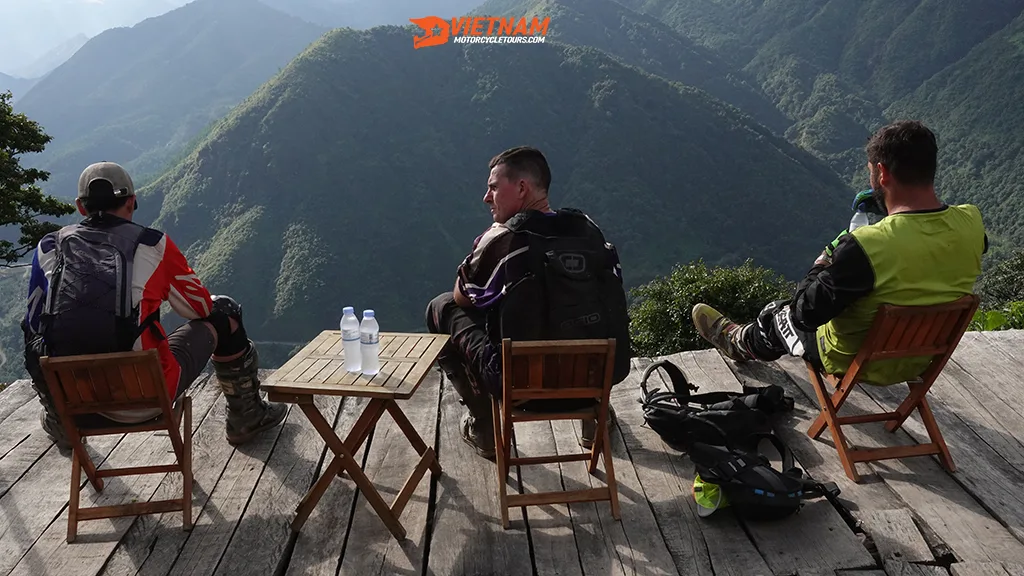 The afternoon was time for an interesting experience with cable cars, a thrilling ride that carried us to the summit of Hoang Lien Mountain, where we reached heights exceeding 2000 meters above sea level. As we all brimmed with excitement, one girl in our team felt a tad nervous, and it sparked a round of lighthearted laughter among us.
Day 9: Sapa to Mu Cang Chai Motorbike Trek - 180km
Today, we began our adventure with a hearty breakfast, savoring a cup of Vietnamese milk coffee to fuel our spirits. The day promised an exhilarating motorcycle ride through Mu Cang Chai, known for its breathtaking landscapes, especially during the rainy season.
Our journey commenced with an exhilarating ride through O Quy Ho Pass, renowned as one of Northern Vietnam's most beautiful yet challenging routes. We found ourselves irresistibly drawn to capturing the beauty of nature, peaceful villages, and the warm-hearted locals. Our day concluded in Mu Cang Chai at a cozy hotel, where we unwound and fondly recounted the day's memories.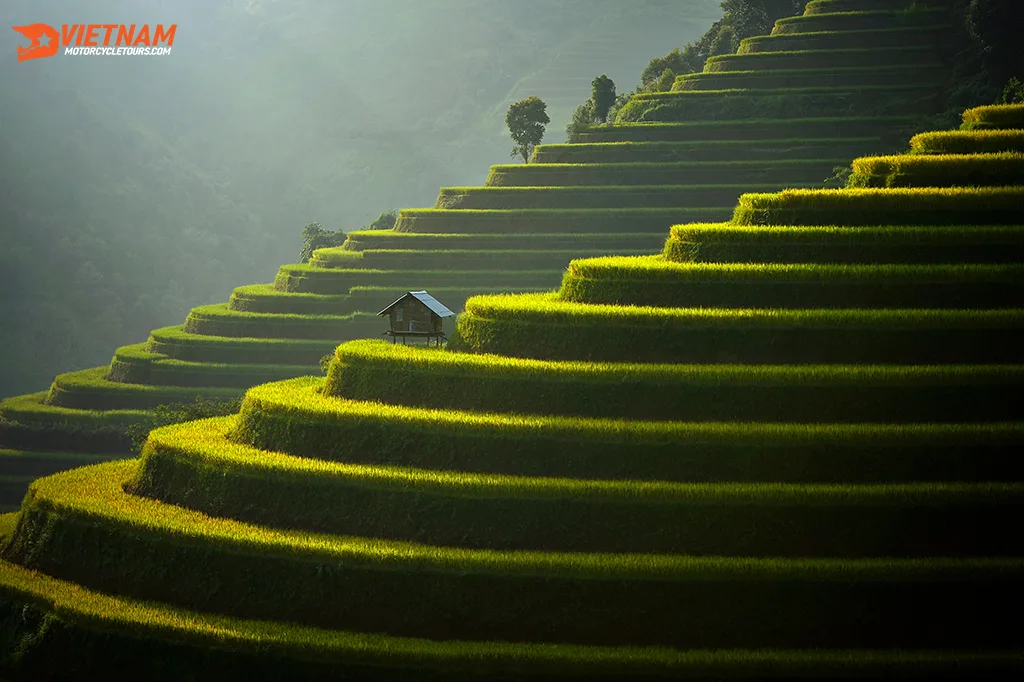 Day 10: Mu Cang Chai to Phu Yen Motorcycle Trip - 170km
In the morning, we savored a delectable breakfast of grilled fish, setting the stage for our thrilling adventure through the enchanting Northwest of Vietnam. Today's ride promised to be a delight for off-road enthusiasts, with our expert local guides leading us through a day filled with 50-70% of heart-pounding off-road tracks. While the iconic rice terraces became less frequent, the scenic landscape of lush green mountains still captivated the eye.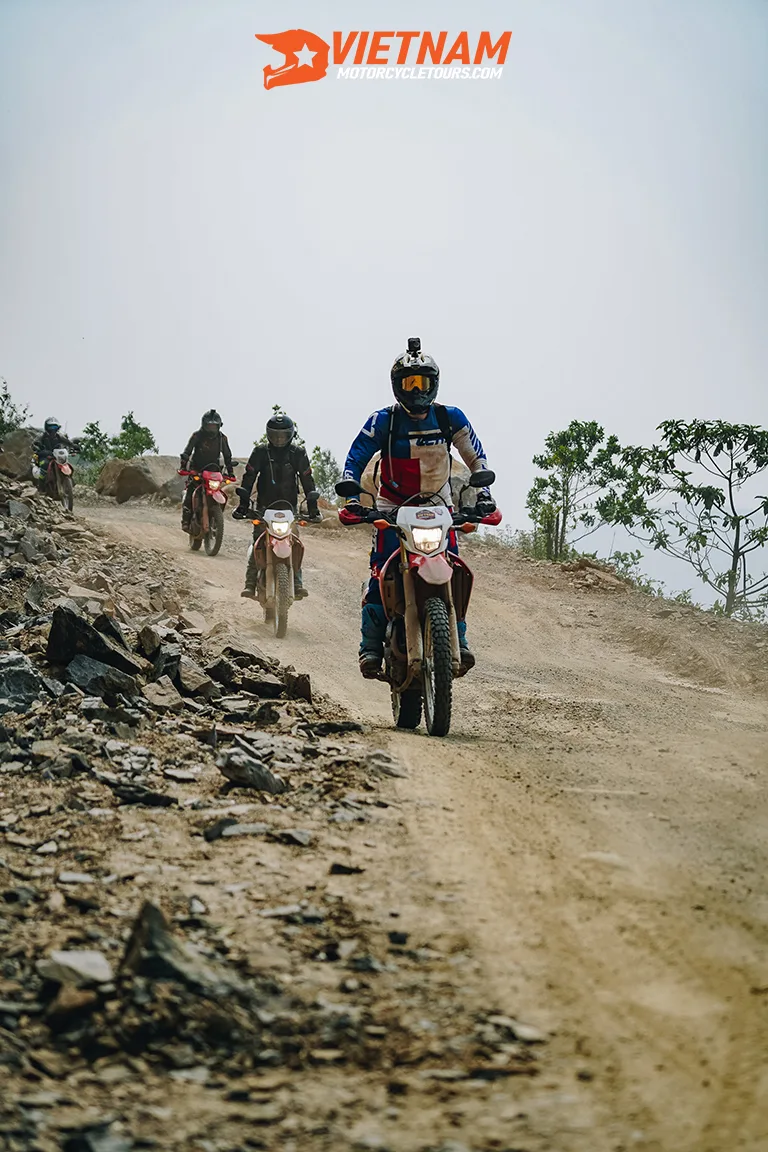 Our motorcycle ride wrapped up in Phu Yen town by 4:00 p.m. However, for the more spirited travelers, there's an option to venture into the nearby Muong villages via charming countryside backroads. During this exploration, a hospitable local treated us to a sampling of "stem liquor," a truly unique brew made from fermented glutinous rice infused with an array of forest herbs. The taste was peculiar and eccentric but undeniably unforgettable.
Day 11: Phu Yen to Mai Chau Valley Motorcycle Adventure - 170km
Kissing goodbye to the charming town of Phu Yen behind, our top gear Vietnam motorbike tour snaked along the scenic Da River Lake, taking us on a mountain road with breathtaking views. The journey gifted us with awe-inspiring vistas of lush mountains reflected in the tranquil green waters. After crossing the lake by ferry, we embarked on a picturesque route that wound its way through the verdant plateau of Moc Chau.
Following a satisfying lunch in Moc Chau, we descended gently into the serene valley of Mai Chau, where the Thai people warmly welcomed us to their quiet village for the night. We love traditional Thai food! The Thai meals, a delightful spread of various dishes, greeted our taste buds with a symphony of unique flavors.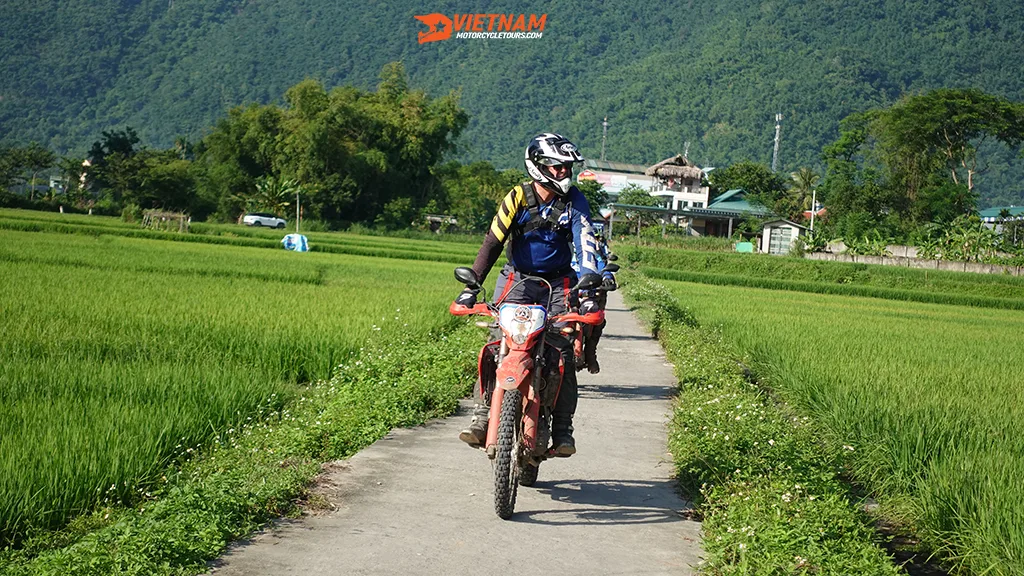 Day 12: Mai Chau Valley to Tan Ky Motorbike Expedition - 250 km
Our thrilling Ho Chi Minh trail motorbike adventure commenced today. We left the Thai village and enjoyed a scenic ride through valleys, villages, and rice paddies. The route transformed as we navigated bamboo forests and the Ma River's edge.
In the afternoon, we embarked on an exhilarating journey along the historic Ho Chi Minh trail, heading towards South Vietnam. This well-maintained road provided a stark contrast to our previous terrain. By 5:00 p.m., we reached Tan Ky, a town steeped in historical significance and surrounded by serene mountains.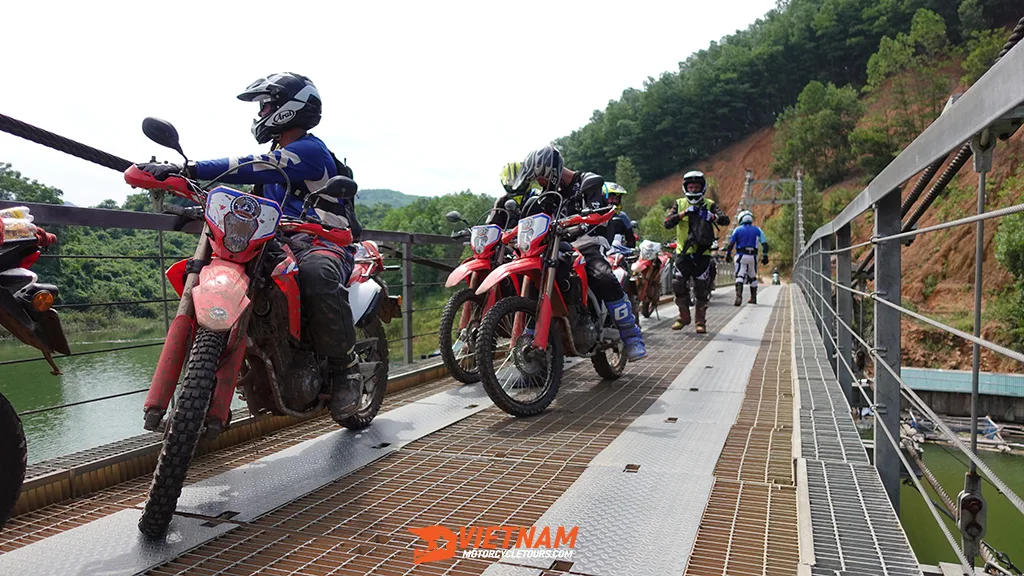 Day 13: Tan Ky to Phong Nha National Park Motorcycle Journey - 290 km
The morning ride unfolded on smooth, sealed roads, giving us picturesque views of rice fields and lush tea plantations. We couldn't help but pause to capture the essence of tea culture in Vietnam, learning the art of green tea production.
As the day progressed, our motorbike journey got closer to the breathtaking Phong Nha National Park. Arriving around 4:30 p.m., we were thrilled to have the opportunity for a short boat trip along the emerald river, venturing into renowned caves. The experience was enchanting as we glided through the dark, mysterious caverns adorned with stunning stalactites and stalagmites. It was a surreal and unforgettable journey into the heart of the earth's secrets.
Day 14: Phong Nha National Park to Khe Sanh Motorbike Expedition - 220 km
Today was a truly beautiful day on the Ho Chi Minh trail. Our guide took us to Khe Sanh along the western route, offering stunning views of Phong Nha National Park. It's a remarkable journey of over 200 kilometers, with few other travelers in sight. It's truly wonderful to learn from our tour guide that Phong Nha-Ke Bang served as a military base originally constructed by King Ham Nghi for the resistance against French colonialists in the late 19th century. Later, it played a crucial role in the Ho Chi Minh Trail and Road 20 during the US Resistance War.
After leaving it, we explored the former US Marine Base, complete with tunnels, an airbase, and an intriguing Khe Sanh museum. Our epic western Ho Chi Minh Trail trip ended around 5:00 p.m. in Khe Sanh town.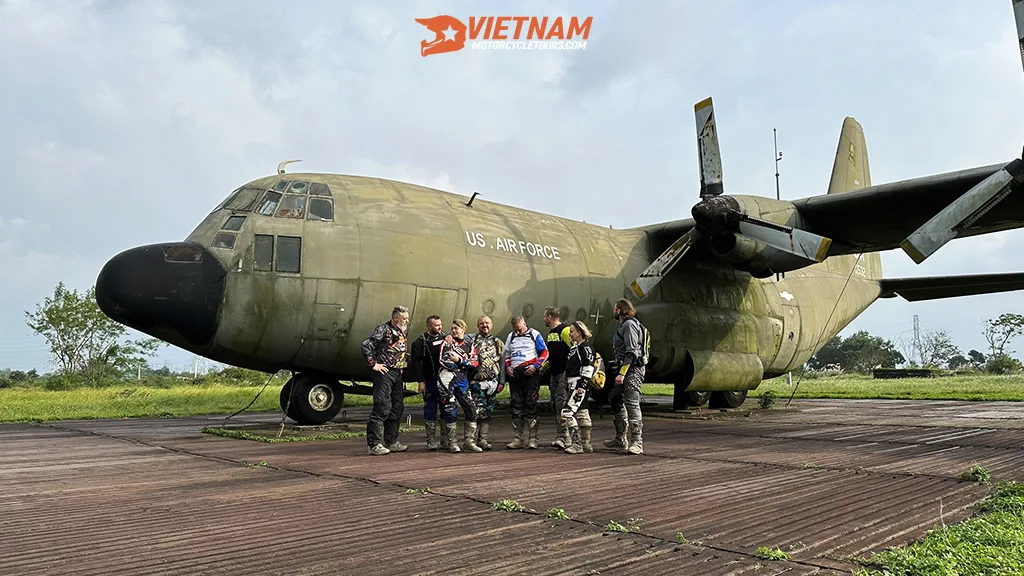 Day 15: Khe Sanh to DMZ to Hue Motorcycle Route - 170km
Today, we said goodbye to the Ho Chi Minh Trail and ventured onto another historic route, Road No 9. This road served as a volatile border between North and South Vietnam, witnessing fierce battles between Northern communists and Southern Vietnamese and American troops. That was an eventful day with key historical sites in the DMZ, including the iconic Hien Luong Bridge, symbolizing the nation's division, the evocative 17th Parallel Museum, and the renowned Vinh Moc tunnels.
Throughout the day, we've had the privilege of listening to countless historical accounts, each showcasing the Vietnamese people's incredible bravery and unwavering dedication during the tumultuous times of conflict. Following a satisfying lunch near the tunnels, we embarked on a short but scenic motorcycle journey to the charming city of Hue. As the sun kissed the horizon, we finally set foot on the romantic Hue city.
Day 16: Hue to Hoi An Motorcycle Tour - 190km
As we departed from Hue, our journey took us along the captivating coastlines, passing through lively fishing villages and fields adorned with colorful tombs. The coastal scenery offered a refreshing change from the mountainous landscapes of the Ho Chi Minh trail.
A true highlight awaited as we ventured through the breathtaking Hai Van Pass, where the ocean stretched endlessly before us, and Da Nang's coastal cityscape unfolded. Descending into Da Nang, we continued along the coastal road, eventually arriving in the charming town of Hoi An, having experienced an amazing ride along the coast.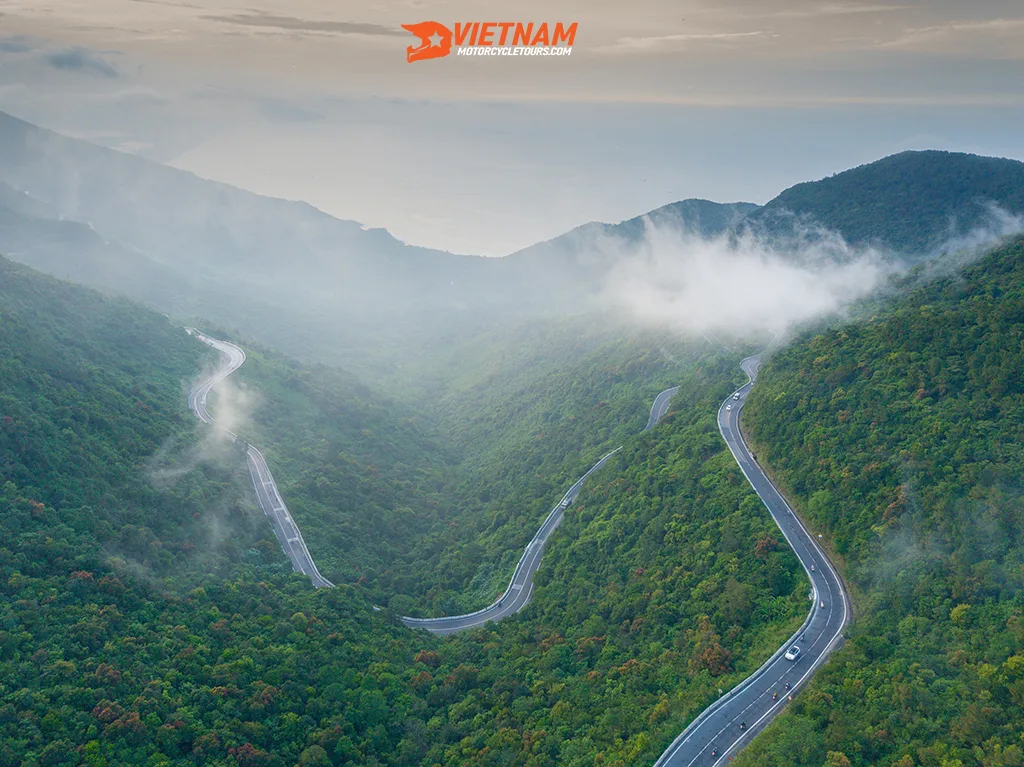 Day 17: Motorbike Tour Around Hoi An
Today was all about unwinding in the charming town of Hoi An, a famous global tourist destination. After the exhilarating and lengthy Vietnam top gear motorcycle tour, this peaceful town offered the perfect setting for relaxation and rejuvenation.
Hoi An is celebrated for its tranquil atmosphere, local way of life, silk craftsmanship, and pristine beaches. It was an ideal day to rest, recharge, or indulge in some shopping. Interestingly, my friends and I eagerly embraced the opportunity to experience a ride in a cyclo, a unique traditional vehicle. The streets were adorned with colorful lanterns, casting a nostalgic and timeless aura over the town. In the heart of Hoi An's ancient quarter, it truly felt like we had stepped back in time.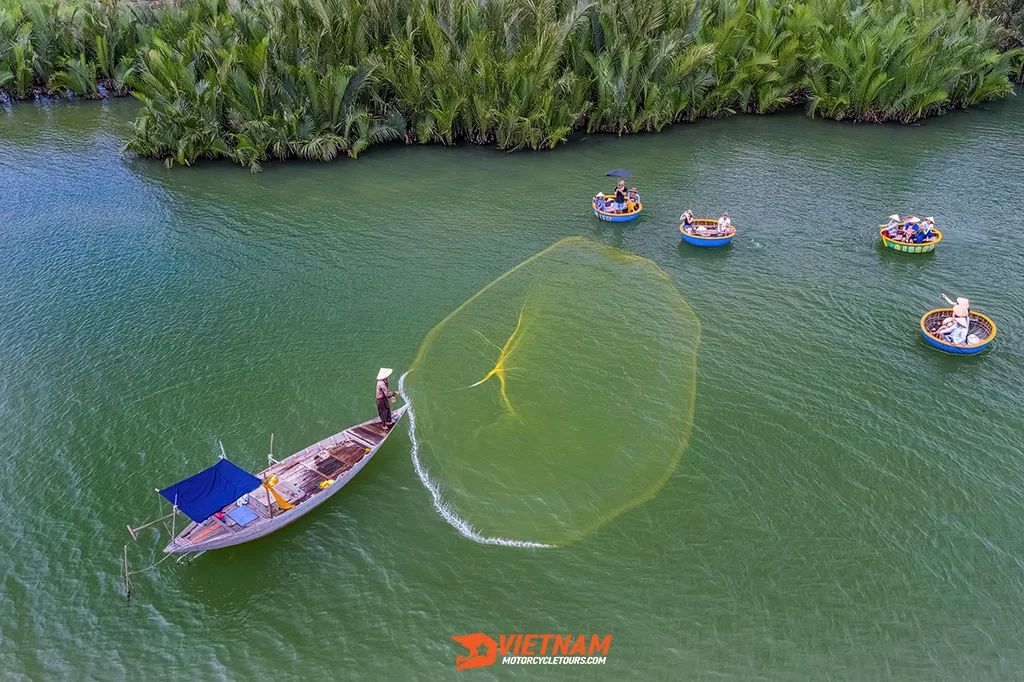 Day 18: Hoi An to Kon Tum Motorcycle Trek - 290km
After a memorable stay in Hoi An, our motorcycle journey on the Ho Chi Minh Trail went on. We rode westward to Phuoc Son, also known as Kham Duc, where the formidable Lo So Pass awaited.
Winding through these remote and sparsely populated areas inhabited by the Ba Na ethnic group, it felt like we were on the world's edge. Drawing closer to the Laos border, a region where the trail once intertwined with Laos, we continued our ride on smooth roads, eventually reaching the vibrant town of Kon Tum. Our day concluded at a hotel in town, where we eagerly indulged in some well-deserved relaxation and a refreshing drink at beer O'clock.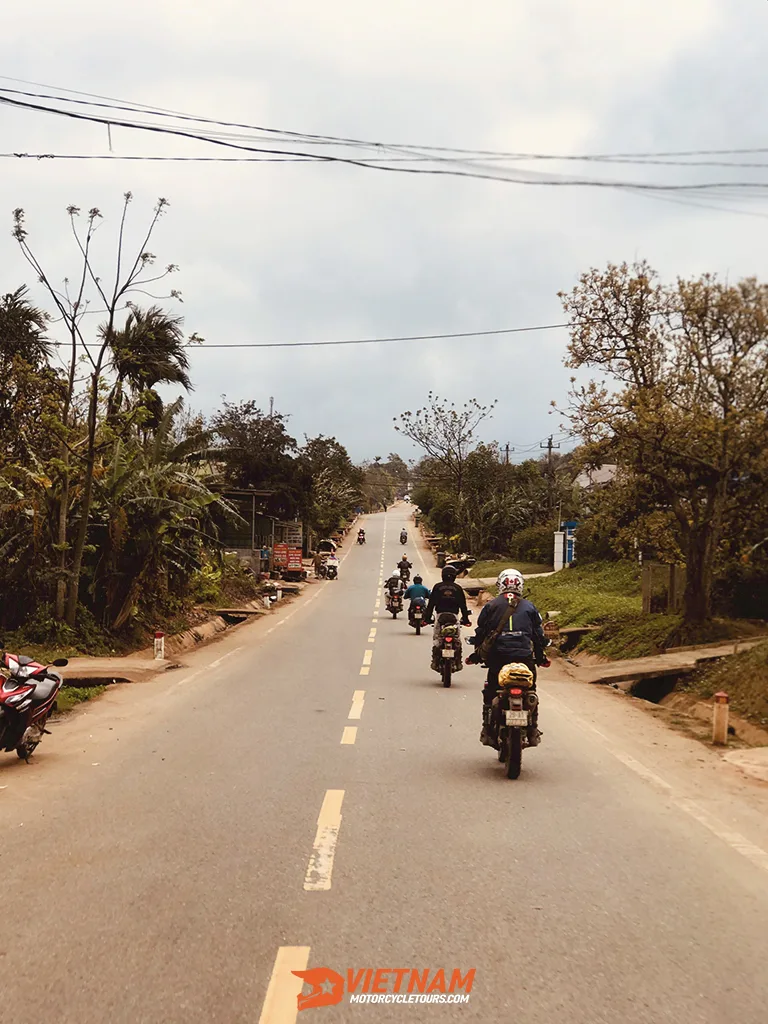 Day 19: Kon Tum to Buon Ma Thuot Motorbike Adventure - 230km
Today, we delved into the heart of Central Highland Vietnam. Our journey led us along the iconic Ho Chi Minh road to Buon Ma Thuot, a city renowned for producing Vietnam's finest coffee. As we rode, we were taken by this highland's colorful culture and natural beauty.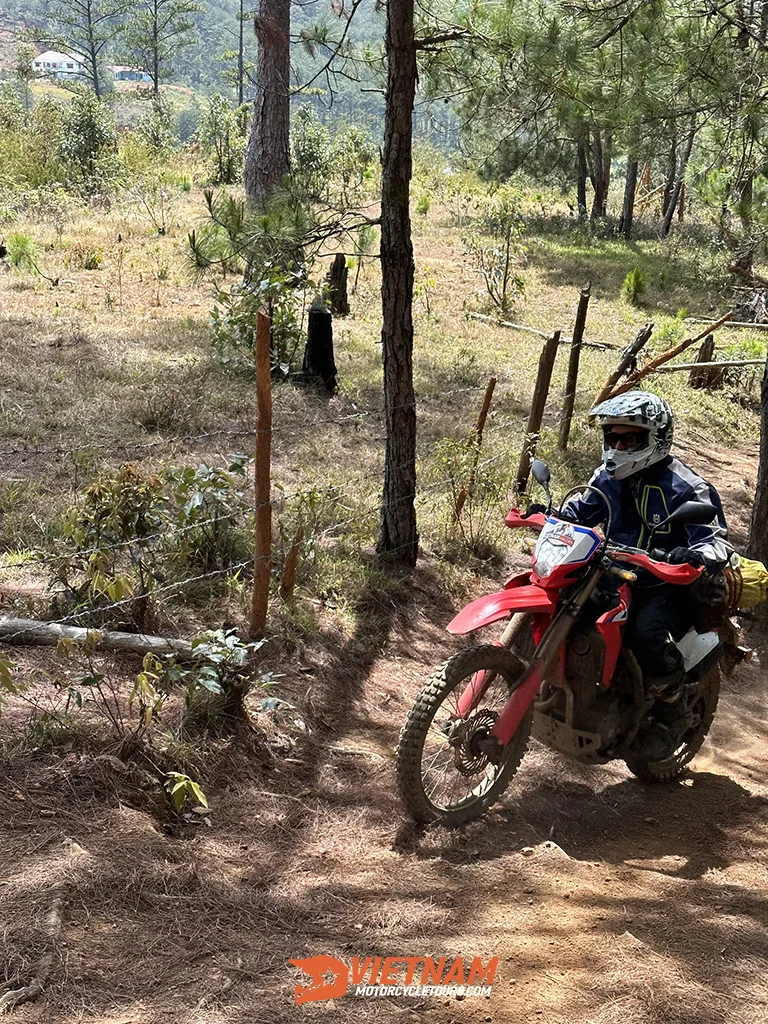 Our morning route took us south through the Central Highlands, passing through historical sites like Pleiku and the Ia Drang Valley battlefield, which played a crucial role in the Vietnam War. Eventually, we arrived in Buon Ma Thuot, where northern forces launched their final assault on Saigon. The rich history and picturesque landscapes made for an unforgettable day.
Day 20: Buon Ma Thuot to Da Lat Motorcycle Trip - 220km
Departing from the charming city of Kon Tum, our journey persisted along the Ho Chi Minh road, leading us through expansive vistas of lush coffee and rubber plantations. Amazingly, we savored a unique coffee experience at the World Coffee Museum, indulging in the quintessential Vietnamese coffee flavor that's unrivaled elsewhere.
As the afternoon unfurled, the motorbike adventure escalated, spiraling upwards toward the renowned and enchanting Da Lat plateau. We enjoyed a snug and inviting hotel in Da Lat, conveniently close to the city center.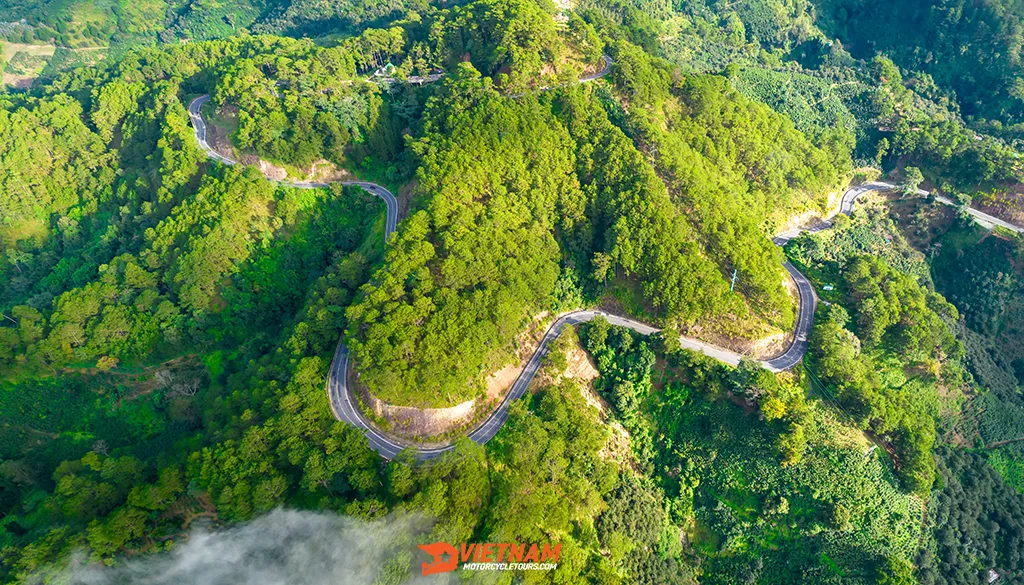 Day 21: Da Lat Motorbike Tour
Da Lat, often referred to as 'The City of Love,' has truly won our hearts. This charming city, once discovered by the French during the Indochina wartime, is now a beloved retreat for both locals and tourists. Today, we had the chance to explore its many wonders. From the evergreen forests to enchanting waterfalls, serene lakes, vibrant flower gardens, and delightful fresh produce, Da Lat offered a haven away from the heat of the lowlands.
There, we witnessed love bloom all around us. With its picturesque backdrop, the Valley of Love inspired many couples in our group to capture beautiful moments together. Standing by Xuan Huong Lake, we couldn't help but feel like we had stepped into a poem. The romantic scenery, coupled with the gentle breezes, created a cinematic experience that was nothing short of enchanting.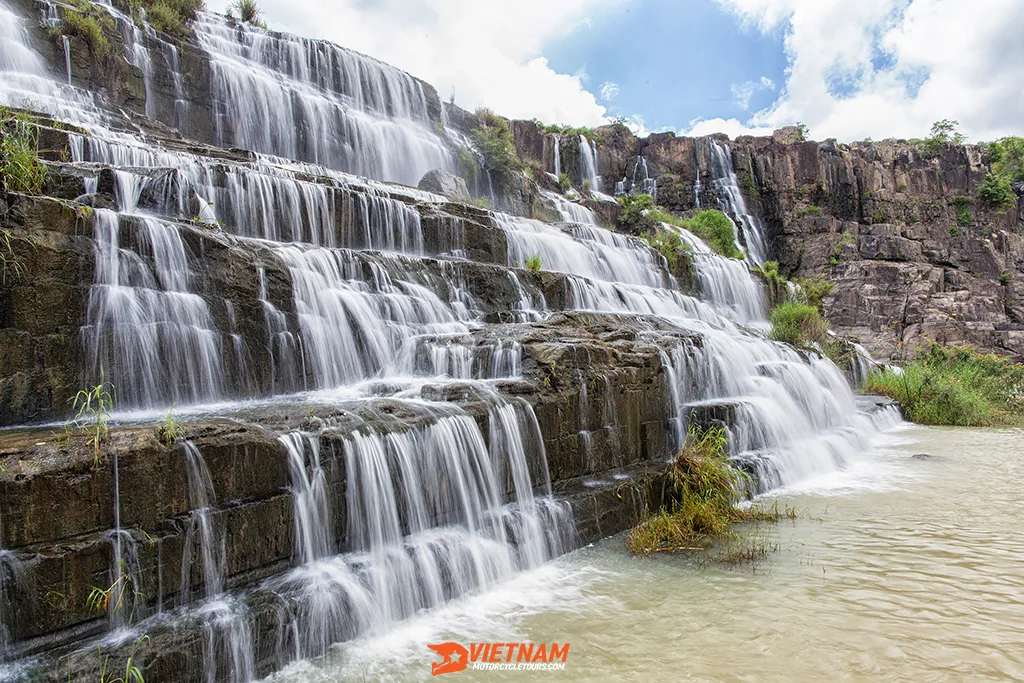 Day 22: Da Lat to Nam Cat Tien National Park Motorbike Journey - 170km
On road No 20, our team took an adventurous turn with some thrilling off-road and dirt tracks en route to Cat Tien National Park. When visiting this remarkable place, we all immersed in the diverse ecosystem and discovered new species of flora and fauna.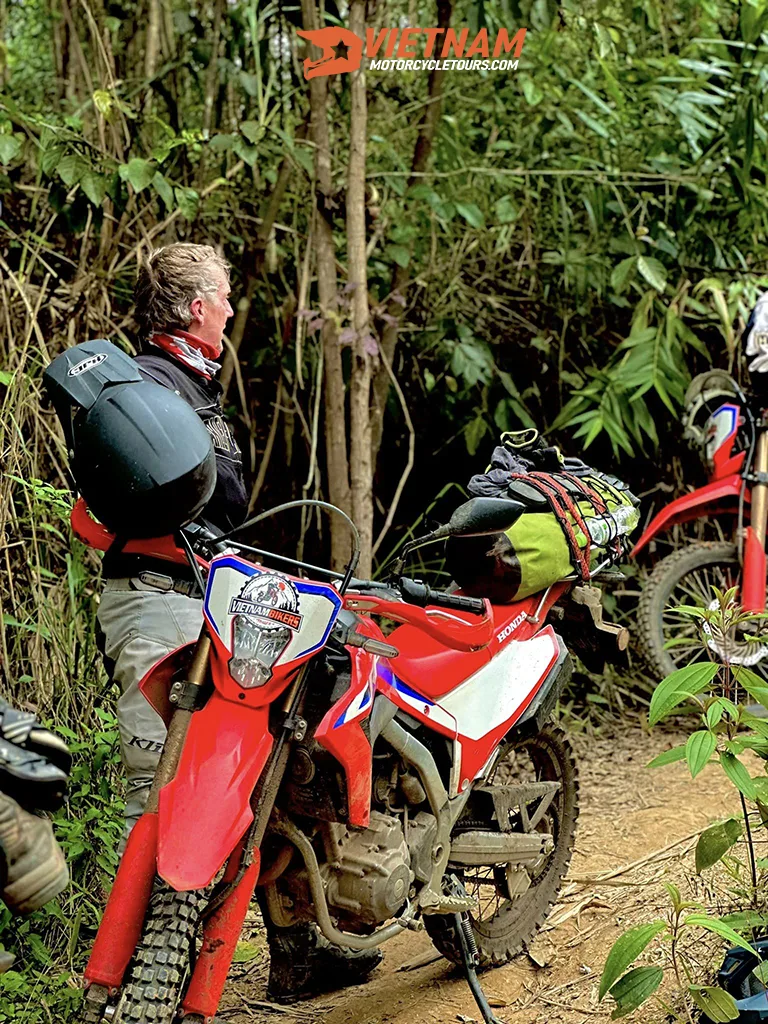 To my great amazement, this lush forest was once a crucial Vietnamese army base during the war. The park's history bears the scars of the Vietnam War, having been heavily sprayed with herbicides like the notorious Agent Orange. Today, in certain areas, the landscape still shows the lasting effects, with trees and plantations struggling to reclaim their former glory.
Day 23: Nam Cat Tien to Saigon (Ho Chi Minh City) Motorcycle Trip - 165km
Our journey drew to a close as we approached the bustling streets of Saigon (Ho Chi Minh City). Navigating through the lively local traffic added an exciting twist to our adventure. Amid the chaos, connecting with the friendly locals while riding between scooters brought genuine smiles.
Despite the initial appearance of chaos, riding here was surprisingly manageable with our expert guide's assistance. As we neared Saigon's edge, our tour concluded, and we bid farewell to the adrenaline-filled motorbike tour. A taxi transported us back to the city center, marking the actual finishing point of our unforgettable Vietnam top gear motorbike tour at around 4:00 p.m.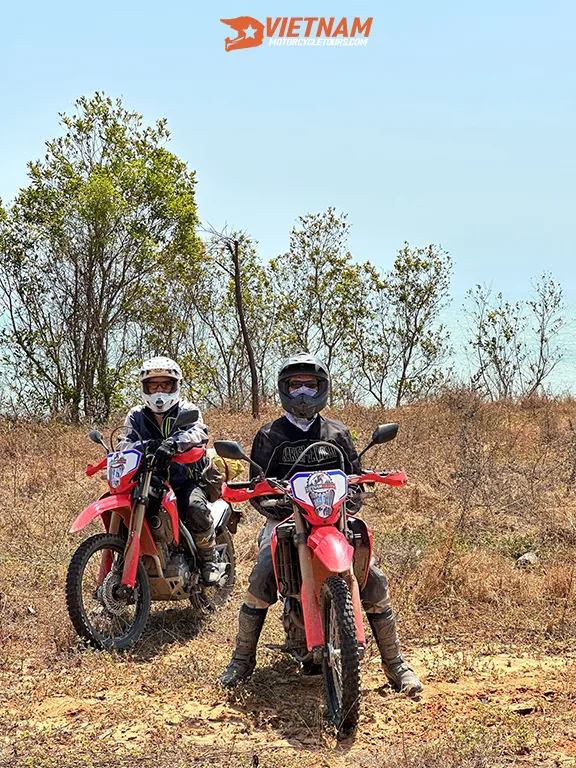 Conclusion
In conclusion, our 23-day top gear Vietnam motorbike tour was an unforgettable adventure, blending breathtaking landscapes, rich history, and warm cultural encounters. From serene river roads to challenging mountain passes, this journey redefined our perspective of Vietnam. The tour's tales of bravery and dedication during historic times deeply moved us a lot.
If you like this topic, don't miss the chance to spread the excitement, give us a thumbs-up, and share your thoughts on our incredible journey!