Three Days Excursion To Ta Xua & Moc Chau ( 3 Days Off-road )
Book a tour: Three Days Excursion To Ta Xua & Moc Chau ( 3 Days Off-road )
Overview
Trip Outline
Trip Includes
Trip Excludes
Gallery
Booking
FAQ
Three days excursion to Ta Xua & Moc Chau will offer you a thrilling trip, as well as some unforgettable traveling experiences. The off-road motorbike trip from Hanoi to Ta Xua and Moc Chau is the most acceptable option for thrilling trips.
It is straightforward to arrange a motorbike tour to Moc Chau. So, if you are looking for an exciting road trip, this is the right opportunity to make your trip unforgettable. Let's explore!
Full Itinerary
The 1st Day: Goodbye Ha Noi, hello Ta Xua!
Distance: 220 kilometers

Accommodation: Camping

Meals: Lunch and dinner
The journey begins at the main office of Vietnam Motorcycle Tours. First, team members travel to Ta Xua Dragon Spine and spend one night there. 
You will stop at several beautiful locations during the route, including Thanh Son Tea Hills, and cross numerous passes before heading towards Phu Yen village for lunch.
After a special lunch, the tour group heads to Snout Dolphin, Pine Tree, and Ta Xua plateau to take in the breathtaking scenery. Finally, we get to visit the Dinosaur Spine at 5 pm and set up camp there for the night. 
Not only is it an excellent place for getting some rest, but also a fantastic location for a BBQ with friends in the middle of nowhere as well!
The 2nd Day: Moc Chau Is Here!
Distance: 220 kilometers

Accommodation: Homestay

Meals: Breakfast, lunch, and dinner
When the sun rises over your tent, take in the fresh, invigorating mountain air as the sun rises from behind the clouds looming in the distance. 
Then, just before we start our journey to Black River, let's join all of our friends for breakfast and coffee. Still, you can feel seasick when facing a 100 mile wilderness.
After crossing the Black River, the tour will arrive at Co Noi Village, where we can eat lunch. After enjoying fresh food, the team will join a large group for an ethnic homestay in Dao Village.
In this place, women use drums, flutes, and hand clappers to compose a new symphony form. That's amazing!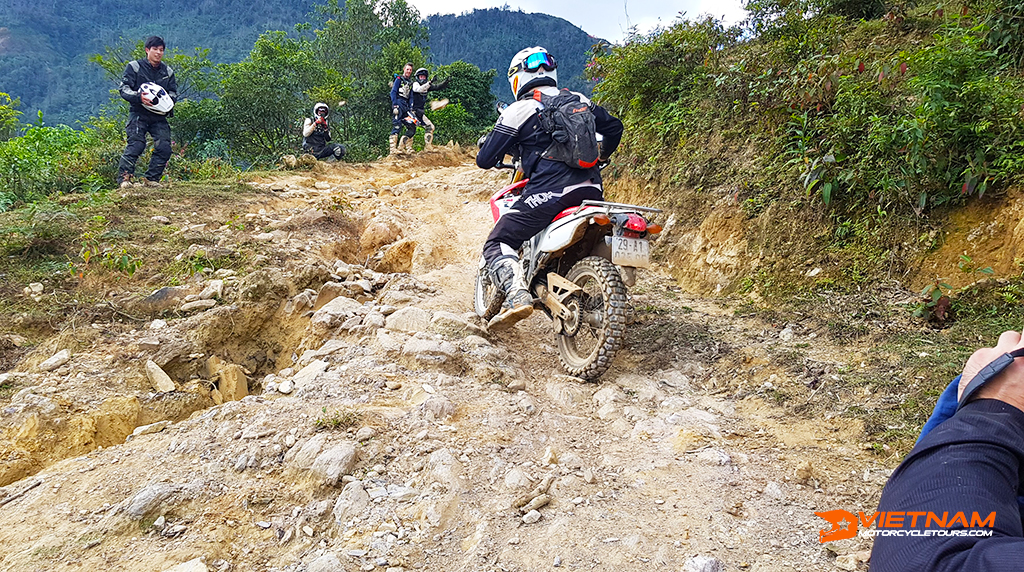 The 3rd Day: Comeback Ha Noi
Distance: 190 kilometers

Meals: Breakfast and lunch
Let's chill out for a bit in the town of Moc Chau. Then, we'll return to Ha Noi on the final day of our travel adventure. When you travel through White Stone Pass, do not miss its spectacular views, which will be sure to impress anyone who sees it for the first time!
As the crew bikes back to Ha Noi, they stop for lunch in Hoa Binh Province. By the time they arrive at VietnamBikers Bike shop, it's nearly 4 pm.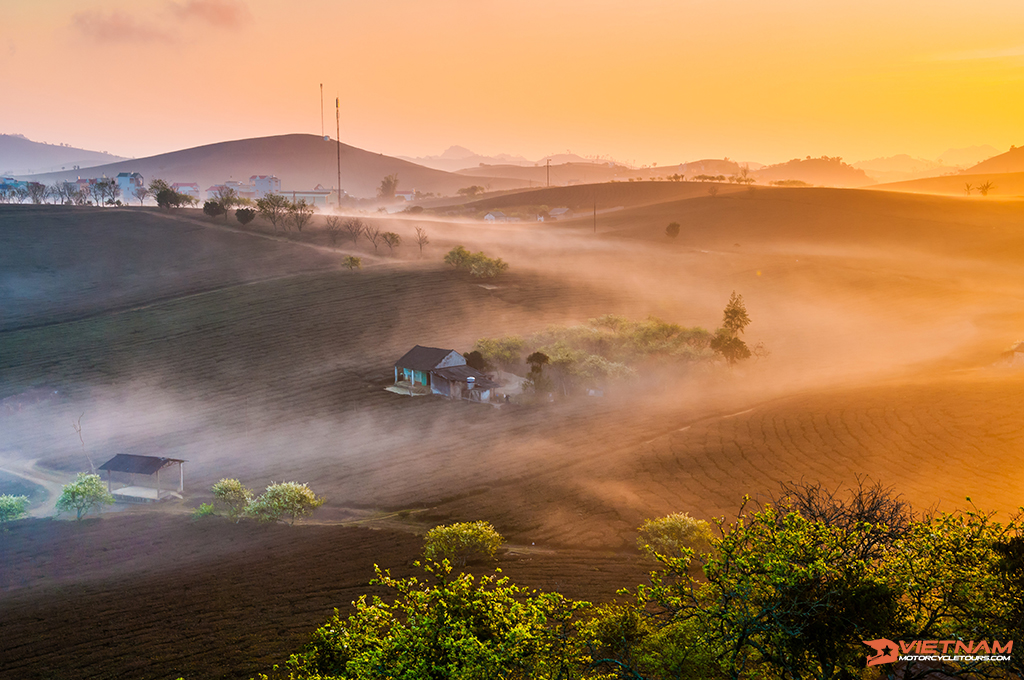 Final Thoughts
We are excited to share our knowledge about the different excursions available when visitors visit Vietnam. Based on this knowledge, you can have a lot of fun on a three-day motorcycle excursion to Ta Xua Dinosaur Backbone & Moc Chau. So what are you waiting for? Let's book your trip now!
What riders have said about us on Tripadvisor!