Short North Motorbike Trip 5D 4N – Suggested Destinations
Book a tour: Short North Motorbike Trip 5D 4N – Suggested Destinations
Overview
Trip Outline
Trip Includes
Trip Excludes
Gallery
Booking
FAQ
Intro
In recent years, Vietnam has been promoting tourism development in areas with potential for nature and culture, particularly in the northern provinces. In addition to the majestic scenery, the improvement and modification in the experience of activities here will surprise visitors.
So, what's waiting for you on a short north Vietnam motorbike trip? Let's find out in the article below.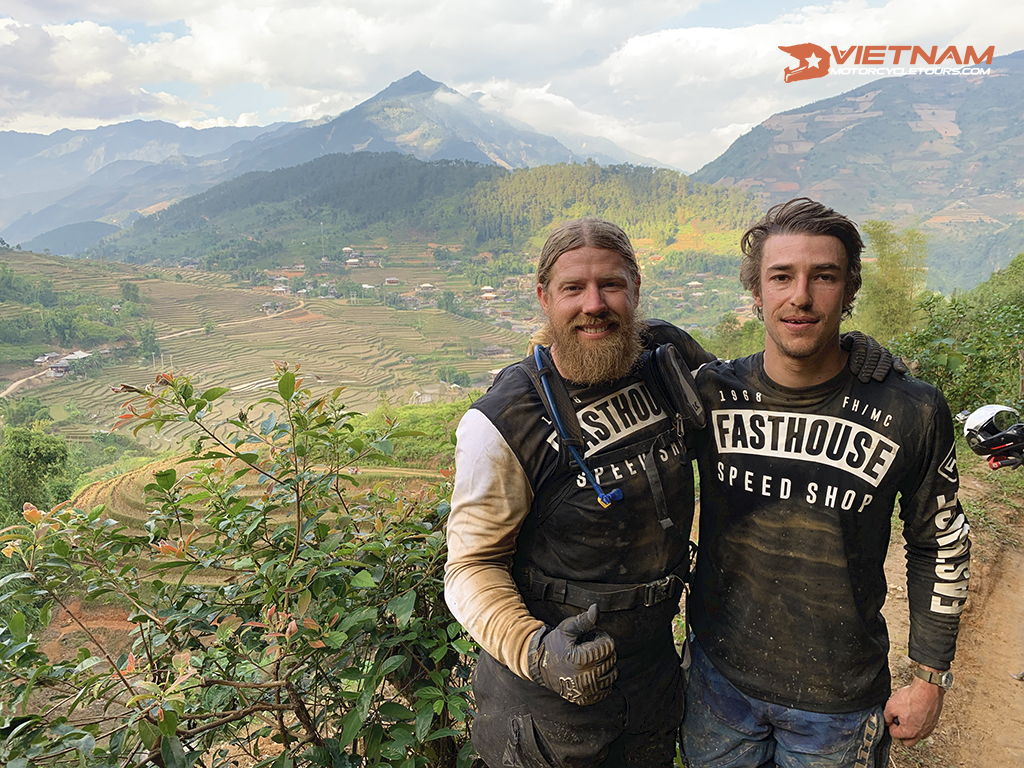 Short North Motorbike Trip Overview
Most of the northern provinces of Vietnam have quite rugged terrain, along with majestic and unspoiled natural landscapes. This is also home to many ethnic minorities with unique and diverse customs and habits.
These are favorable conditions to develop many types of tourism, especially motorbike trips. When coming here, riders will have the opportunity to:
Conquer the high mountains by motorbike

Crossing the vast forests

Visit ethnic minority villages

Experience life with locals

Participating in farm work

Enjoy mountain specialties
Specific Schedule
Day 1: Hanoi – Da Bac Motorbike Tour
Distance: 90km
Da Bac may be a strange name, but for travel enthusiasts, this is always a destination with a hidden charm. The peaceful, wild and dreamlike scene here has captivated many travelers' hearts.
Da Bac terrain has an average altitude of 560m above sea level, so the atmosphere here is quite cool and pleasant. Thanks to its proximity to Hanoi, the Da Bac motorcycle tour is an ideal choice during weekends, especially on hot days.
This land has rich and attractive tourism resources with many majestic mountain ranges, beautiful cave systems, large and small islands on Hoa Binh lake, and diverse natural forest ecosystems. You will also have the opportunity to learn about the culture of some minorities such as Tay, Muong, Dao, etc.
The district is surely a prominent tourist attraction with cultural constructions​​, such as historical relics of the Muong Diem war zone, Thac Bo temple, Tu Luong, etc.
Coming here, you will have the opportunity to experience many different fun activities such as trekking, wading, motorbiking, kayaking, and boating to visit the lake.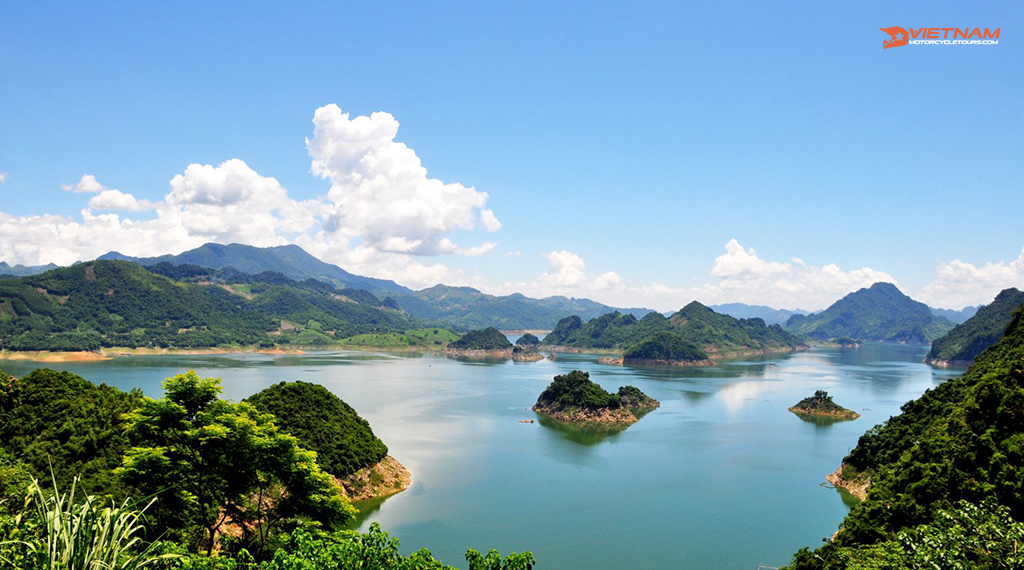 Day 2: Da Bac – Ta Xua Motorbike Tour
Distance: 160km
The next station is Ta Xua - a mountain that connects Bac Yen and Tram Tau, this special feature makes a Ta Xua motorcycle tour has become a favorite option for travel enthusiasts.
Dubbed the Heaven of Clouds because of the white clouds covered all year round, this place is an ideal stop for experiential tours and "hunting clouds". Poetic, majestic mountains, white clouds floating, etc., are what this place is famous for.
According to some backpackers, there are many places where you can hunt clouds here, such as Hang Dong dinosaur spine, turtle head rock, Xim Vang, etc.
Positioned at 1,500 - 1,800 meters altitude above sea level, the road to reach Ta Xua is zigzag, full of stones but beautiful in its way. Coming here, you will be able to breathe the fresh air and watch the sunrise hidden behind the cliffs.
Although there are only about 400 households, the locals are satisfied with their small community. They live in harmony with the mountains and forests with genuine human love. Today is one of the most amazing days of motorbiking in Vietnam.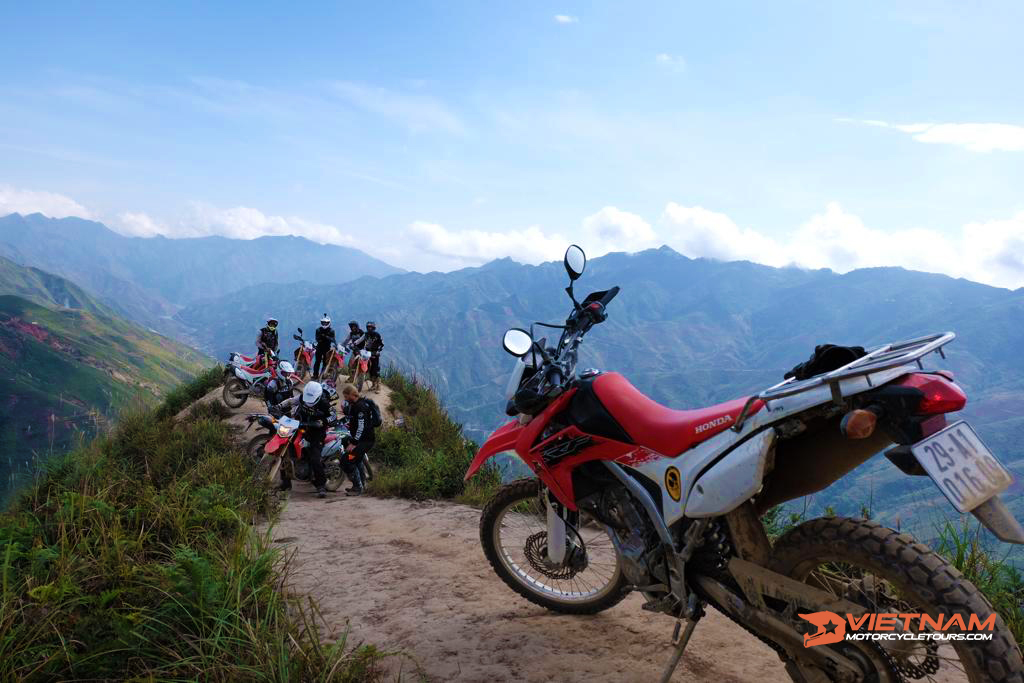 Day 3: Ta Xua – Mai Chau Motorbike Tour
Distance: 190km
Mai Chau is not as bustling and vibrant as Moc Chau (Son La), but its beauty is not inferior at all. For a long time, Mai Chau's clear, poetic, and somewhat quiet beauty has become the inspiration of many poets. 
Coming here, you will have the opportunity to admire the vast fields interspersed with rolling hills and mountains. In this Mai Chau motorcycle tour, don't forget to visit the peach and plum gardens when the trees bloom; those are precious moments tourists hunt for in their journey.
It would be best if you also visited Lac village and Pom Coong village in Mai Chau. There are brocade products, lovely Thai skirts, and homestays run by local people.
Driving or just walking on the village road flanked by rice fields, you will feel this land's peace and fresh air; all stress will disappear thanks to that.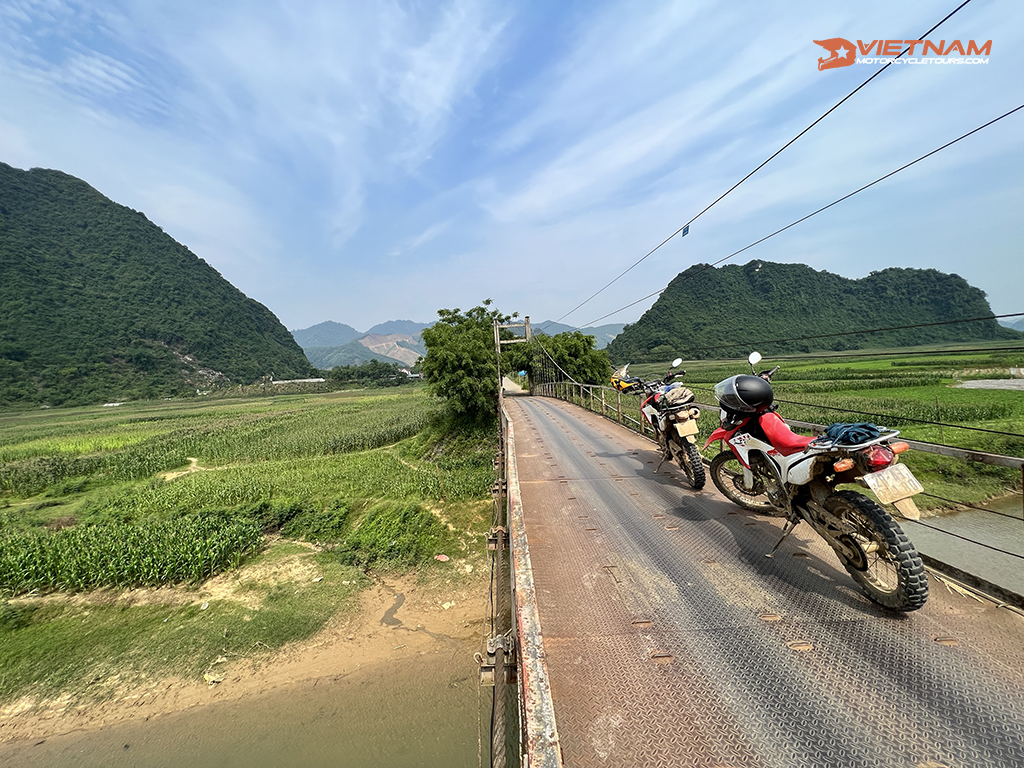 Day 4: Mai Chau – Pu Luong Motorcycle Tour
Distance: 26km
Pu Luong is a nature reserve with an area of ​​17,600 hectares, located northwest of Thanh Hoa province in two districts of Ba Thuoc and Quan Hoa. This is where Thai and Muong ethnic communities live.
It has ancient tropical forests and beautiful terraced fields. In addition, the large and small waterfalls, the system of caves and mountains interspersed with peaceful villages are also the main points that impress many bikers when coming here.
At an altitude of 1,700m, Pu Luong has a cool, fresh, and extremely airy climate. In the Pu Luong motorcycle tour, you will have a chance to learn about the simple and idyllic life of the locals and enjoy a variety of attractive specialties.
Some prominent places to visit here:
Hieu waterfall: The most beautiful waterfall in Thanh Hoa
Shrimp Village or Suoi Cham: experience floating on the river with a bamboo raft.
Kho Muong village and Bat cave: Limestone stalactites formed about 250 million years ago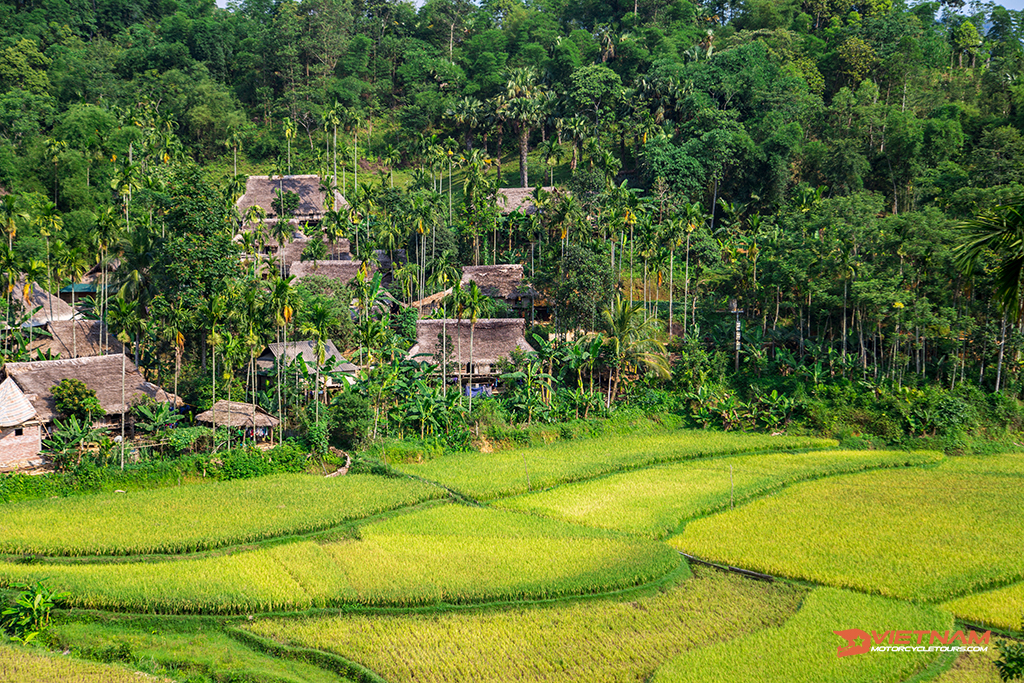 Day 5: Pu Luong – Ha Noi Motorbike Tour
On the last day of the journey, we will return to Hanoi. You can move on the following three roads: Ho Chi Minh trail, Highway 6, or Thang Long Avenue.
After 3-4 hours of travel, do not rush to say goodbye to your two-wheeled friend immediately because there is still enough time for you to have a short Hanoi motorcycle tour.
Strolling around the old quarters, visiting Hoan Kiem lake, Uncle Ho's mausoleum, etc., and enjoying a bowl of pho from the thousand-year-old capital city is the perfect way to end this trip.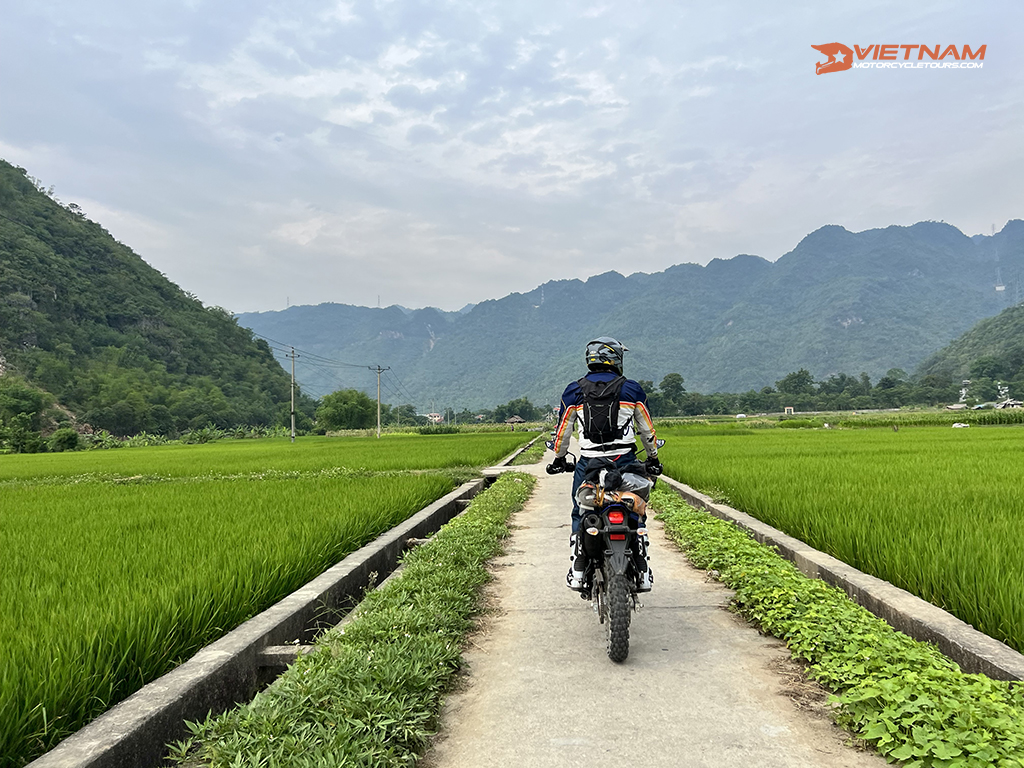 Ideal Time To Travel
Generally, you can make a trip any time of the year. Each season is different, but the ideal time is from about January to August every year. 
Conclusion
Above are our recommendations for a short north Vietnam motorbike trip. Vietnam, in general, and the northern region, in particular, have many beautiful scenes, from peaceful to majestic. Each destination will be an interesting story waiting for you to learn.
Hopefully, this article will make it easier for you to choose your favorite experience on this journey. Thanks for reading, and see you in the next blog!
What riders have said about Vietnam Motorbike Tours on Tripadvisor!