15-Day Northern Vietnam Motorcycle Tour To Live Your Youth
Book a tour: 15-Day Northern Vietnam Motorcycle Tour To Live Your Youth
Overview
Trip Outline
Trip Includes
Trip Excludes
Gallery
Introduction
Our decision to embark on this Northern Vietnam motorcycle tour was driven by a desire for something unique. Unlike the usual tourist routes, we sought an authentic experience that would immerse us in the heart of North Vietnam, far from urban chaos.
Above all, the prospect of traversing the region on motorcycles stirred our souls. It wasn't just a mode of transport; it was a way to feel the wind, hear the engine's roar, and forge a profound connection with the landscapes we encountered.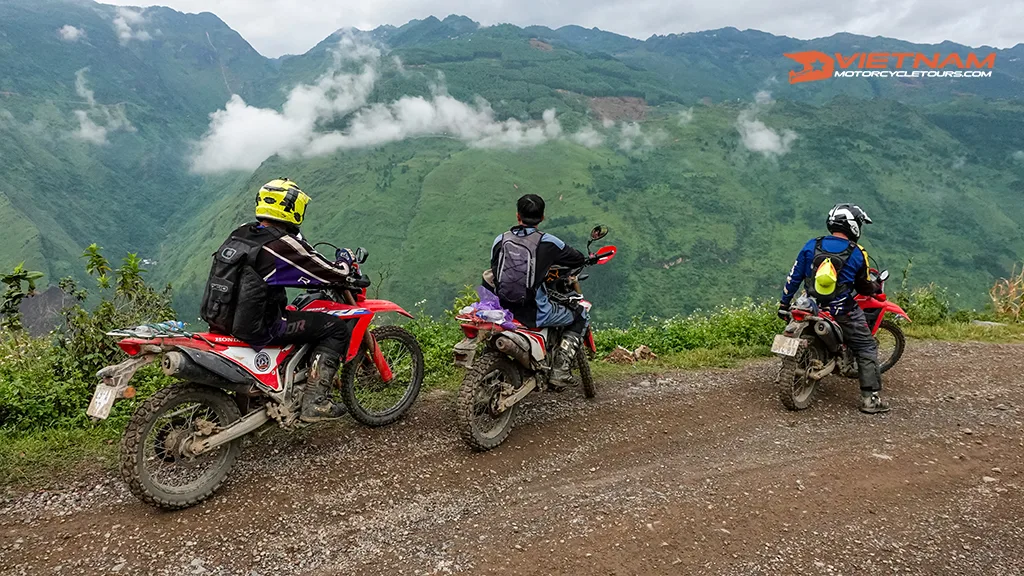 Northern Vietnam Motorcycle Tour Itinerary 
Day 1: Hanoi - Pu Luong Nature Reserve Motorcycle Tour (190 km)
Our adventure began at 8:00 a.m. When our trail finder, a local man on the bike named Andy, picked us up from the hotel. After a warm welcome and an engaging itinerary briefing at the office, we hit the road, leaving Hanoi behind. In just 30 km, we ventured off the beaten path, tackling easy off-roads and relishing the thrill.
A pit stop for lunch in Hoa Binh recharged us for the journey ahead. We continued through stunning limestone mountains until we reached a charming Thai village deep in the Pu Luong Nature Reserve. As we roared into the village, we were greeted by a group of local girls wearing vibrant traditional costumes. 
One of them, a young lady named Phia, stood out with her infectious smile and warm hospitality. Our night was spent in a traditional stilt house, sharing a warm dinner and stories with Phia and the other friendly Thai villagers.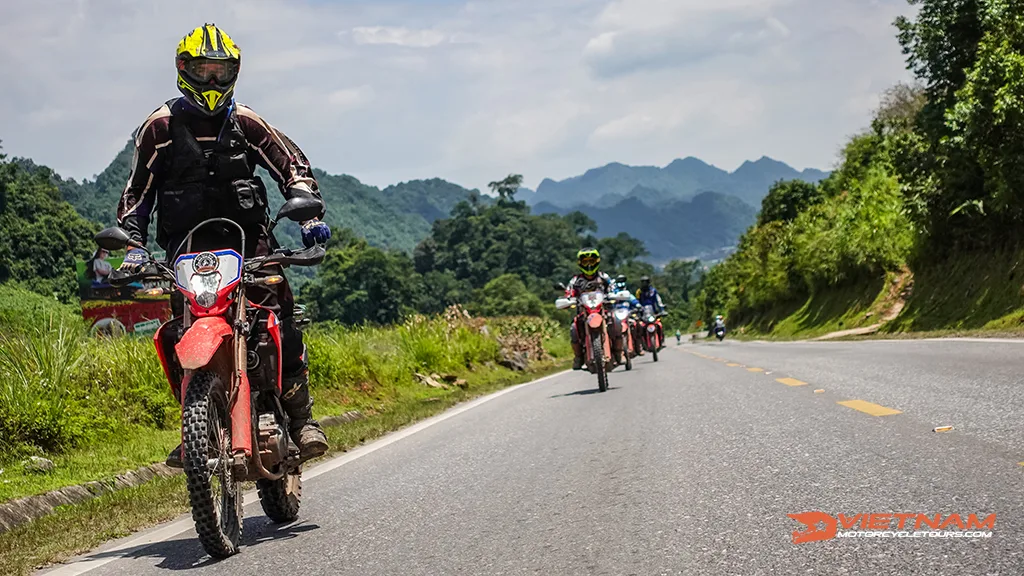 Day 2: Pu Luong - Phu Yen Motorbike Trip (170 km)
After bidding farewell to the welcoming family in Pu Luong, we kicked off the day with an exhilarating offroad adventure. Our path wound through charming Thai villages, taking us up and down as we ventured deeper into the northern reaches of Vietnam. The encounters with the warm-hearted locals made the journey even more memorable, offering us a genuine taste of North Vietnam's hospitality.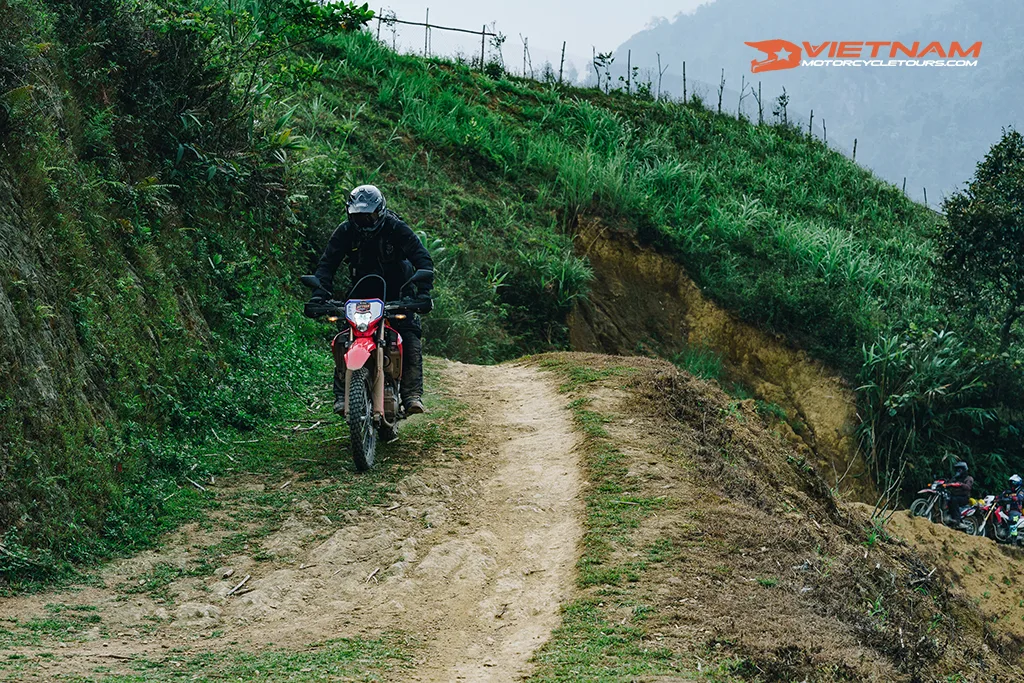 As the sun descended, we wrapped up this thrilling off-road motorcycle tour, reaching our cozy hotel in Phu Yen around 4:30 p.m. It was a day filled with adventure, camaraderie, and the sheer joy of exploration.
Day 3: Phu Yen - Ta Xua Mountain - Nghia Lo Motorcycle Tour (160 km)
We burned rubber on twisty roads and thrilling off-road trails against stunning mountains, with Ta Xua Mountain taking center stage Riding along Ta Xua felt like an adventure on a dinosaur's spine that unfurled an otherworldly dreamland.
Our journey continued northward, leading us to the captivating Nghia Lo Valley. This idyllic setting featured rolling hills and the warm hospitality of the Thai people. To top it off, we spent the night on a charming Thai family farm, making this day a true highlight of our Northern Vietnam motorcycle trip.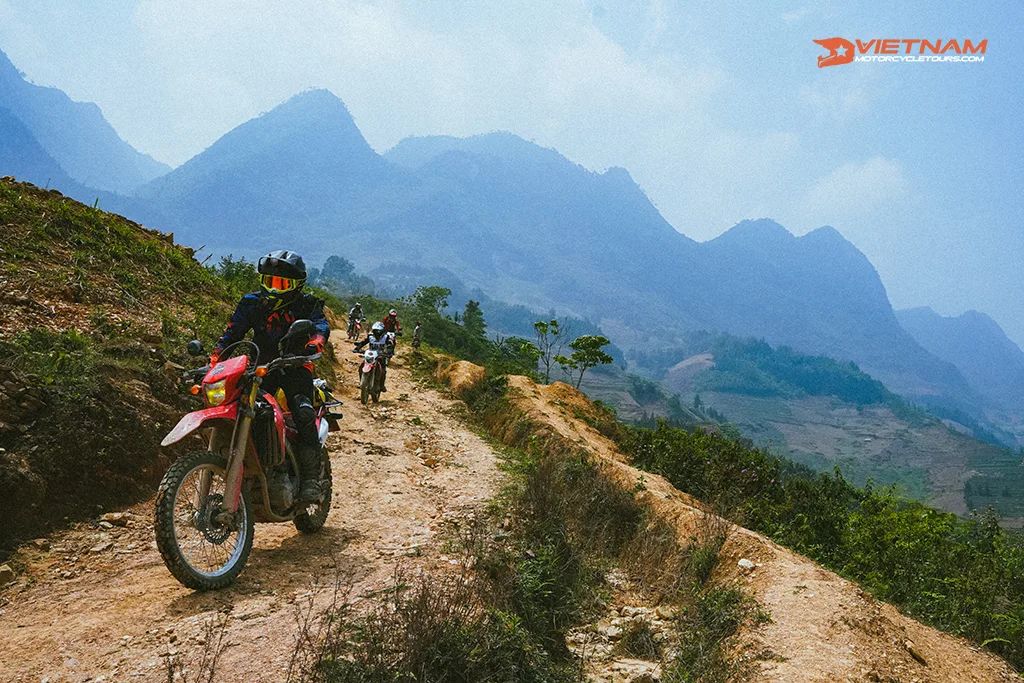 Day 4: Nghia Lo - Mu Cang Chai Motorcycle Route (180 km)
As we continued our motorcycle tour Northern Vietnam, we were treated to awe-inspiring landscapes this region has to offer. We took a tea break perched on the top of a mountain, where the view was nothing short of breathtaking. The rolling rice terraces stretched as far as the eye could see, a sight that never fails to amaze.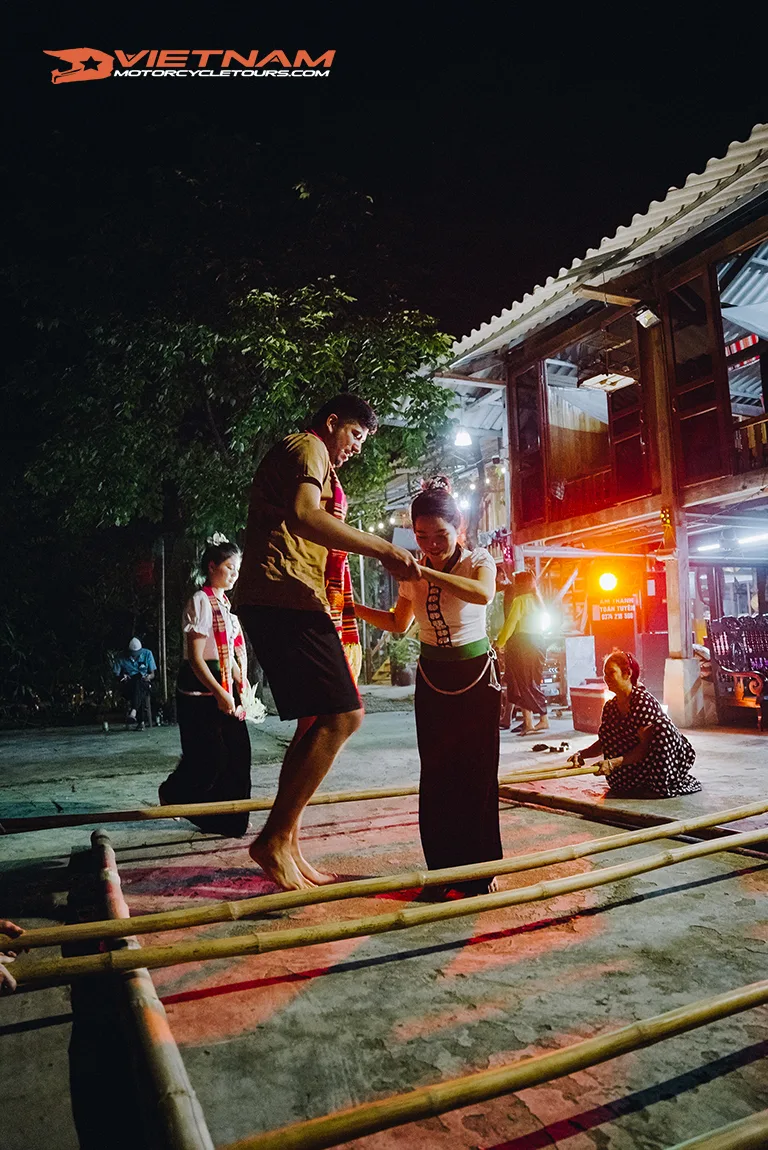 As the day unfolded, we eagerly anticipated our arrival at the next hotel, knowing that this journey was unveiling the true essence of Northern Vietnam, one adventure at a time.
Day 5: Mu Cang Chai - Sapa Motorbike Tour (160 km)
It was a day of contrasts—smooth winding roads that could easily transform into thrilling off-road adventures if we wished. The highlight awaited us: O Quy Ho pass, renowned as one of North Vietnam's top four most beautiful and thrilling passes.
Perched at around 2000 meters above sea level, we paused to capture the majestic vistas from the pass's peak. Then, the descent to Sapa began. This town, nestled amidst picturesque landscapes, offered a fascinating blend of culture and tourism.
Our night in a cozy hotel was a perfect ending to an unexpectedly memorable day, where the ride's ease belied the experience's richness.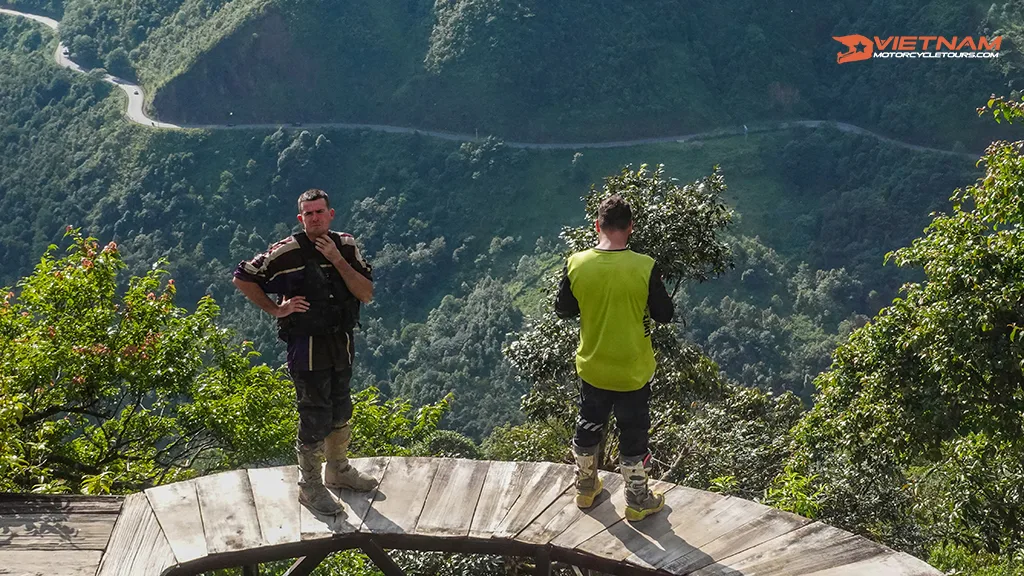 Day 6: Relax in Sapa
After five days of thrilling rides, Sapa's tranquil charm called to us. Resting at 1600m, the romantic town served a well-deserved break. While some relaxed, I couldn't resist exploring remote villages on my motorcycle, discovering captivating rice terraces.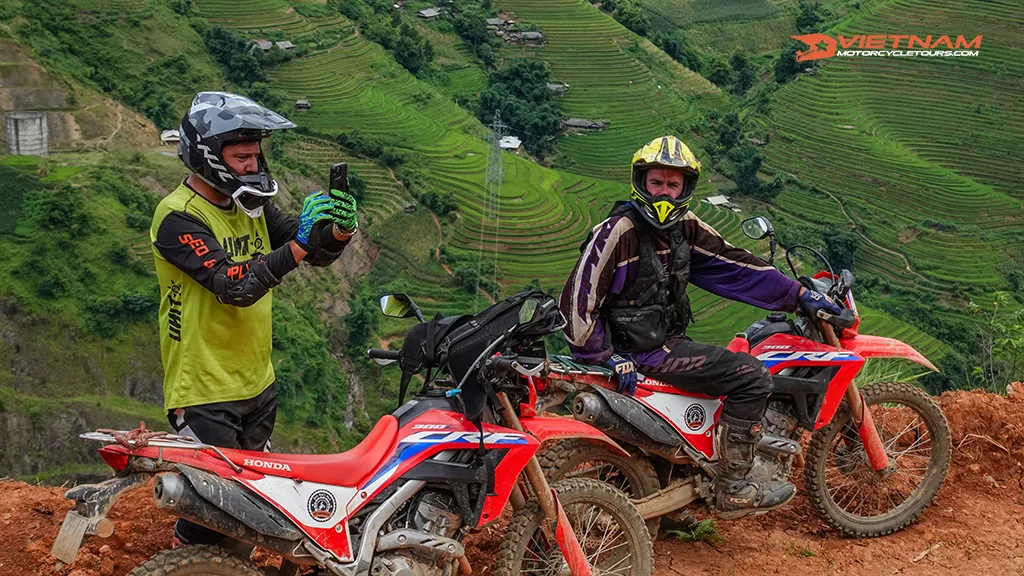 During my journey, a friendly local family offered me a delightful treat – dried buffalo meat, a special traditional food. It added a savory touch to my Northern Vietnam motorcycle adventure, creating the perfect balance of relaxation and exploration in this picturesque region.
Day 7: Sapa - Bac Ha Motorcycle Route (170 km)
Leaving Sapa at 8:30 a.m., we embarked on an exhilarating leg of our Northern Vietnam motorcycle tour. Heading down the Hoang Lien mountain range's other side, more breathtaking terrace rice fields and stunning nature welcomed us.
The morning ride was smooth along the Chinese border, passing through charming villages and lush terraced fields. But the real adventure awaited as we climbed to Bac Ha district, exploring off-road paths amid coin and plum plantations and rustic H'Mong villages. By 4:00 p.m., we reached Bac Ha, a lovely town, and checked into a cozy hotel.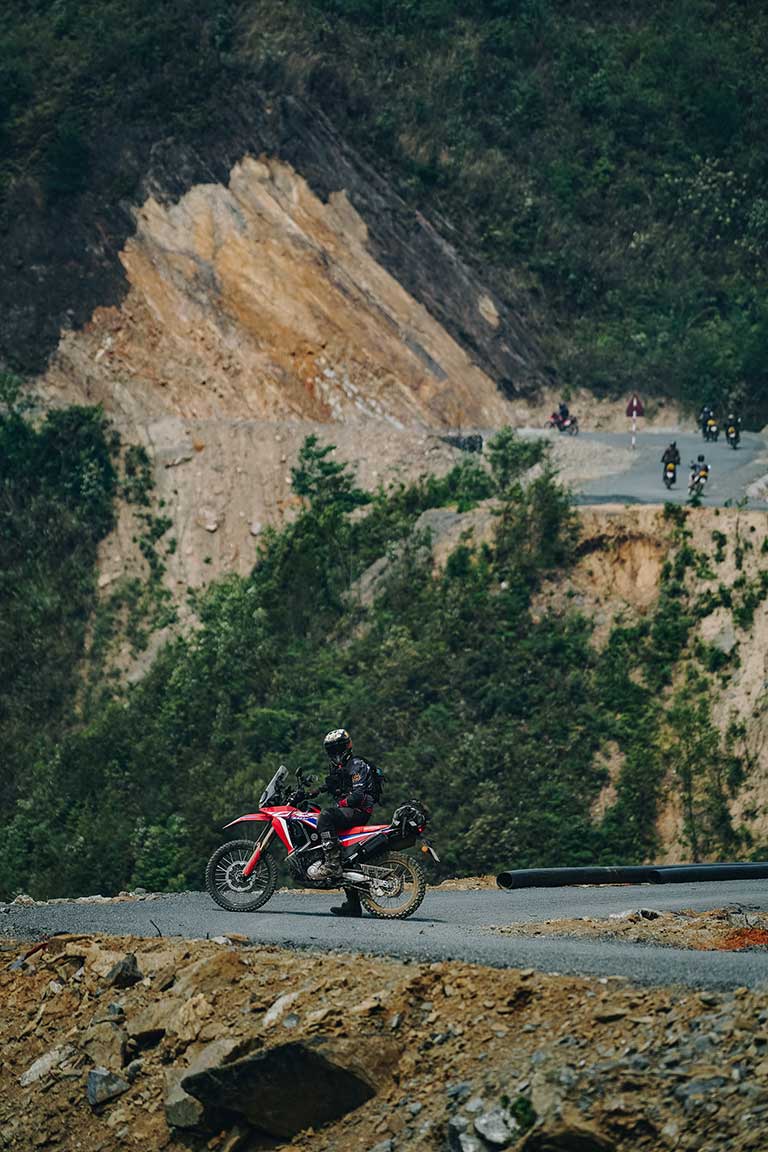 Day 8: Bac Ha - Ha Giang Motorbike Tour (180 km)
Today's motorcycle journey to Ha Giang was like stepping into a new world. As we made our way via Hoang Su Phi, we were embraced by a jaw-dropping spectacle of rice terraces that stretched to an endless horizon.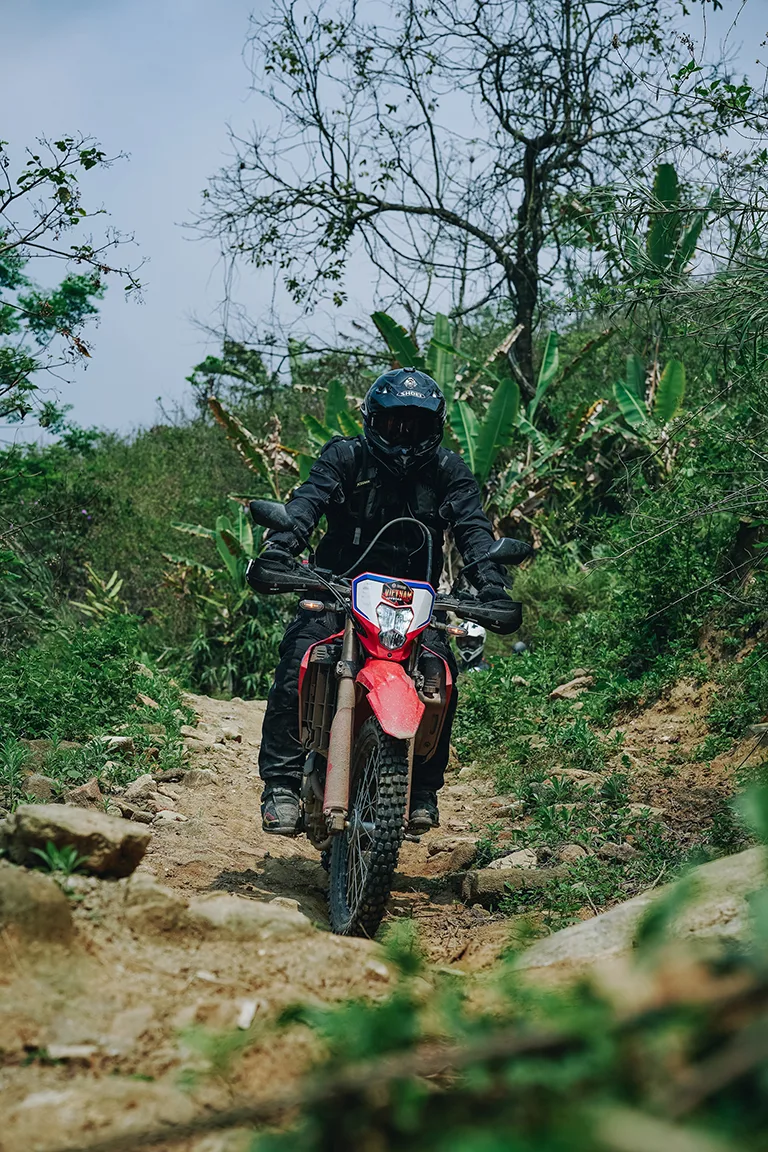 The feeling of being surrounded by this natural beauty while on our motorbikes was indescribable. By the time we reached Ha Giang at 5:00 p.m., we knew we had taken an adventure of a lifetime. A well-deserved hotel stay awaited us in this magnificent part of Vietnam.
Day 9: Ha Giang - Dong Van - Meo Vac Motorcycle Trip (180 km)
The Ha Giang – Dong Van – Meo Vac route is now a must-see, and today was all about embracing the best of this incredible Ha Giang loop. Every twist and turn offered majestic natural beauty, and we could stop anywhere to capture the breathtaking scenery.
Today's ride was like a journey through a dreamland, surprising us at every corner with unreal landscapes. As our team winded through the twisty paths among the splendid limestone karsts covered by lush, verdant vegetation, every step was anticipated with both spectacular beauty and equally grave danger. It's safe to say that Day 9 was a highlight, and Northern Vietnam's beauty truly left its mark on me.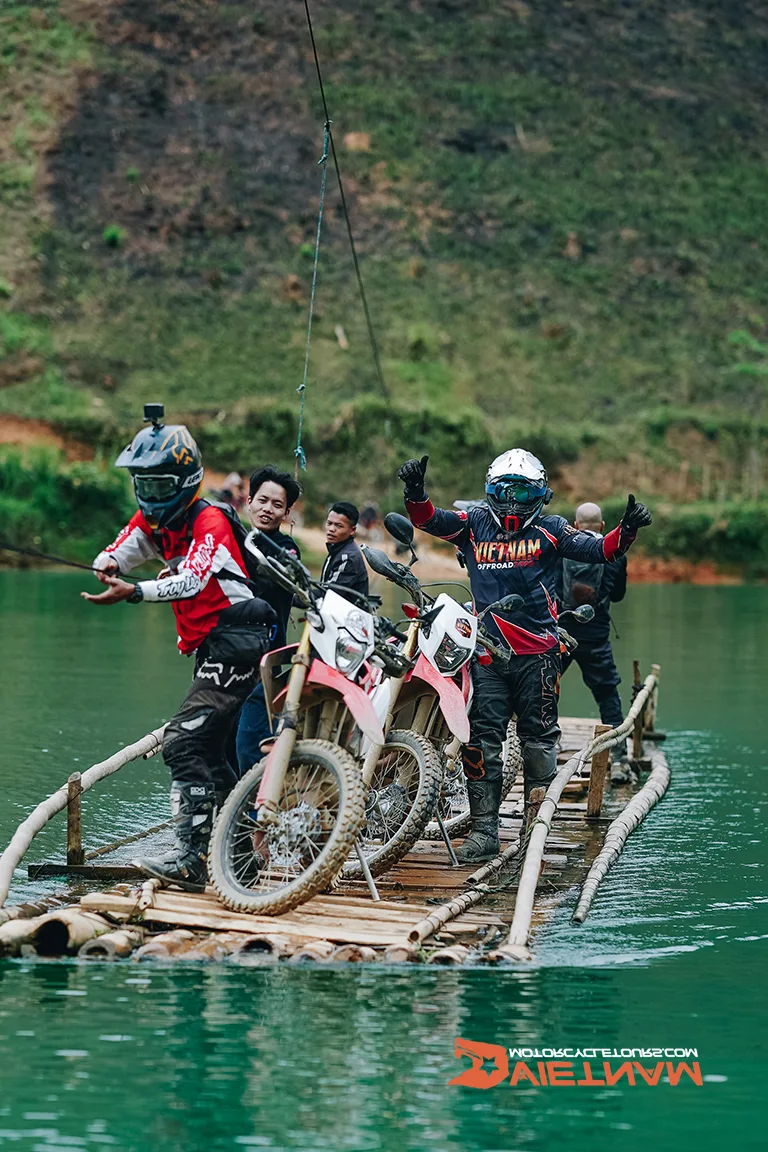 Day 10: Meo Vac - Cao Bang Motorcycle Route (200 km)
Leaving behind the incredible rock plateau of Ha Giang, we set our sights on Cao Bang in the eastern part of Vietnam. The landscape transformed before our eyes – lush green mountains, picturesque villages, and the heart-melting embrace of ethnic communities.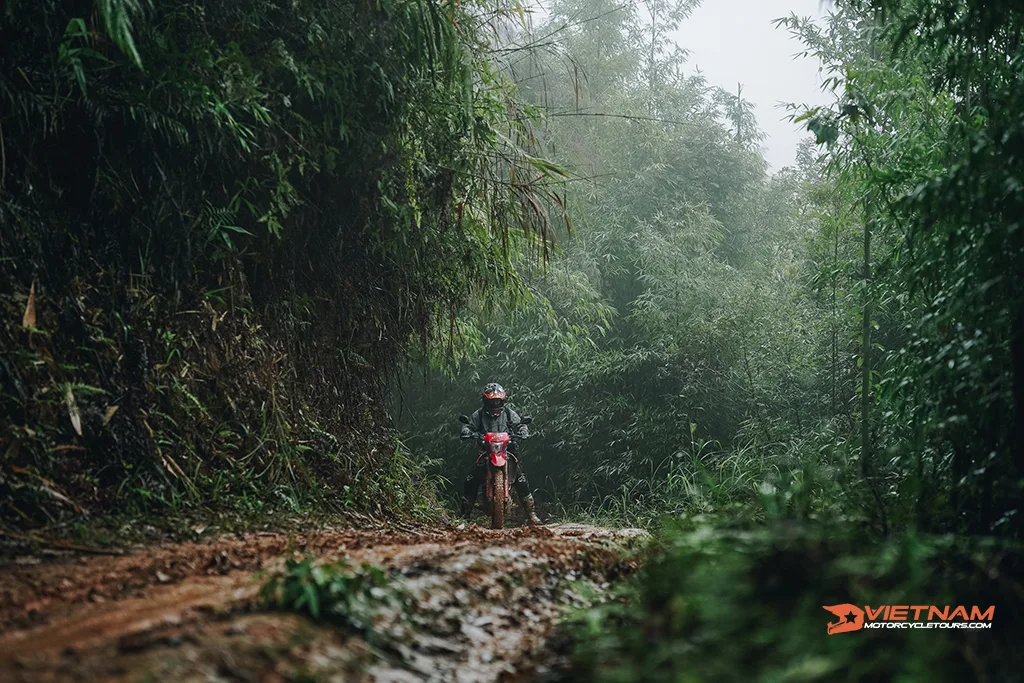 Cao Bang, known as the "High Plateau," revealed its beauty, with mountains rising 600 to 1500 meters above sea level. Riding through winding mountain backroads sent both thrill and spills to our spines. 
The road winded its way between two extremes: to one side, towering mountains rose and pierced through the fluffy clouds as if they touched heaven, while the other side laid a seemingly bottomless abyss that was yawning to swallow all light and sound. That was only for the bravest souls, we promise!
Day 11: Cao Bang - Ban Gioc Waterfall - Cao Bang Motorcycle Tour (190 km)
The 11th day began with a journey along tranquil backroads, snaking along peaceful villages where the untouched beauty of nature and countryside delighted us. 
Our midday stop brought us to the awe-inspiring Ban Gioc Waterfall, the largest waterfall in Vietnam. After a hearty lunch nearby, we hit the road again, following yet another scenic route back to Cao Bang. 
We were buzzing with excitement when we arrived in Cao Bang City around 4:30. Checking into our hotel, we couldn't resist trying some local beer, a perfect way to end this incredible day of adventure.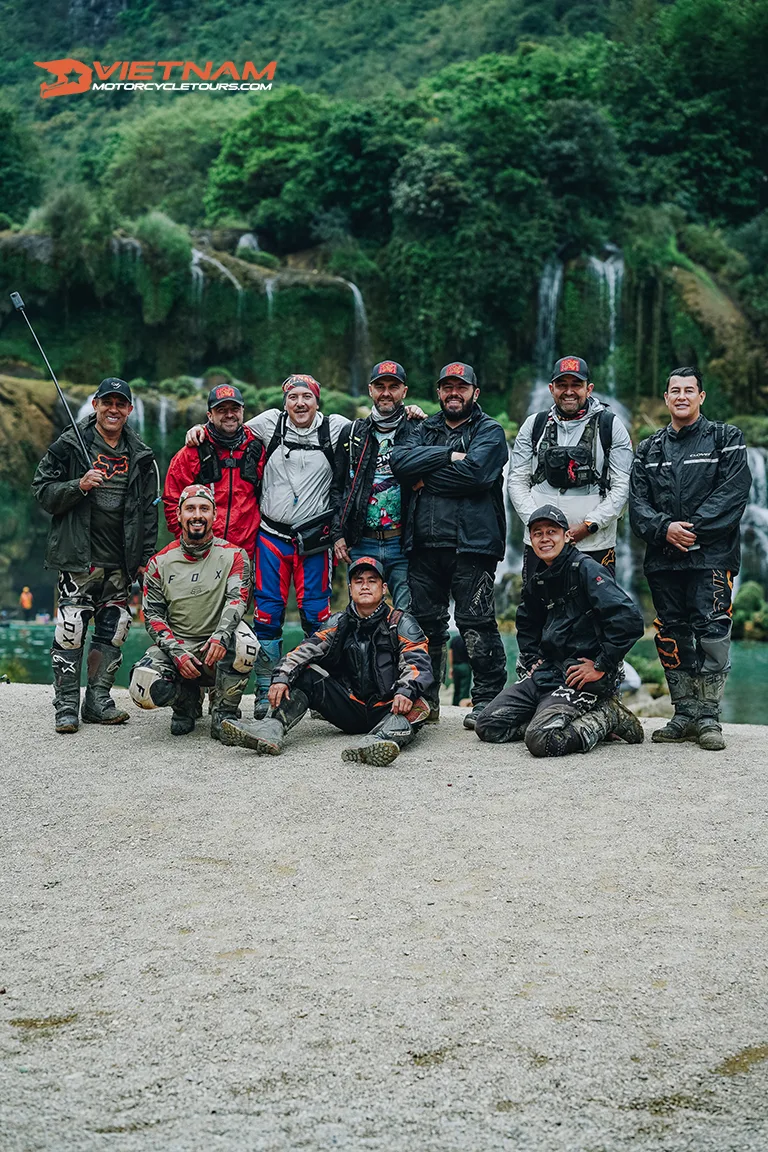 Day 12: Cao Bang - Lang Son Motorbike Trip (160 km)
Today's ride was easy and intriguing as we delved into the historical Highway 4. Passing through Dong Khe, a town etched in history for the Battle of Route Coloniale 4 during the Indochina War, we couldn't help but feel the weight of the past. The Battle of Dong Khe, which played out in 1950, had left its mark on these grounds. It was a sad reminder of the conflicts that shaped this region.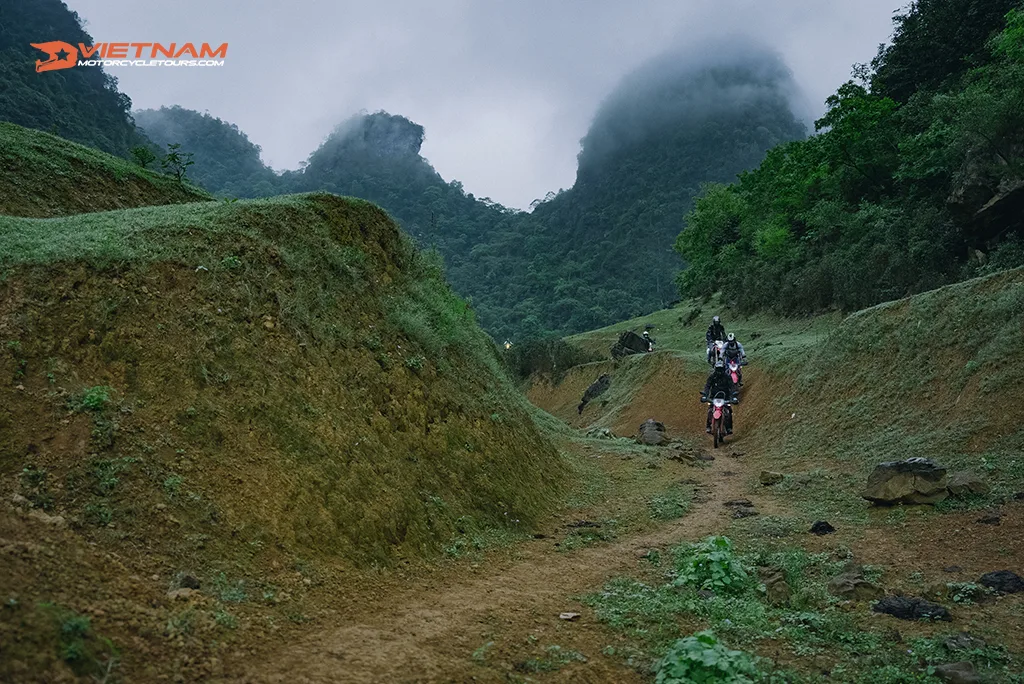 By noon, we had arrived in Lang Son, where a leisurely late lunch awaited. Exploring this vibrant city, we discovered its role as a bustling trading hub between China and Vietnam. The local market was a window into daily life, offering affordable Chinese products. We strolled through the streets, sampling local cuisine and enjoying cold street beer. Our stay in a cozy city hotel ended a memorable day.
Day 13: Lang Son - Ha Long City Motorcycle Route (180 km)
We set off on a mesmerizing journey from Lang Son to Ha Long City, descending to lower lands to explore North Vietnam's diverse beauty.
In the morning, we cruised along flat roads through charming towns and peaceful villages, surrounded by scenic hills and lush rice fields. As the day turned to afternoon, we followed the coastal roads, reaching the vibrant Ha Long City by 4:30 p.m., all set to uncover the magic of Ha Long Bay the next day.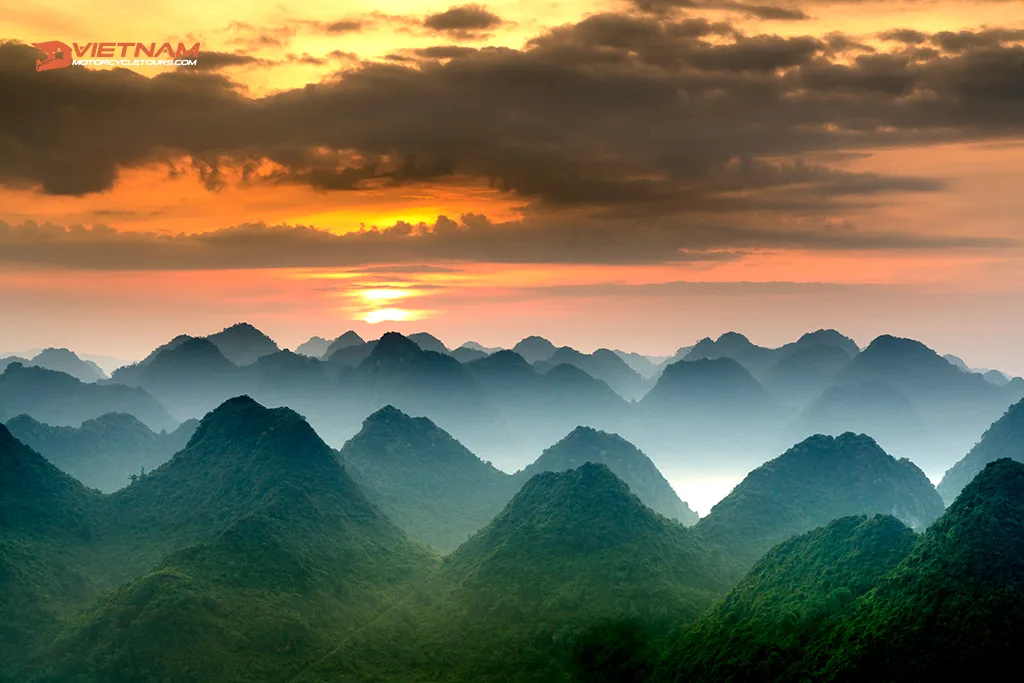 Day 14: Ha Long Bay Discovery Motorcycle Tour (overnight on a 5-star cruise)
Our day began with a hearty buffet breakfast in Ha Long City, followed by a leisurely exploration of this lively town. Around 10:30 a.m., our team carried on a luxurious cruise.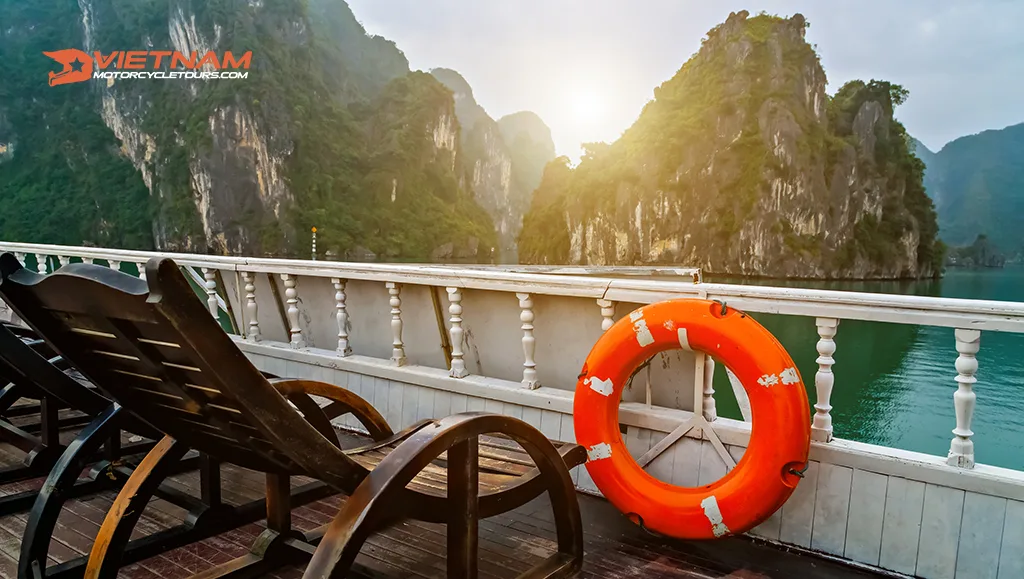 We checked in at 11:30 a.m. and enjoyed a delicious lunch on board. The day was filled with adventures led by local guides, including cave exploration, kayaking, and refreshing swims. 
For those seeking relaxation, the cruise's rooftop offered comfy chairs and breathtaking views of Ha Long Bay. As evening descended, we settled in for an unforgettable overnight stay on the 5-star cruise, plunging in the enchantment of Ha Long Bay.
Day 15: Ha Long Bay and Hanoi Motorcycle Trip
Our last day in Ha Long Bay started with a serene sunrise and morning Taichi. Breakfast on the cruise prepared us for further exploration. We cruised through the bay's beauty, indulging in brunch before bidding farewell to the cruise.
Returning to land, a brief bus ride transported us back to Hanoi. Our remarkable Northern Vietnam motorcycle tours concluded around 4:00 p.m. at your Hanoi hotel. It was an unforgettable journey, marked by stunning landscapes and cherished memories.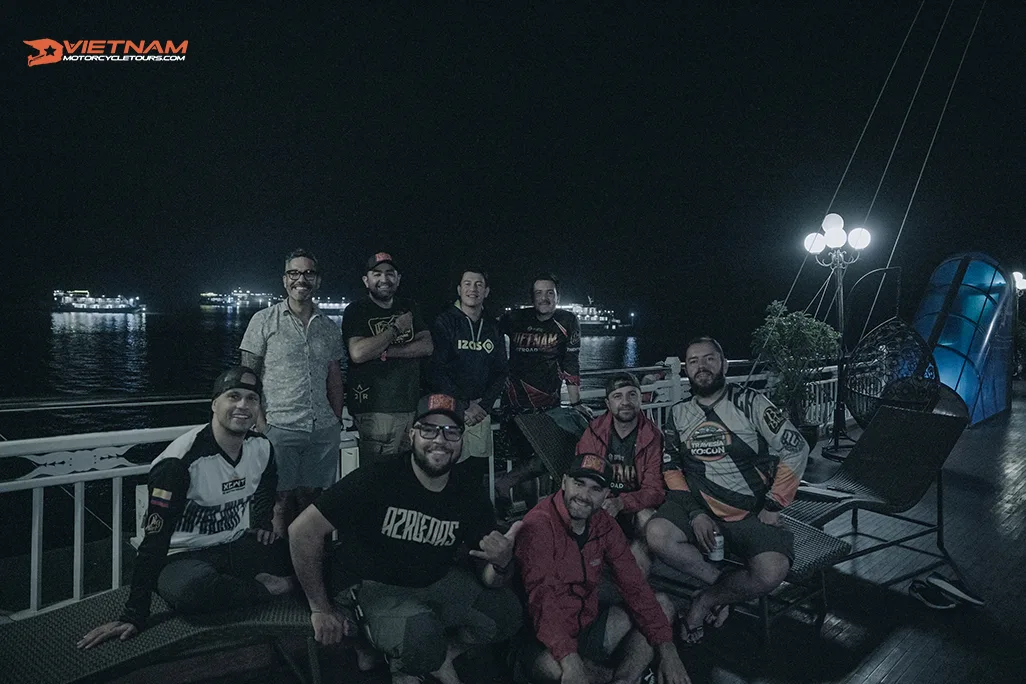 Conclusion:
As our 15-day Northern Vietnam motorcycle tour concludes, cherished memories flood my thoughts. From rugged landscapes to the warm embrace of the Vietnamese people, this journey was an adventure of a lifetime. 
Share your stories and stay tuned for more adventures. Whether planning your Vietnam motorbike tour or reliving ours, there's always more to explore. Follow us to keep the spirit of adventure alive!