Coast Ride Saigon To Hoian – 10D 9N Experience Of A Lifetime
Book a tour: Coast Ride Saigon To Hoian – 10D 9N Experience Of A Lifetime
Overview
Trip Outline
Trip Includes
Trip Excludes
Gallery
Booking
FAQ
Introduction
Experience the bustling atmosphere in the most magnificent city in Vietnam and then head to the peaceful, picturesque town: Hoi An - the ancient town on attractive roads with the coast ride Saigon to Hoian trip. The diversified dishes of the two regions with the sweet and cute local accent will make you not want to leave this place. What are you waiting for?
Buckle up and ride with us!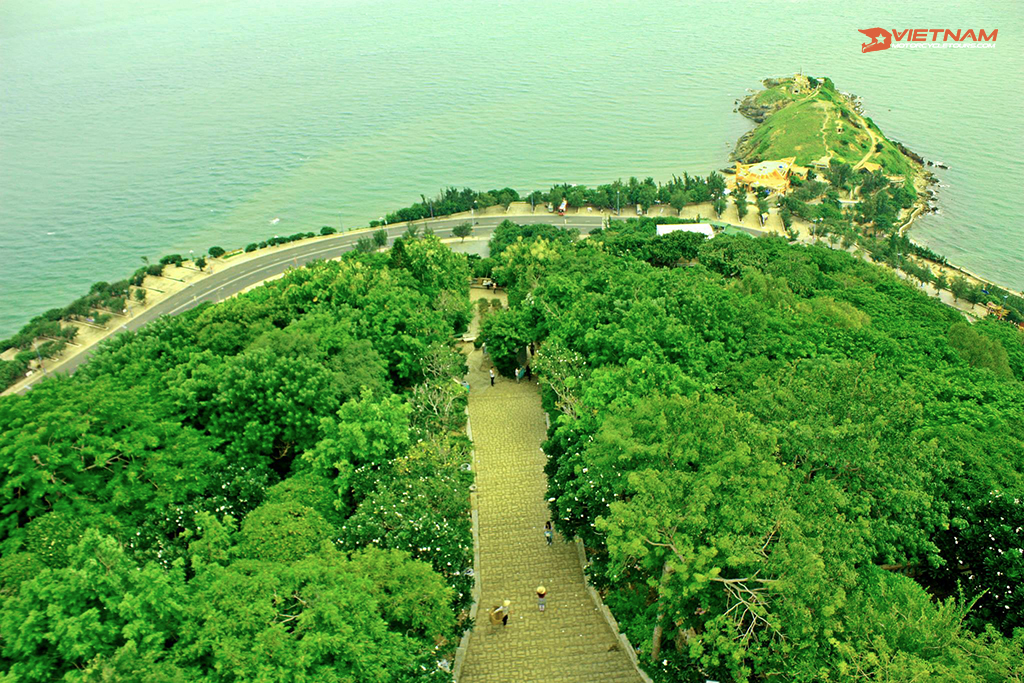 Coast Ride Saigon To Hoian - 10D 9N Experience Of A Lifetime
Preview Of The Tour
From Saigon to Hoi An on the motorcycle is an unforgettable trip. We drive the scenic coastline, passing by breathtaking scenery and hospitable locals everywhere. You will have ten days of Saigon to Hoian coastal ride to venture off the main path and see areas unspoiled by tourism. Riders will learn more about the many cultures and take pleasure in the warm welcome of the natives. It will become a memorable experience!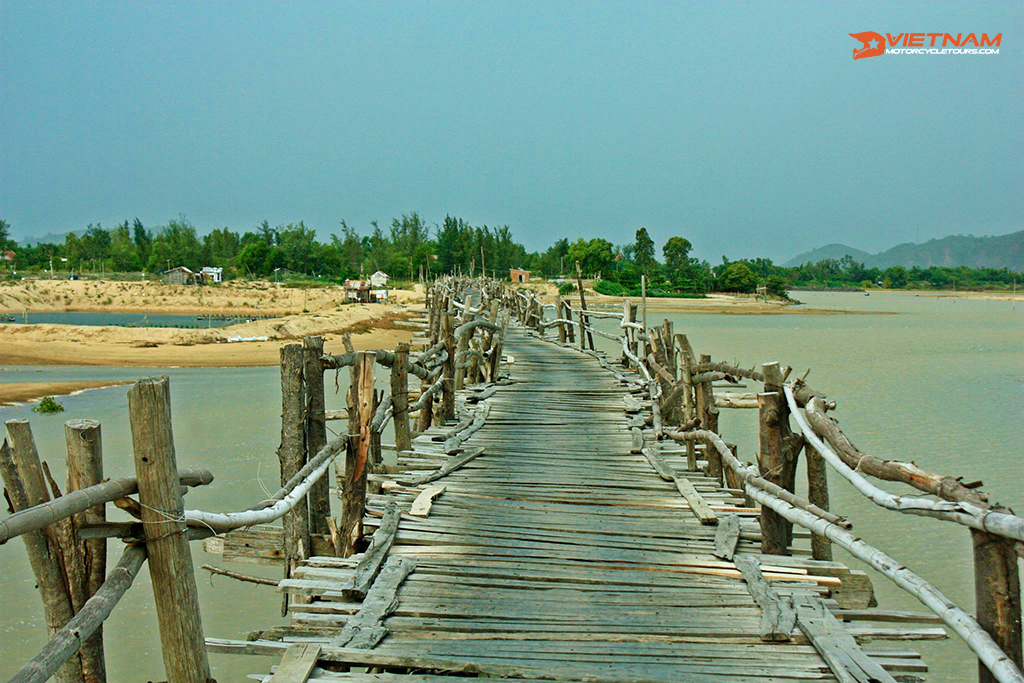 Total kilometers: 1,425km
Route: Saigon To Hoian
Duration: About 10 days
Accommodation: Hotels + Homestay
Day 1: From Sai Gon To Vung Tau Motorbike Tour
Distance: 96 km
Riding time: About 2.19 hours
Leaving the hectic Ho Chi Minh city behind, we start to run away from the city that never sleeps to come to Vung Tau to start our Vietnam coastal motorbike ride. You may want to sneak out early before all SaiGoner wakes up and go on the road to stay far away from traffic. Go along QL1A, and you can come to the destination. 
Upon leaving the Dong Nai Bridge, you will find the Vung Tau fork. After this, take QL 51 (Quốc lộ 51) to the right and continue straight. You will arrive in the port city - of Vung Tau after traveling roughly 100 kilometers. Even though this alternative is rather distant, riding a motorcycle at nighttime is often safe. There are many things to do in the city, from swimming in Bai Sau to having a great time at Công viên Ho May (Ho May park). Ho May Park provides stunning views of the port city too. Don't miss to savor the freshest and delectable seafood delicacies or take in a nighttime dog race.
You will have a memorable first night here in Vung Tau.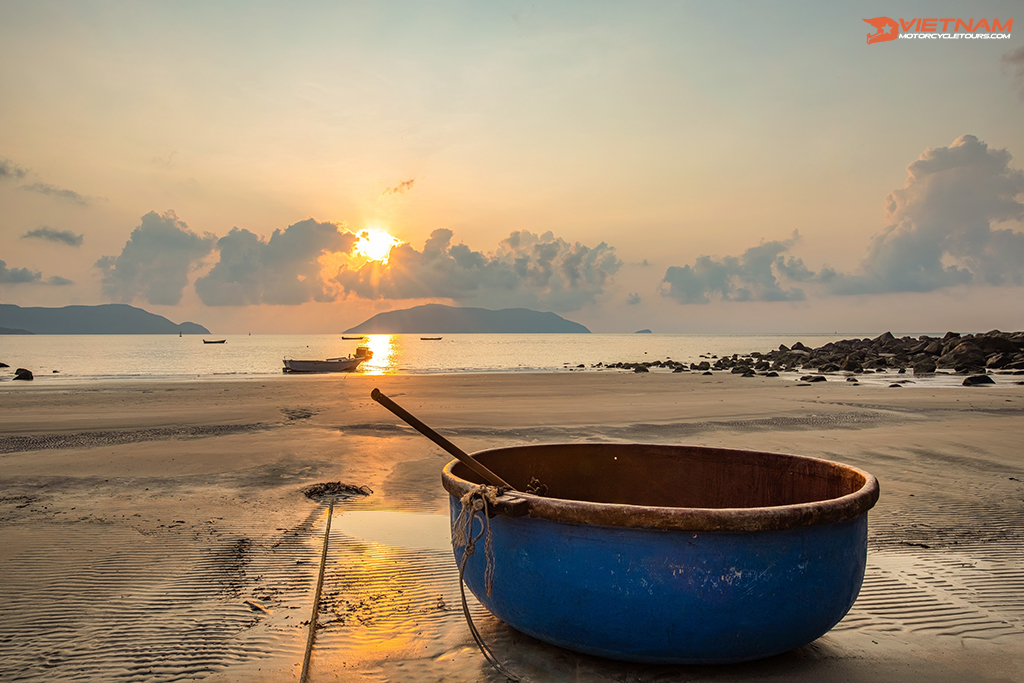 Day 2: From Vung Tau to Phan Thiet Motorbike Tour
Distance: 166.7 km
Riding time: About 3.34 hours
After a good breakfast, we will continue to discover the historical mountain of Minh Dam on the second day. The stunning environment, particularly the stretches of road bordered by beaches and mountains, will take our breath away as we ride a motorbike to the village of Phuoc Hai. We will have a picnic lunch on the road. After riding through a peaceful pine forest in Loc An and arriving at the Hot Springs of Binh Chau, we will have a spa treatment (mud bath) and unwind for two hours. At noon, we will leave to come to Phan Thiet City's suburb. We will travel over a detour route that passes past rice paddies, vineyards, and a sleepy hamlet with the ocean on the right side. The lovely beach resort with the interesting name Rock Garden will welcome you at the end of the destination. You can spend the night at Mũi Kê Gà (Ke Ga Cape).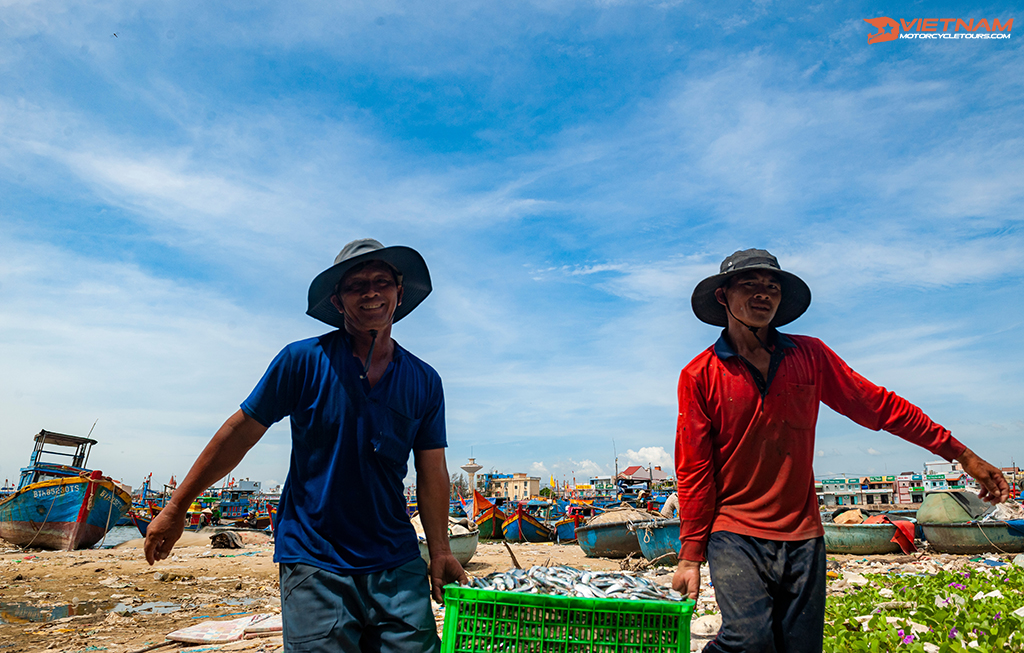 Day 3: From Mũi Kê Gà To Phan Thiet City
Distance: 53.7 km
Riding time: About 1.15 hours
The marvelous Mũi Kê Gà will make you want to stay forever. However, we still have to say a goodbye to continue one of the most magnificent Vietnam motorbike tours to Hoi An by heading to Ta Ku Mountain, about 28 kilometers of Phan Thiet's southeast. Then, we take a sky tram to see the largest lying Buddha statue on the S-shaped land (about 58 meters long), then sit back and enjoy the breathtaking panoramic landscape. 
After eating lunch at a nearby restaurant, we will travel down the coast to Phan Thiet's city center in the afternoon. Explore Chua Ong Pagoda after seeing Duc Thanh School, where president Ho Chi Minh once taught. Then we go toward the Van Thuy Tu temple, where Phan Thiet's fisherman worships the Sea God. You can spend the night here in the city!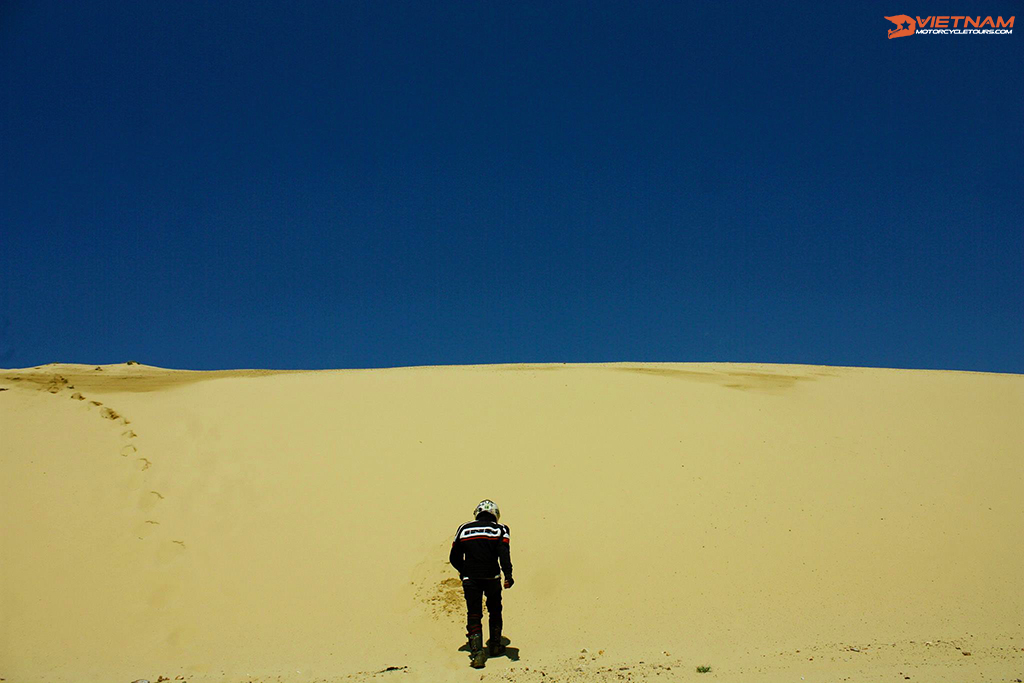 Day 4: From Phan Thiet To Cam Ranh Motorbike Tour
Distance: 181 km
Riding time: About 3.18 hours
On the way to Cam Ranh, there are several amazing places that you can discover. First, just 35 kilometers from Phan Thiet, you can have your meet with Mui Ne. Massive white and red dunes are what make Mui Ne renowned. Not to mention stunning beaches along the route, for instance: Mui Ne beach and Lien Huong beach. You will have a hard day leaving too!
We snake along QL1A north from these beaches for a brief, swift trip across desert terrain into Cà Ná. Huge salt farms and a string of massive coal power stations may be found in Vĩnh Tân in the arid and rocky landscape. However, the final few kilometers to Cà Ná are picturesque as the road skirts the azure ocean solely on a single side and spectacular, cactus-covered mountains on the opposite side. On the coast road, we travel farther north to Phan Rang and then Cam Ranh.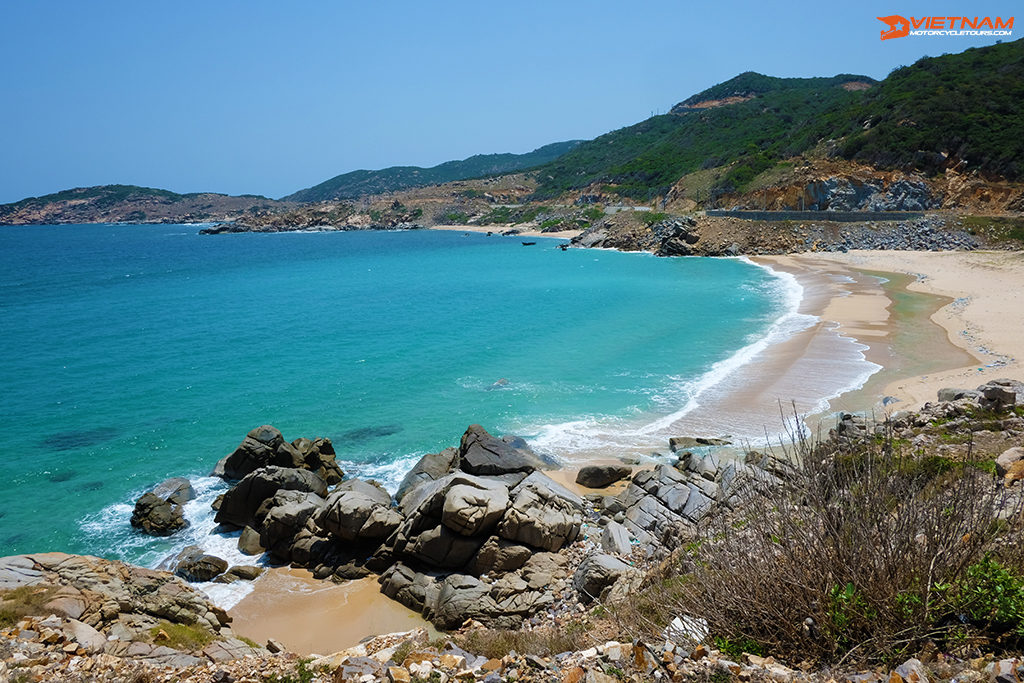 Day 5: From Cam Ranh To Nha Trang Motorbike Tour
Distance: 44.9 km
Riding time: About 57 mins
The fifth day is very relaxed when you travel the shortest distance. After four days of long travel, here is the day you can enjoy the coastal resort city of Vietnam.
Vietnam's capital of seafood is Nha Trang. Why? Because of the terrain characteristics, the place provides endless fresh and mouth-watering seafood at an affordable price. Shellfish or fresh fish become à la carte in Nha Trang. There's no danger of starving in the place with all the restaurants, upscale hotels, and streetside cafes available. The "problem" is they are all delicious. Eat among the dwellers or spend on fine-dining meals at a 5-star hotel for deeper discoveries of the area's culinary possibilities.
For a rest day, you may also want to enjoy the sun's beams from many sun loungers. So, lie on the beach and beat the tiredness. The other half of the journey will come soon.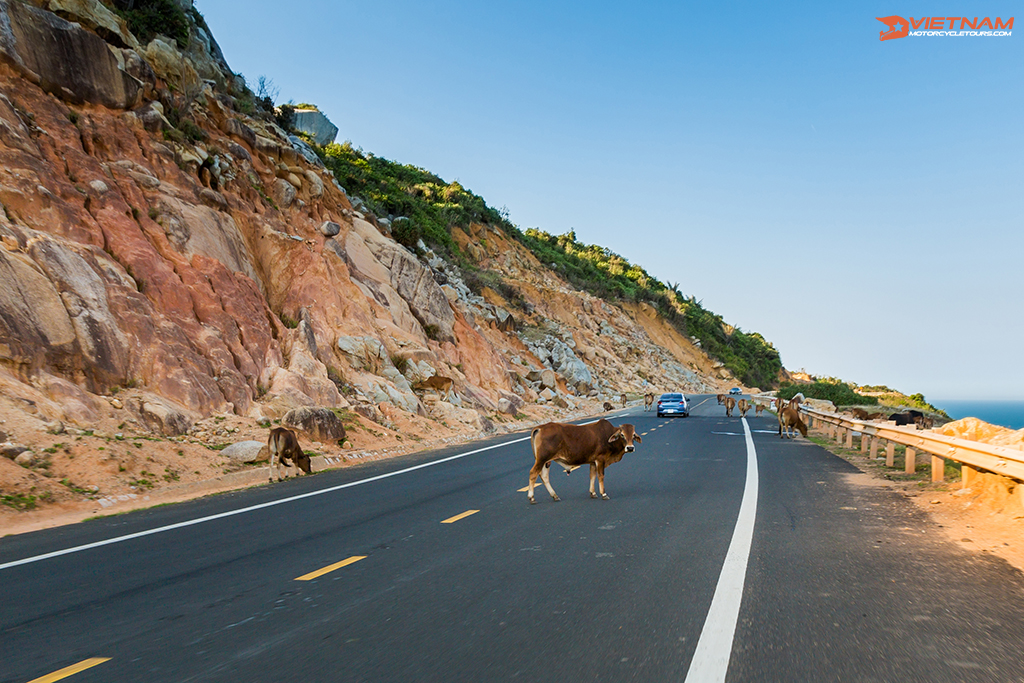 Day 6: From Nha Trang To Tuy Hoa Motorbike Tour
Distance: 116.2 km
Riding time: About 2.15 hours
You can not miss Diep Son island (which belongs to Van Gia, Khanh Hoa) when you are on the route. 
Most of the trip to Van Gia, Khanh Hoa is traveled on QL1, which is now in excellent condition despite being regularly utilized by trucks and making the trip a pleasant, picturesque, and relaxing 90 mins riding. 
Van Gia, which lies in the middle of Vân Phong Bay on the coast, is 60 kilometers toward Nha Trang North. Under the coconut trees that border the charming coastal promenade, wooden boats carry in their catch for the evening and get repaired. Several small hotels, restaurants, and shaded cafés line the street. On top of that, the side streets are lined with adorable small red-tiled cottages. The harbor is crowded with fishing boats. The town center contains everything you could need, including banks, a grocery, street food, and motorcycle repair shops. You can spend the night here or choose to come to Diep Son in a day!
Then, you continue to head to Tuy Hoa on the coast road.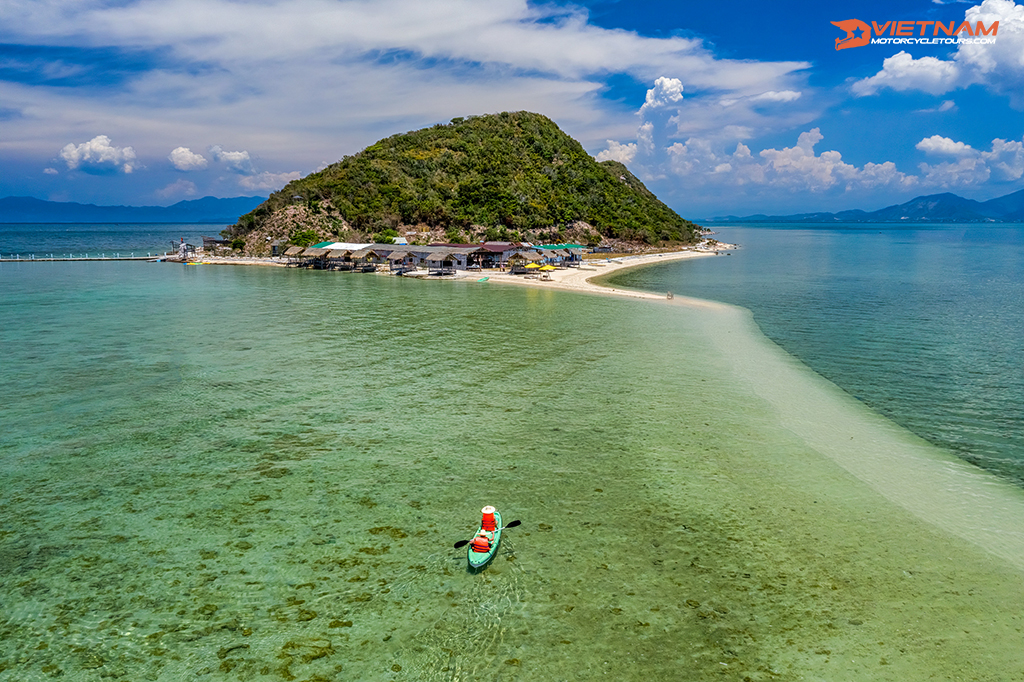 Day 7: From Tuy Hoa To Quy Nhon Motorbike Tour
Distance: 93.9 km
Riding time: About 1.54 hours
Between the villages of Quy Nhon and Tuy Hoa, we will travel on our trusty motorcycle while keeping as close to the shore as we can. We will come to the Xuan Canh Village region's highlands, where the surroundings practically resemble a massive dune wrapped with pine trees. Although sometimes we reach some dead ends, these "no way out" characteristics carry us over miles of lovely, empty coastline. Don't worry. You will meet some friendly natives to point the way to swimming areas where no one exists but you. Beautiful but lonely! You have your beach. Picture it! 
After that, let's discover the Đá Dĩa Reef and go onward to Quy Nhon. Quy Nhon is set up to become a major tourist destination, yet visitors don't swarm here for some reason. When you drive down the lovely, clean, sandy harborfront, you might notice one or two individuals swimming and sunbathing in the azure ocean.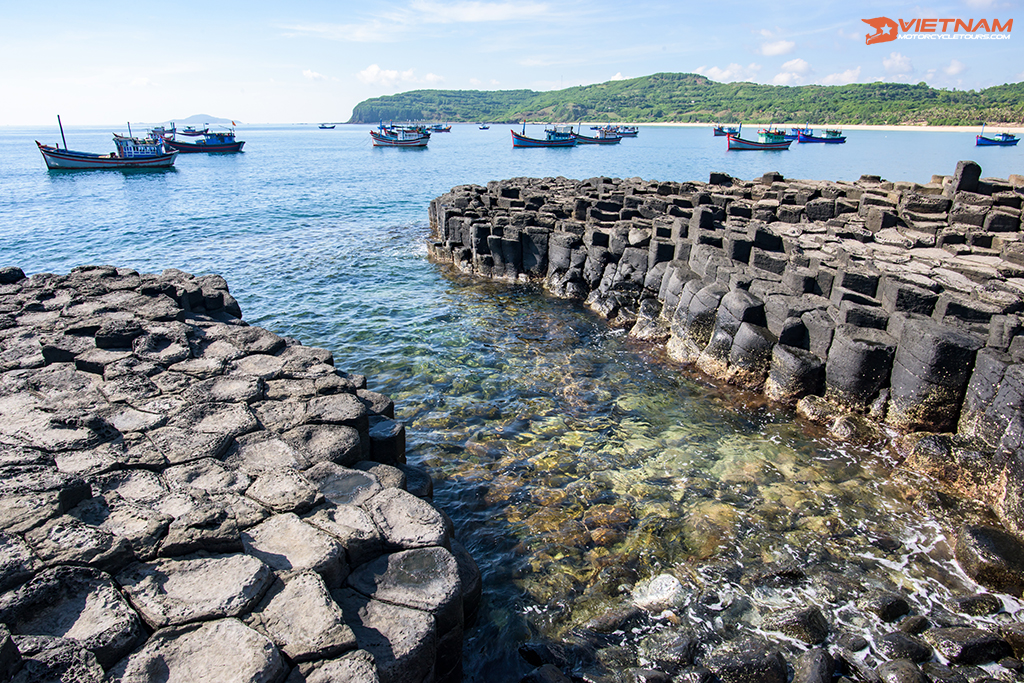 Day 8: From Quy Nhon To Quang Ngai
Distance: 176 km
Riding time: About 3.30 hours
There are several beaches you should not miss and must visit on the route, and Lo Dieu Beach is one of the first ones. This location has an odd appeal because of the unspoiled golden sand beach that wraps around the cliffs. When you stay in a high position to look down, the place resembles a massive bow; it leans against the cliff, faces the sea, and has a field in the center. The Lo Dieu reefs continue to feature immaculate, unbelievably clean, and stunning scenery from a distance. The rocks in this area have taken on various fascinating and artistic forms due to natural creation and abrasion.
On the way to Quang Ngai, you will have time to witness the marvelous Hoc Mo Beach. Quang Ngai center is home to an untamed and endearing Hoc Mo Beach, where visitors may engage in various activities, including fishing, taking in the stunning scenery, or discovering the customs of the nearby fishing town.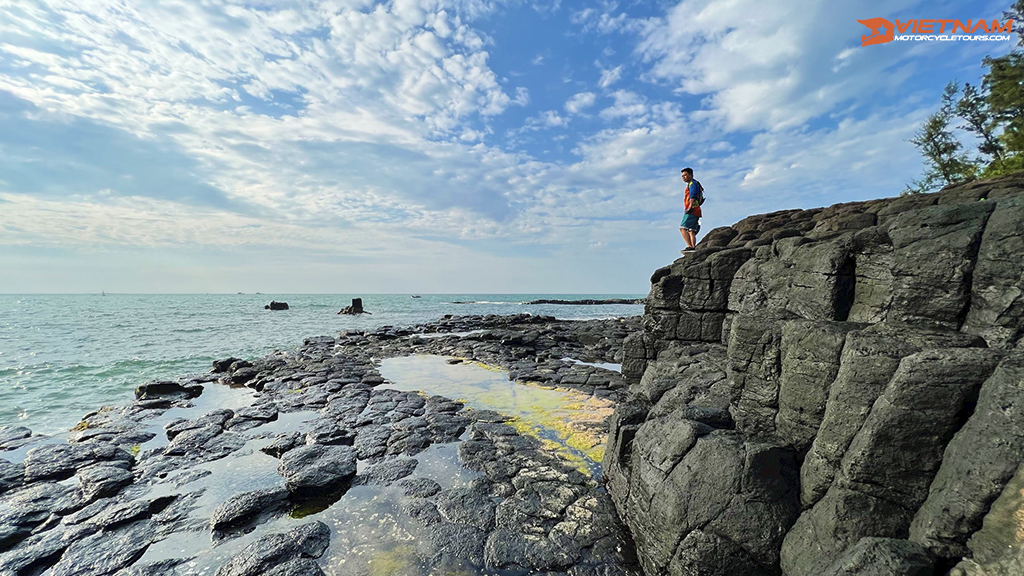 Day 9: From Quang Ngai To Tam Ky Motorbike Tour
Distance: 73 km
Riding time: About 1.08 hours
Well, we are going to reach our final destination. However, some amazing places keep your two wheels a bit longer. My Khe beach is the one. How can you deny one of the gorgeous beaches of the S-shaped land? 
My Khe Beach is renowned for its pure, warm water, always blue in color, pure white sand, mild slope, and lovely spots covered by coconut palms. My Khe also provides spectacular dawn views, so if you can, attempt to remain near the beach to take in the breathtaking spectacle.
The next stop is Dung Quat Bay. It has a poetic beauty. The green of trees, the white of the sand beaches and floating clouds, and the blue of the sea and sky are all in a picture you will wow at first sight. Then, if time still supports us, consider visiting Tam Hai beach. The place is a tiny, tranquil world with beauty, allure, and culture. However, don't bask in the beauty of these beaches for too long! Your final destiny is tomorrow.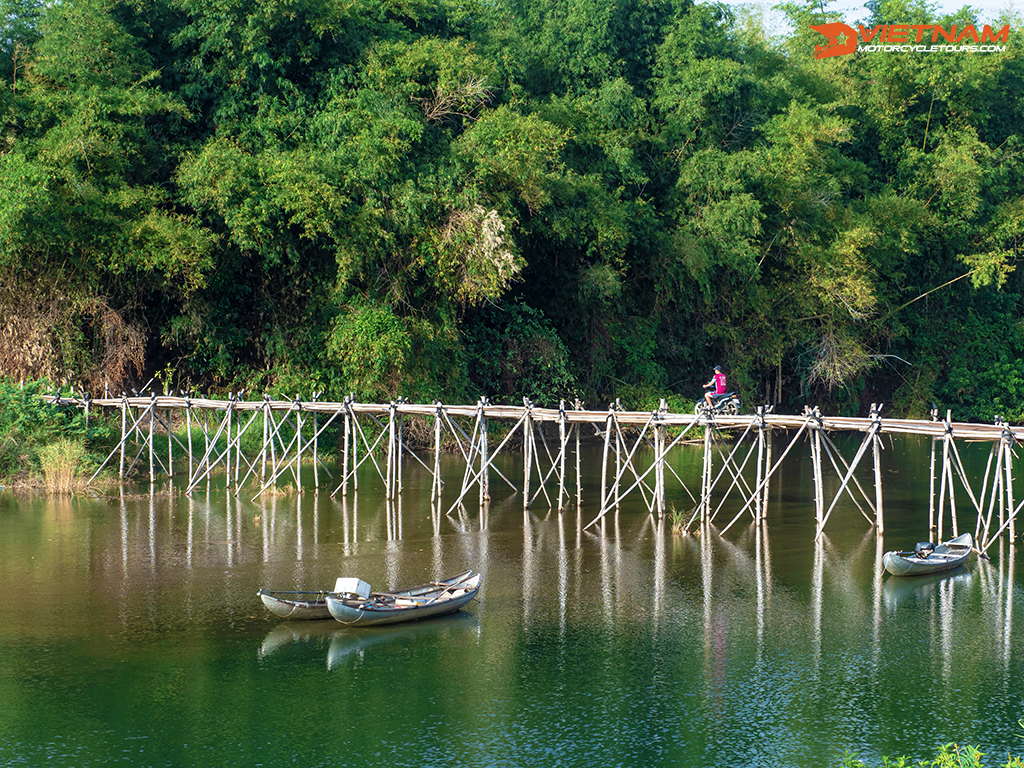 Day 10: From Tam Ky to Hoi An
Distance: 47 km
Riding time: About 57 mins
The last route is simply because the distance is short and easy to ride. You may want to visit Tam Thanh Beach and Tan An Beach before discovering Hoi An!
There are numerous things you can do in a peaceful city! You can stroll at night and enjoy the views over the flowing Thu Bon river. Cafes, bars, or local markets are on the table for your selection. As you stroll through the town, you may see places like museums, historic mansions, and charming temples. Hoi An also boasts a vibrant local cuisine scene. If you haven't been satisfied, Hoi An's surroundings are also picturesque, and day trips to stunning beaches or abandoned cities are simple to arrange.
Enjoy the last day of the trip before you get on the plane to return to Ho Chi Minh city or fly further to Hanoi!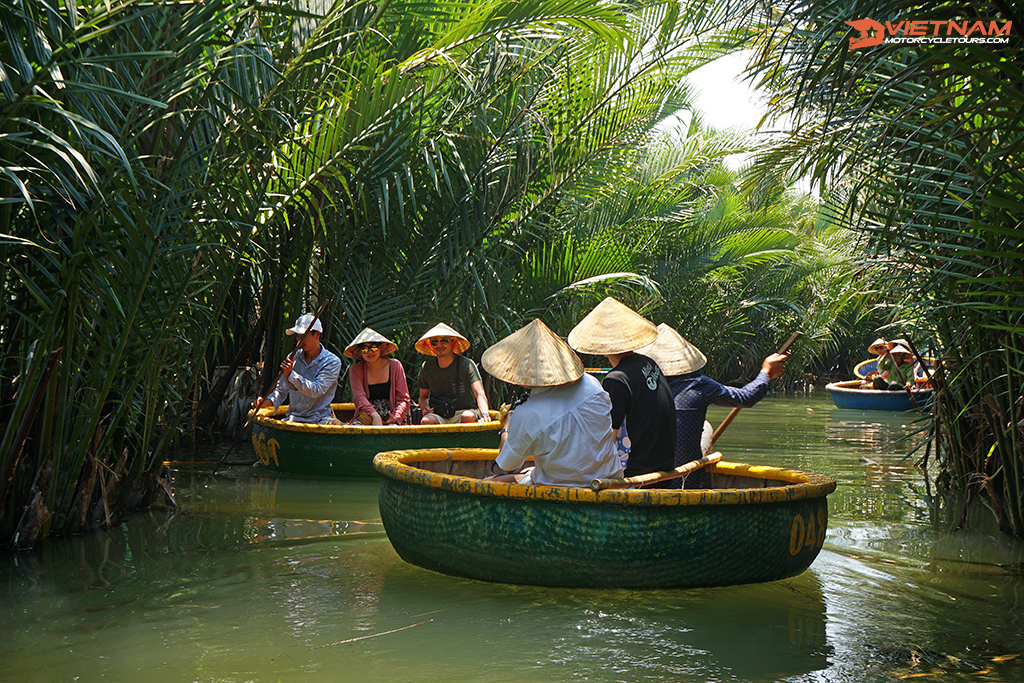 Conclusion
Ten days with the coast ride Saigon To Hoian will mark an excellent milestone in your life. We hope you have a relaxed time on the road and all the landscapes along the route, from the jaw-dropping scene to warm and funny local people to the long beach that welcomes you and only you. If you wish to know more interesting Vietnam motorcycle trips, check out our long list of the rare but magnificent terrain on our website.
We look forward to hearing your sharing! Thank you.
What riders have said about Top Gear Vietnam Motorbike Special on Tripadvisor!